Today was another beautiful day in Paris. The forecast was calling for rain after 4pm, but luckily, we never saw that happen.
We decided to visit the Eiffel Tower.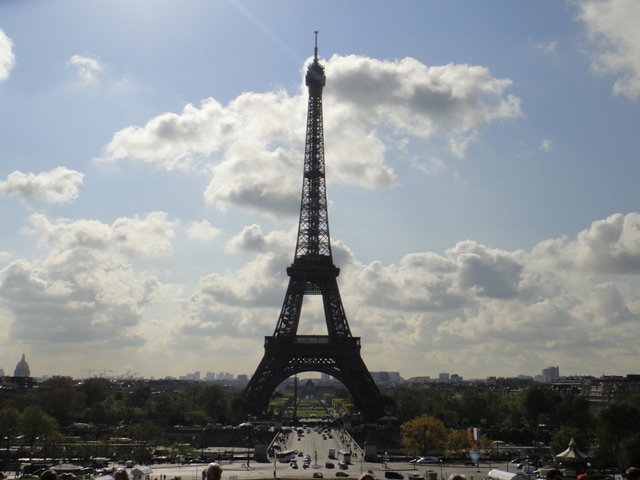 On our last visit, we went up to the 2nd level. Scott would still like to go to the very top. We didn't have reservations today, and as we were afraid, the lines were really long. We decided to just enjoy the view from the bottom rather than waste hours standing in line. It was nice to have more time to spend walking around the tower, looking at it from different angles.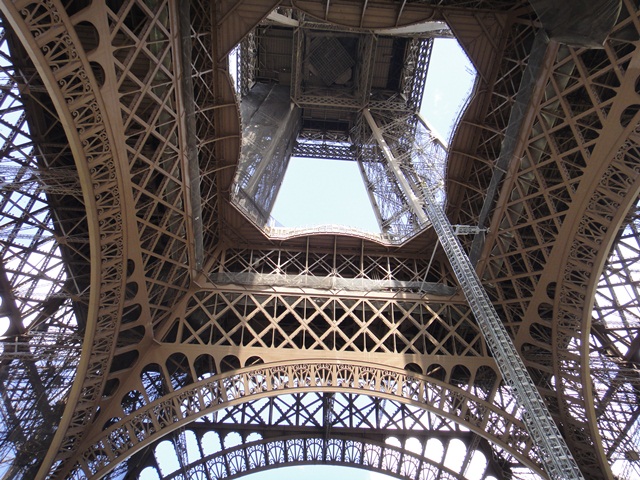 After viewing the tower for a while, we decided to walk to a cafe and have a glass of wine.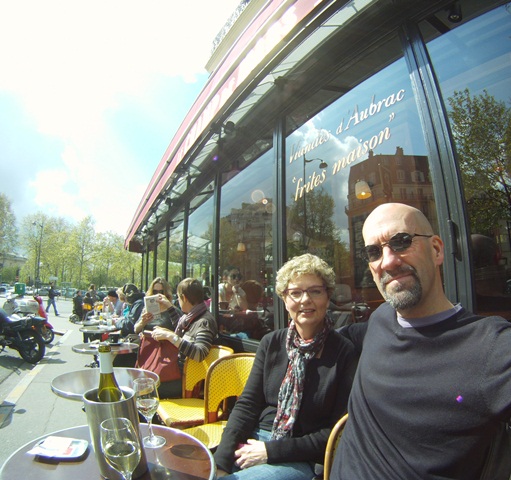 The sun was shining most of the time. When behind a cloud, it was very chilly. We enjoyed a bottle of Sancerre, then decided to stay for lunch. Scott had a roasted chicken with french fries, and I had a salad with fois gras and roasted duck breast. Both were very good. I feel like when I'm in Paris, I can splurge on fois gras.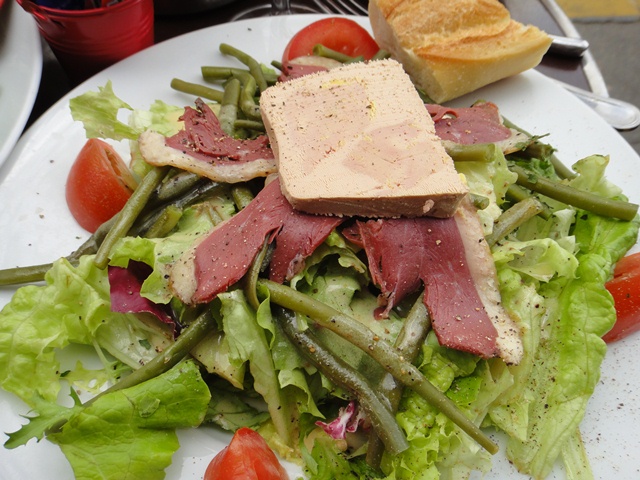 After a long lunch, we walked over to rue cler. This is a road that is closed to traffic, which makes for pleasant wandering. We stopped in at La Mere de Famille. This is a sweets shop that's been in the neighborhood for 30 years. We sampled chocolate and purchased a little nougat to share. Before leaving the area, we stopped in at Fromagerie and bought 3 new cheeses to try. On the metro ride back to our apartment, we were sitting across from a man who looked like he hadn't bathed in weeks. A kept getting a whiff of an unsavory smell, and I wondered if it was him or the cheeses we bought. Upon taking the cheeses out of the sack when we got back to our apartment, I discovered it was the cheeses. I can't get used to all of the stinky cheeses here. Hopefully we'll like these more than one of the previous ones we bought, which all it took was one bite each before going in the trash.
For dinner, we had made reservations at Paul Bert. This is a bistro that I had read a lot of good things about. There were 4 of us for dinner. Two of our good friends, who have lived in Anchorage until they moved to Oslo, Norway a year ago, were in town also. We decided to have the menu for 35 euros each. That allowed you to choose one entree(starter), one plat(main) and either cheese or dessert. I didn't write down the French names of anything we had, but most I can describe. I started off with a cuttlefish salad. It was delicious.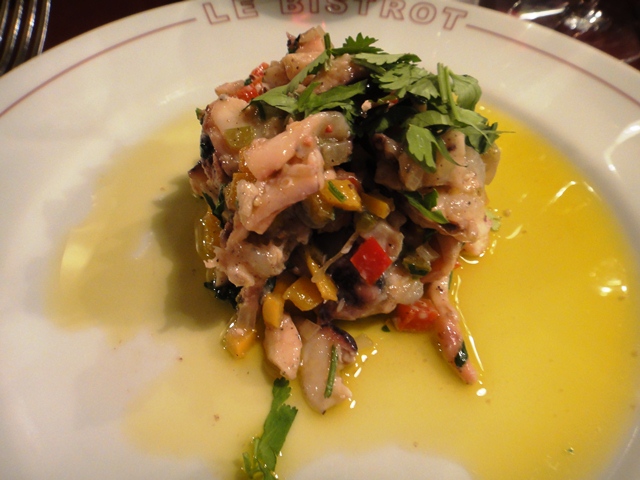 My friend had the asparagus salad. The asparagus is hard to see in this photo because it is white. I've seen it in the market here, and it is the fattest white asparagus I've ever seen. I tasted her salad and really enjoyed it, so I might have to purchase some to cook after all. The salad had a light vinegrette, shaved parmesan cheese, and minced hard boiled egg.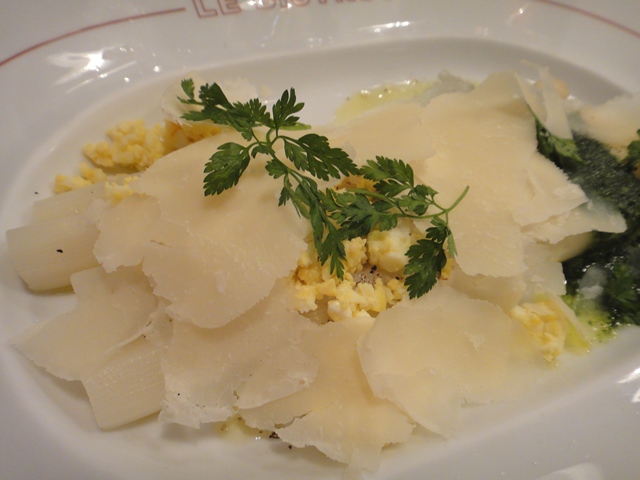 The two husbands had a salad that I don't remember what is was called. It had lettuce, thinly sliced beets, and a poached egg. The colors were very pretty.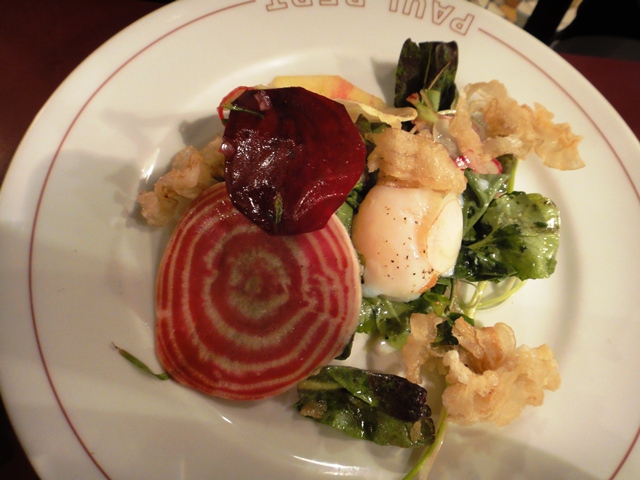 I forgot to take photos of our main courses. I had sole. A whole thin fish that was served with a simple butter sauce. And potatoes on the side. My friend and Scott had a beef dish that was topped with sauteed onions. They thought this dish was just okay. The beef wasn't very flavorful except for the onions on top. The other husband had steak tartare, which I had read is one of Paul Bert's specialties. I had a bite and it was delicious. It was served with frites. We were full at this point, but had to have dessert. My friend ordered the chocolate macaroon. It was large, and very deep chocolate. Almost too much. That rich of chocolate should only be eaten in small quantities.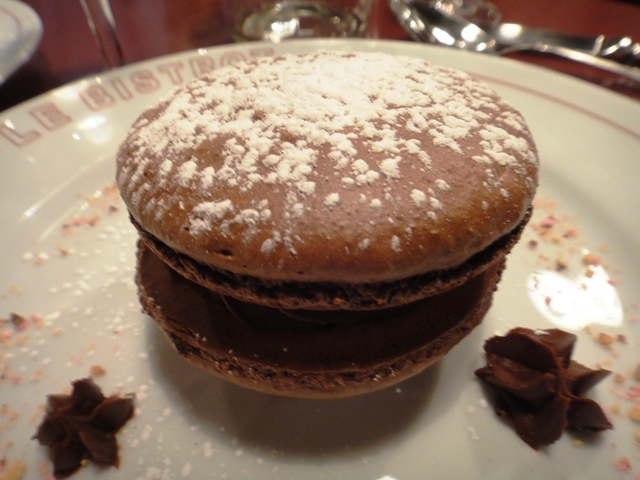 Her husband had the Gran Marnier souffle. It was very tasty, with a very strong Gran Marnier flavor.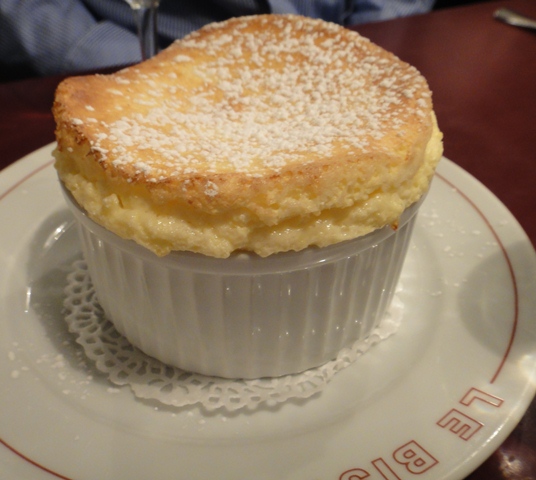 Scott and I each had what I had read about as one of their best desserts. It's called Paris Brest. It's a choux pastry ring that is filled iwth a hazlenut praline cream. It was delicious. The cream was so smooth, rich and decadent.
Dinner was enjoyable, but I'm deciding that French food is just too rich for me. I was miserable after we left the restaurant. I thought I made healthier choices with the fish I chose, but when there's a stick of butter on top any of the healthiness is negated. I think I'll have to be even more careful about what I order in the future. I am finding I'm liking the starters much more than the main dishes here, so I think I'll have to find out if it's acceptable to order 2 starters instead of a starter and a main. And I think sharing dessert will have to happen more often.