Today was a beautiful day! There was supposed to be a 90% chance of rain, and shortly after we got up the skies turned blue. It was very chilly though. I'm very glad I brought all of the sweaters I did, although I'm not sure it was enough.
We were planning on going to the Louvre today, but when the weather turned out nice we decided to spend it outside instead. We didn't take the metro any today, which meant a lot of walking. My legs and feet are feeling it tonight.
We started off with a breakfast of yogurt and granola in our apartment. We knew we'd be having pastries today, so we decided to skip them this morning. I forgot to mention yesterday the fantastic butter I bought at the market yesterday. I thought I'd never use that much while here, and I think it's already about half gone, after the dinner I cooked last night.
We walked to the island where Notre Dame is. We approached from the backside and were rewarded by beautiful flowering trees. Just gorgeous!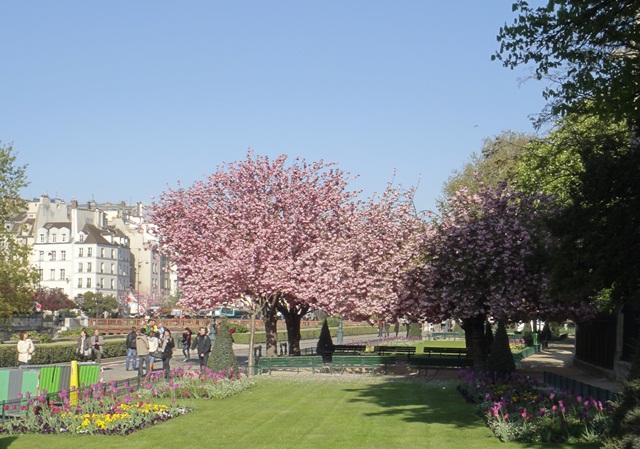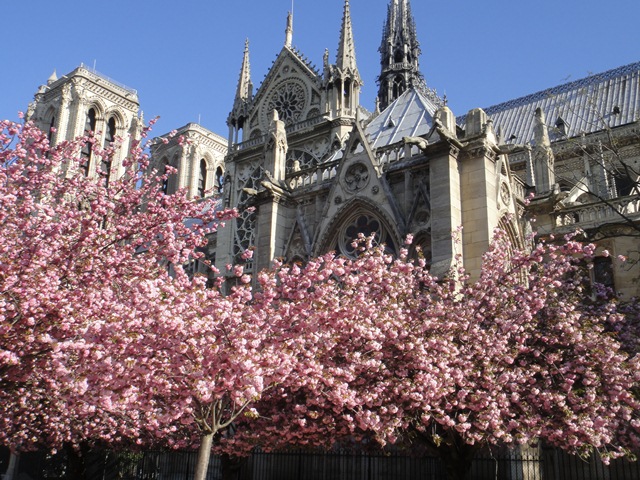 We went inside and listened to a choir sing a few songs. The stained glass windows and architecture are amazing.


The rest of the day was spent just wondering around. We walked up and down the narrow streets on Ile St Louis and around Ile De Le Cite. We stopped for lunch at a bistro on Boulevard St Martin, whose name I don't remember. We got there about 12:15 or 12:30, and it was pretty empty. But by 12:45, the place was packed, with lots of locals you could tell. I didn't hear anyone else speaking English. Luckily our server could speak English, so she could translate the menu. We had the Plat du Jour. When you first sit down, they bring you a complimentary glass of rose wine. I had a starter of sardines with a little salad. I hadn't had sardines in years, and they were really good. Spread the butter that sat alongside on the good bread and top with some sardine. Scott started with quiche. My main dish was some type of fish served with beans (like thin green beans, but yellow). The fish was a very mild white fish, the beans were way too salty. Scott had the beef that had a cream sauce of some sort and was served with fried potatoes. His beef was chewy, which in our limited experience is pretty normal here. We're not sure if we paid for dessert, as I think it was part of our courses, but we were too full to even see. It was interesting to see this place so packed with what appeared to be regulars, as we didn't think the food was very good. Okay, but not very good. I didn't take any photos.
We made it back to the apartment in the afternoon, and again, succumbed to a nap. We haven't had dinner yet, but as we're tired and don't want to go out, I'm just going to make a salad and serve that along with a fougasse bread we bought and some cheese we have left from yesterday. And for dessert, strawberries, and Pistachio/Chocoate and Citron Escargot.