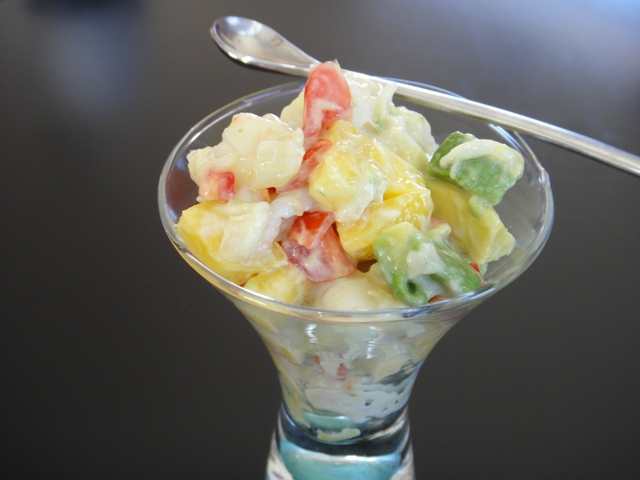 Our ingredient this week is lobster. I thought I would make some type of lobster salad, but then I had to decide what kind.
Lobsters are really expensive. I like lobster, but I probably like shrimp as well, and when you have a freezer full of shrimp it is hard to justify spending a lot of money on lobster. I planned on buying whole live lobster, but on Valentine's Day my local grocer had lobster tails on sale for $5.00 each. I bought two. I realized as I was making the recipe later why they were so inexpensive-they were tiny. My recipe today uses 2 small lobster tails. They gave me a little less than 3/4 cup of meat, and that was packed very loosely in the measuring cup. You could easily double, triple, or quadruple this recipe, and I think shrimp would be just as good as lobster.
Tropical Lobster Salad Makes 2 small servings
3/4 lb cooked lobster tail, cut into small pieces (My lobster tails had been frozen. I boiled them for about 5 minutes.)
1/4 cup fresh pineapple, cut in small dice
1/4 cup mango, cut in small dice
1/8 cup tomato, cut in small dice
1/2 avocado, cut into small dice
1/2 hot red chili pepper, cut in very small dice
1 tablespoon finely minced onion
2 tablespoons mayonnaise
2 tablespoons plain Greek yogurt
1/2 teaspoon lime juice
1/2-1 teaspoon lime zest
Sea Salt
1. In small bowl, mix together mayonnaise, yogurt, lime juice, and lime zest.
2. In med bowl, mix together lobster, pineapple, mango, avocado, tomato, onion, and chili pepper.
3. Mix the mayonnaise mixture into the lobster mixture. Chill, then serve.