Roasted Beet, Goat Cheese, and Walnut Tart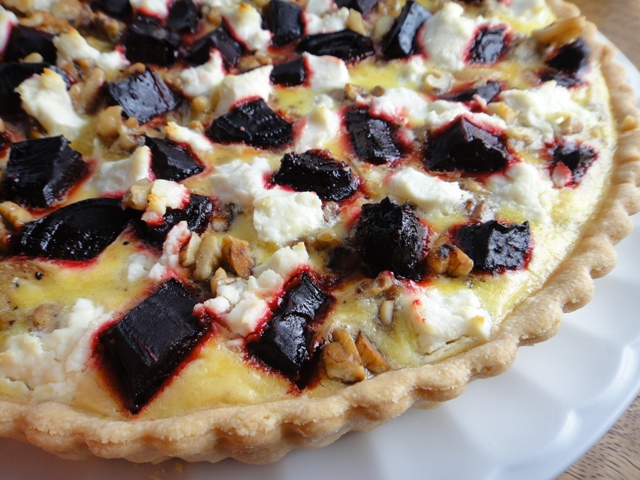 The ingredient this week is beets. I love beets. As a kid, I ate canned beets. I liked them, but as an adult when I discovered fresh, roasted beets, my love for them grew more. One of my favorite ways to eat them is on a salad. A salad with roasted beets, goat cheese, and toasted walnuts. Yum. This week I decided to take the flavors of that salad and put them into a tart. This tart was absolutely delicious. The crunch of the crust, tang of the goat cheese, sweetness of the beets and earthiness of the walnuts complement each other perfectly. I served it the first evening with a simple green salad that was dressed with mandarin orange-infused olive oil and a sweet balsamic vinegar. Then I had some of the leftovers the next morning for breakfast. The tart is very versatile and could be served as an appetizer if made in individual small tart pans, or as a light entree alongside a salad, or as a breakfast or lunch course. It reheats nicely, but be sure and reheat in the oven, not the microwave or you will have a soggy crust.
Roasted Beet, Goat Cheese and Walnut Tart
Yield: one 10″ tart
3 small to medium beets
Drizzle of olive oil
Salt & pepper
1 tablespoon olive oil
1 medium onion, cut in half and thinly sliced
1 tablespoons dry white wine
3 large eggs
1/4 cup heavy cream
3 ounces soft goat cheese
1/2 cup toasted chopped walnuts
10″ tart shell, blind-baked (recipe below)
1. Preheat oven to 350. Wash and dry the beets and place them on a large piece of aluminum foil. Drizzle with olive oil and season with salt and pepper. Close the foil tighly around the beets and bake until beets are tender, about 1 hour. When cool, peel the beets and cut them into small chunks. (Can be prepared up to 1 day in advance.)
2. Heat 1 tablespoon olive oil in large skillet over medium heat. Add the onion, season with salt and pepper, and cook, stirring often, until the onion is soft. Add the wine and stir up any bits stuck to the bottom of the skillet. Cook until the wine has all evaporated.
3. Preheat oven to 350. Spread the cooked onions evenly in the bottom of the cooked tart shell. Then evenly distribute the beets on top. Sprinkle with the toasted walnuts.
4. Whisk together the eggs and cream and season lightly with salt and pepper. Pour this over the beet onion mixutre. Crumble the goat cheese over the top.
5. Bake until just set, about 40 minutes. Let sit 5-10 minutes before cutting.
Tart Shell (Pate Brisee) Yield: one 10″ shell
1 1/3 cup flour
1/2 teaspoon fine sea salt
8 tablespoons ( 1 stick) chilled unsalted butter, diced
1 large egg, lightly beaten
Ice water
1. In a food processor, combine the flour, salt and butter, and pulse until the mixture resembles course meal. Add the egg and pulse again until dough comes together. If dough is a little dry, add a few drops of ice water. You want the dough to hold together but you don't want a sticky wet dough.
2. Pull dough out of processor and with floured hands, shape dough into a flattened ball or disk. Wrap tightly with plastic wrap and refrigerate at least 30 minutes or up to 1 day.
3. When ready to use, let dough stand at room temperature long enough you can roll it, about 10 minutes. Roll dough on a floured surface until it's large enough to fit in the tart pan with extra to come up the sides. Gently pat into pan and press up the sides of pan. Cut off excess.
4. To blind-bake the shell, preheat the oven to 375. Line the shell with foil and fill with beans, rice or pie weights. Bake for 12 minutes. Remove the foil and weights and continue baking until the crust is nicely golden brown all over.