Panko-Breaded Fried Razor Clams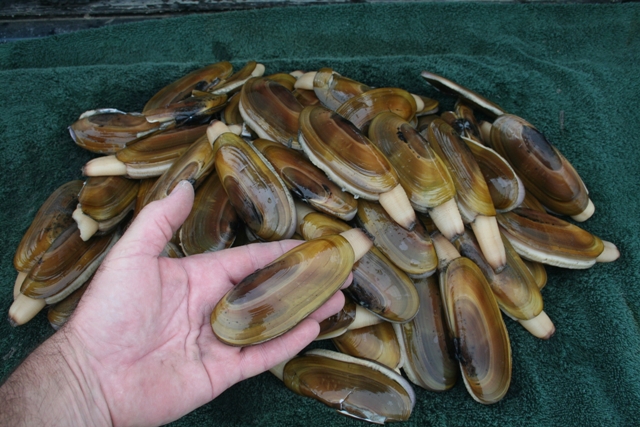 This past weekend, my husband went digging for razor clams. In a little over 2 hours, he had his limit of 60 clams. It was a lot of hard work on his part, but I shared in that work by helping clean them all.
That evening, I fixed a dinner of Panko-Breaded Fried Razor Clams. I only fry things about once a year, but these were well worth it. Paired with a salad topped with radishes, tomatoes, and citrus ceaser dressing, they were delicious. Tender and full of that taste fresh from the sea. Don't they look good?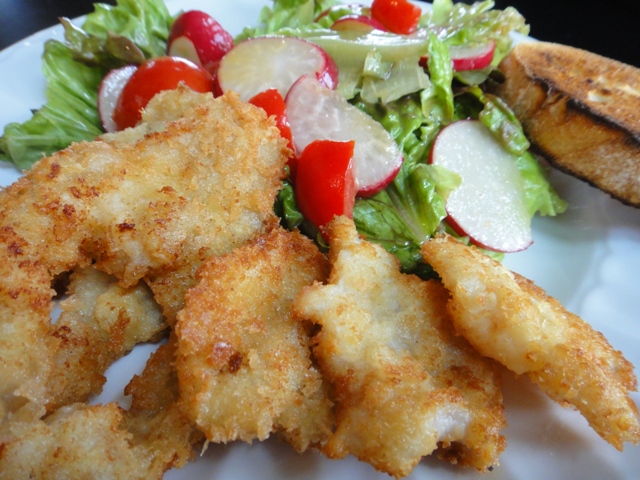 RECIPE:
I didn't really follow a recipe, but here's what I did. In one bowl, I mixed flour, salt, pepper, and garlic powder. In another bowl, I mixed a couple of eggs. In a third bowl, I placed panko crumbs. To make, dip the clams in the flour mixture and shake off the excess. Then dip in the egg, then finally in the panko. Then place on a cookie sheet that is covered in parchment or waxed paper. After all of the clams are dipped and placed on the tray, place in the freezer for a little while, at least 15 minutes. This will make the breading stick better.
Heat oil in a skillet. I used olive oil in a cast-iron skillet. Fry until light browned, no more than a minute or so on each side. Overcooking them will cause them to be very tough and chewy. Drain on paper toweling, then serve.