Ultimate Chocolate Cupcakes with Peanut Butter Frosting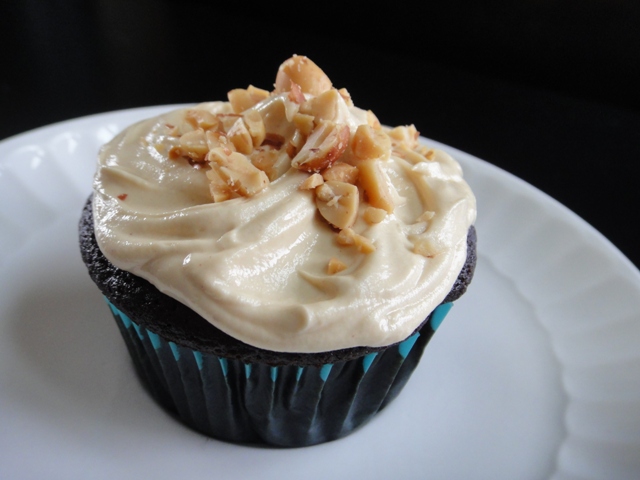 I've been wanting to make these for a long time. I was browsing through a Cook's Illustrated Magazine last spring, and saw an article for the ultimate chocolate cupcake. I love a lot of the recipes in Cook's Illustrated because they do the hard work for you – testing to see if the recipe really turns out the way it should.
Here it is a year later, and I'm finally making them? Was it worth the wait? Absolutely! These cupcakes are heavenly. And they are very easy to make. The recipe is a little different from most in that it uses bread flour. It's nice, because it produces a crumb that doesn't crumble much when eaten, which is really nice for a cupcake. I forgot to mention that the cupcake is filled with a chocolate ganache filling. Dark chocolate cake with a creamy peanut butter frosting – what more could you ask for?

Ultimate Chocolate Cupcakes with Peanut Butter Frosting
Adapted from Cook's Illustrated Yield: 12 cupcakes
Ganache Filling:
2 ounces bittersweet chocolate, chopped fine
1/4 cup heavy cream
1 tablespoon confectioner's sugar
Chocolate Cupcakes:
3 ounces bittersweet chocolate, chopped fine
1/3 cup Dutch-processed cocoa
3/4 cup hot coffee (I used espresso)
3/4 cup bread flour
3/4 cup granulated sugar
1/2 teaspoon salt
1/2 teaspoon baking soda
6 tablespoons vegetable oil
2 large eggs
2 teaspoons white vinegar
1 teaspoon vanilla extract
For Ganache: Place chocolate, cream, and confectioner's sugar in medium microwave-safe bowl. Heat in microwave until mixture is warm to the touch, 20 to 30 seconds. Whisk until smooth. Place in refrigerator and let stand until just chilled, no more than 30 minutes.
For Cupcakes: Place rack in middle of oven and preheat oven to 350 degrees F. Line standard-size muffin pan with baking-cup liners.
Place chocolate and cocoa in medium bowl. Pour hot coffee over mixture and whisk until smooth. Set in refrigerator to cool completely, about 20 minutes.
Whisk flour, sugar, salt, and baking soda together in medium bowl, set aside.
Whisk oil, eggs, vinegar, and vanilla into cooled chocolate-cocoa mixture until smooth. Add flour mixture and whisk until smooth.
Divide batter evenly among muffin pan cups. Place one slightly rounded teaspoon ganache on top of each cupcake.
Bake until cupcakes are set and just firm to the touch, 17-19 minutes. Cool in pan on wire rack until cool enough to handle, about 10 minutes. Carefully lift out of pan and set each on wire rack. Cool to room temperature before frosting, about 1 hour.
Creamy Peanut Butter Frosting:
1/2 cup granulated sugar
2 large egg whites
Pinch salt
12 tablespoons (1 1/2 sticks) unsalted butter, softened and cut into 1-tablespoon pieces
2/3 cup creamy peanut butter
1/2 teaspoon vanilla extract
Combine sugar, egg whites, and salt in bowl of stand mixer; place bowl over pan of simmering water. Whisking gently but constantly, heat mixture until slightly thickened, foamy, and registers 150 degrees F on instant-read thermometer.
Place bowl in stand mixer fitted with whisk attachment. Beat mixture on medium speed until consistency of shaving cream and slightly cooled, 1 to 2 minutes. Add butter, one piece at a time, until smooth and creamy. Once all butter is added, add peanut butter and vanilla. Mix until combined. Increase speed to medium-high and beat until light, fluffy, and thoroughly combined, about 30 seconds, scraping beater and sides of bowl with rubber spatula.
To frost: Mound 2-3 tablespoons frosting on center of cupcake. Using small spatula or butter knife, spread to edge of cupcake.