Bacon and Eggs and Asparagus Salad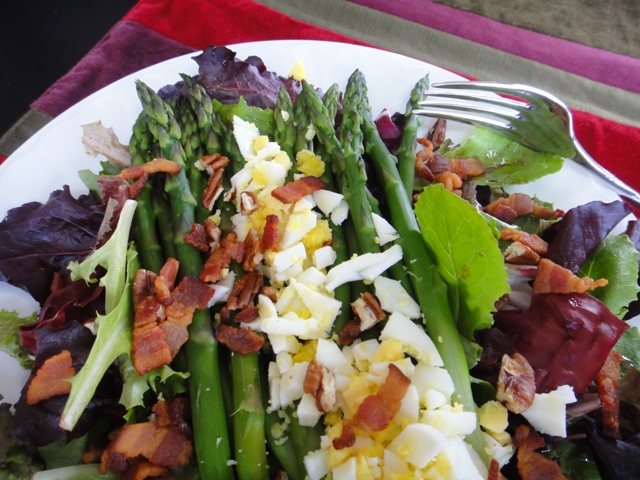 A couple of nights ago I was looking through my copy of the book "Around my French Table" by Dorie Greenspan. I've only made a couple of things out of it so far, and they've all been great. I couldn't keep from turning back to the page showing this fabulous looking salad with asparagus, bacon, and a running-yolked egg on top. I had all of the ingredients in my refrigerator and decided to make it for myself for dinner.
The recipe is pretty straight-forward. I made a couple of changes to the recipe, the main one by accident. I cooked my egg longer than planned, and the yolk was set. So I just chopped it into small pieces and topped the salad with it. Next time, I'll be sure and cook the egg for even less time so I have that runny yolk mingling with all of the other tasty ingredients. The other change I made was in using some of the bacon fat. Dorie has you roll the eggs around in a little of the bacon fat before placing on the salad. I decided that 2 slices of bacon for me would be enough fat for my diet.
Bacon and Eggs and Asparagus Salad (serves 4)
Adapted from Around my French Table by Dorie Greenspan
Vinegrette:
1/4 teaspoon Dijon mustard (I used more)
1 teaspoon sherry vinegar
1 tablespoon extra-virgin olive oil
1 tablespoon walnut oil
Salt and pepper
Salad:
4 fresh eggs
20 asparagus spears, trimmed and peeled
6 strips bacon, chopped
Mixed salad greens
Salt and Pepper
1/3 cup toasted chopped pecans or walnuts
Vinegrette: Place all ingedients in a jar, cover, and shake until mixed.
Salad: Soft cook eggs. (Takes about 6 minutes to cook), then run under cold water and peel.
Bring a large skillet of water to a boil, add salt and asparagus. Cook until the asparagus is tender, 4 or 5 minutes. Drain.
Rinse the skillet, and then heat on stove. Add the chopped bacon and cook on medium heat until crisp. Drain on paper towels.
Toss the salad greens with enough dressing to lightly coat. Divide on 4 plates. Toss the asparagus with the remaining dressing, then place on top of lettuce. Cut the eggs in half, and place on the asparagus (or if you don't like a runny center, then do as I did and cook longer, then chop and place on top). Sprinkle bacon and nuts on top.