Sweet-Spicy Glazed Salmon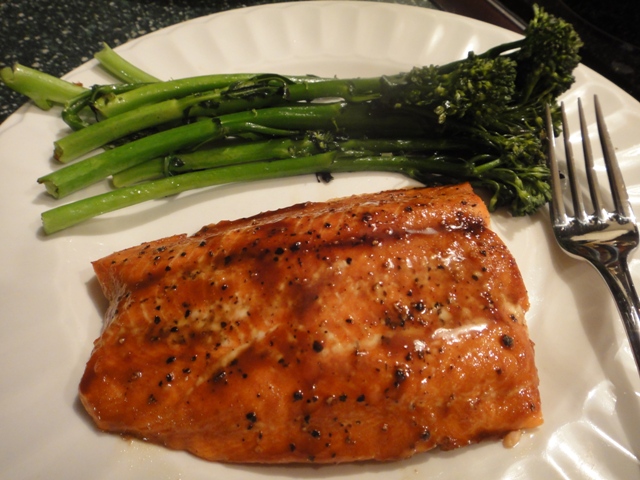 I thought I'd share a recipe with you I made for dinner last night. I was surfing the internet the other night when I found this. I scribbled the recipe on a piece of paper, and forgot to note where it came from. Sorry about that.
The salmon turned out really good. It was cooked perfectly, and the glaze on top was perfect. Very sweet, but I still really liked it. And it's a nice calorie count too. Makes me think this recipe might have come from Cooking Light.
Sweet-Spicy Glazed Salmon
4 servings
3 tablespoons dark brown sugar (I used light brown)
1 tablespoon low-sodium soy sauce
4 teaspoons Chinese-style hot mustard (I didn't have any, so I used a combination of powdered mustard and powdered wasabi)
1 teaspoon rice vinegar
4 (6 oz) salmon fillets
Cooking Spray (I used olive oil instead)
salt
pepper
Preheat oven to 425 degrees F.
Combine first 4 ingredients in saucepan. Bring to boil. Remove from heat. (Another direction I didn't follow. I just stirred everything together.)
Place fish on foil-lined jelly roll pan. Coat with cooking spray (or oil). Sprinkle with salt and pepper. Bake at 425 degrees for 12 minutes. Remove from oven.
Preheat broiler. Brush sugar mixture evenly over salmon; broil 3 inches from heat 3 minutes or until fish flakes easily. Do not overcook.
Calories: 252
Fat: 10.3 gr
Protein: 27.7 gr
Carbs: 11 gr
That's it! A fast, flavorful dinner for the family.