A friend of mine called me a couple of weeks ago and said her son, Sam, had his first biscotti. He wanted to know if she could make them, and my friend told Sam that she bet she knew who could – Cindy. So I knew I would have my first experience cooking with children, which I thought would be a lot of fun.
Sam doesn't like nuts, but loves chocolate, so I decided we'd make a chocolate biscotti. The recipe I normally use, which comes from "Baking with Dorie", uses cocoa in the the batter, chunks of chocolate, and almonds. So I just left out the almonds. When I was pulling the ingredients together, I thought it doesn't matter if these are for me, or kids, I'm using the best ingredients. So I brought out the Vahlrona cocoa and the wonderful dark chocolate I brought back from Paris.
So, it threw me for a loop when Sam asked if we could use M&Ms instead of the chocolate I brought. Pink and red M&M's from Valentine's Day. But I quickly recovered, and said we'd split the dough in half, and do M&Ms in one half, and chunks of chocolate in the other, and judge which was better. And then I had a sip of my wine.
The experience of cooking with Sam was a lot of fun. He was a very good helper. I didn't expect a 6 year old to be able to crack an egg without getting shell into it. And he sifted the ingredients together perfectly.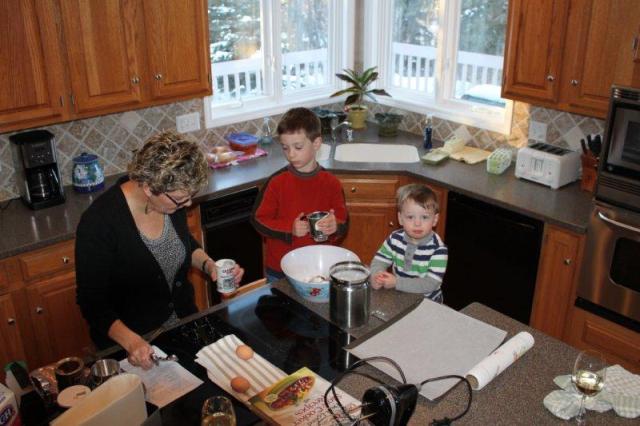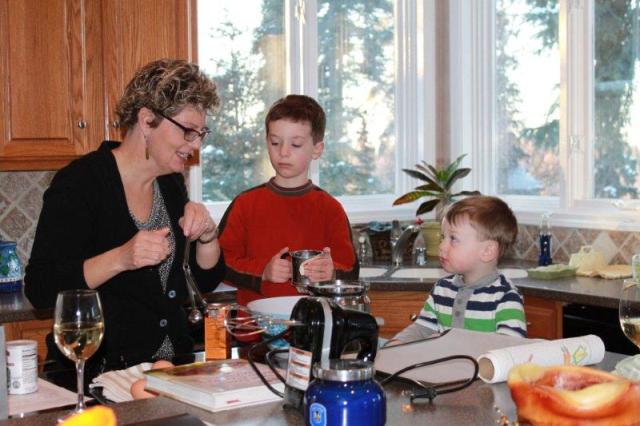 Little brother Owen was all into watching his big brother make cookies.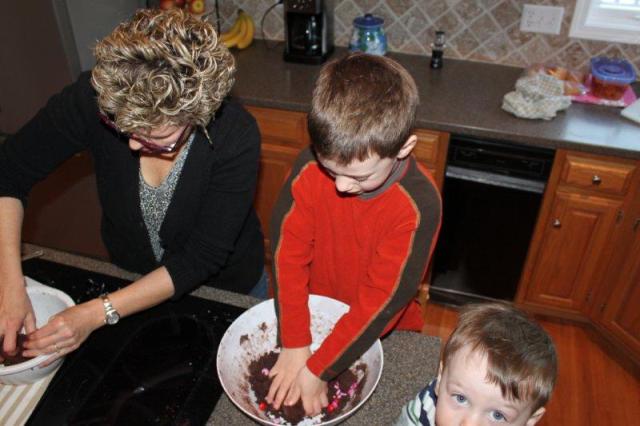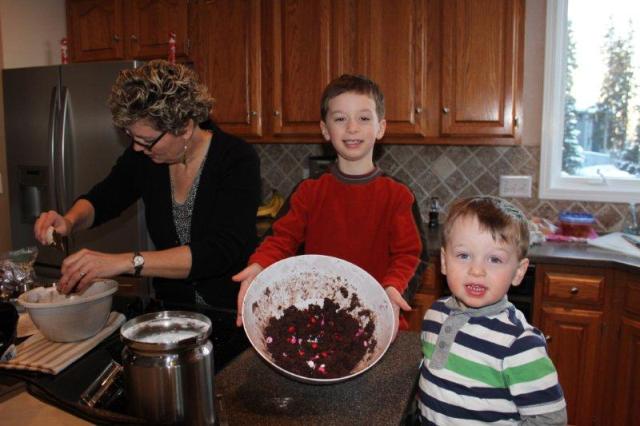 Doesn't the dough look good?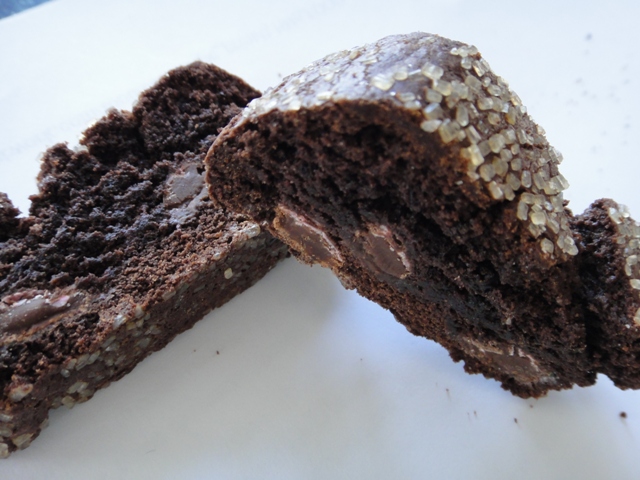 Here's the final cookies, with the M&Ms showing inside.
I look forward to doing more cooking with kids. I think it's great for them to have an interest in cooking, and it teaches them so valuable lessons like how to follow directions, helps with math in the measurements, etc.
Chocolate Biscotti Yield: About 40 cookies
Adapted from "Baking with Dorie" by Dorie Greenspan
2 cups all-purpose flour
½ cup unsweetened cocoa powder
2 tablespoons instant espresso powder
¾ teaspoon baking soda
½ teaspoon baking powder
1 teaspoon salt
¾ stick (6 tablespoons) unsalted butter, at room temperature
1 cup sugar
2 large eggs, lightly beaten
1 teaspoon pure vanilla extract
1 cup chopped almonds
4 ounces bittersweet chocolate, coarsely chopped
Sugar, for rolling in (I like to use Sugar in the Raw or a course sugar)
Center a rack in the oven and preheat the oven to 350 degrees F. Line a baking sheet with parchment paper.
Sift together the flour, cocoa, espresso powder, baking soda, baking powder and salt.
Working with a stand mixer fitted with the paddle attachment, or with a hand mixer in a large bowl, beat the butter and sugar together on medium speed until pale, about 2 minutes; the mixture may be crumbly. Scrape down the sides of the bowl, add the eggs and vanilla and beat for another 2 minutes; don't worry if the mixture looks curdled. Reduce the mixer speed to low and mix in the dry ingredients in 3 additions, mixing only until a dough forms. Scrape down the sides of the bowl. Mix in the chopped nuts and chocolate, then turn the dough out onto a work surface and knead in any dry ingredients that might not have gotten mixed in.
Divide the dough in half. Working with one half at a time, roll the dough into 12" logs. Roll in the Sugar in the Raw to coat. Flatten both logs with the palm of your hand, so they are about ½ to 1" high, about 2" across and kind of rectangular, then carefully place the logs onto the baking sheet.
Bake the logs for about 25 minutes, or until they are just slightly firm. The logs will spread and crack-that's okay. Remove the baking sheet from the oven, put it on a cooling rack and cool the logs for 20 minutes. Leave the oven on.
Working with one log at a time, using a long serrated knife, cut each log into slices between ½ and ¾' thick. Stand the slices up on the baking sheet, and bake the cookies again. The original recipe calls for 10 more minutes, but I've always had to cook for 15 to 20 to make them come out crispy. Test them after 10 minutes to see what you think, knowing they will crisp up as they set.
Transfer the biscotti to a rack to cool.
Storage: They will keep several weeks in a cookie jar or ziplock bag, or you can wrap airtight and freeze for a couple of months.
Notes and Variations: Use good cocoa and chocolate. The higher quality you use, the better these will taste. A wonderful addition is to add 1/3-1/2 cup chopped dried cherries to the dough when you add the almonds and chocolate.