Yesterday I woke up with one thought-I'm actually tired of food. And wine. My stomach is now pulsating-in, out, in, out. It gets bigger with each meal, then shrinks a little as I sleep. The problem is that it isn't shrinking back to it's original size, but slowing finding a new "normal" to start from. But unfortunately, I knew this feeling of being tired of food and wine would only last until I saw the next menu. And I was right.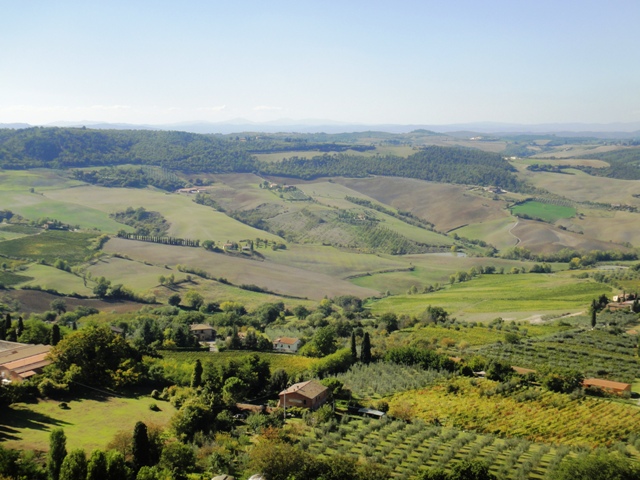 Yesterday was another beautiful day. Sunny skies, with enough of a breeze to keep it from getting too warm. Our plan was to visit Montipulciano. We got a rather late start, and arrived in Montepulciano in time for lunch. When we were there in 2007, we visited there, but neither of us remembered it except for climbing the tower.
I really liked this town this visit. It's large enough to see a variety of things-areas busy with tourists, but also winding narrow alleys with no one around.

We were looking for a particular restaurant for lunch, the type we typically eat at-local with authentic regional food. We couldn't find it, and came across a little place with 3 tables outdoors. I didn't realize that it was part of the restaurant across the street. The name of it was Ristorante Le Logge del Vignola. They gave us menus that were written in English, which turned me off a little. I wondered if we were being handed the tourist menu and missing some wonderful things, but I don't think so. Although there were Italians there eating, this wasn't your average place for a local to have a quick lunch. It was quite fancy compared to all of our other meals. The presentation of the food was really nice, and luckily, the flavor was also.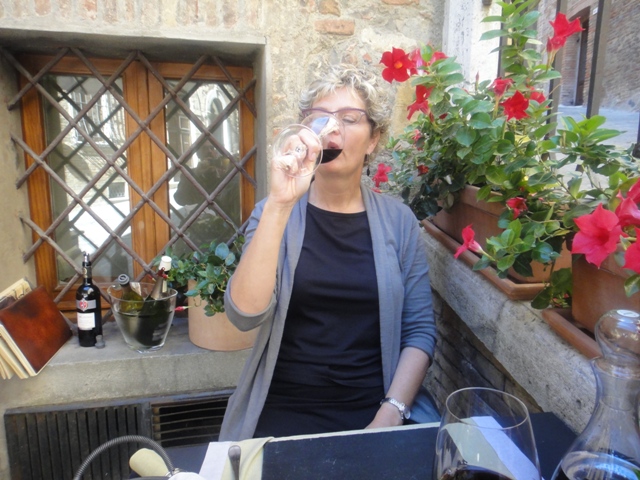 I started with a warm bell pepper soup with Caprino sheep's milk cheese. Oops, I forgot to take a picture!!! You can tell how good it was, can't you?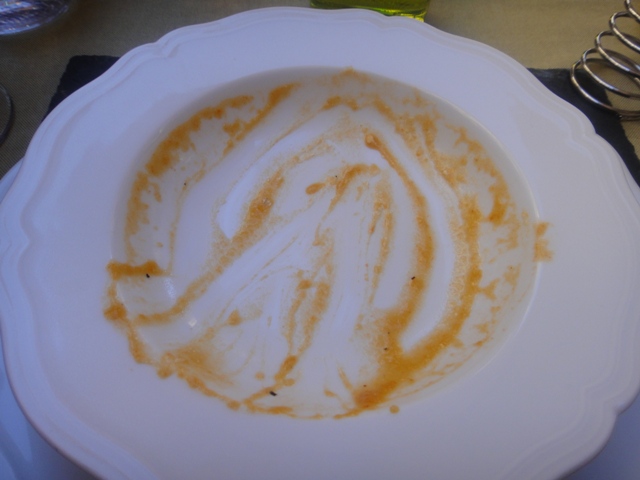 I forgot to take a picture of Scott's dish also. But he was a little slower eating his than me, so I actually got a picture when I remembered. He started with gnocchi with Tuscan pesto gratineed with mozzerella from Montepulciano. This was a different preparation than I had seen before with gnocchi. It was very good, but I'd still prefer it without the gratinee.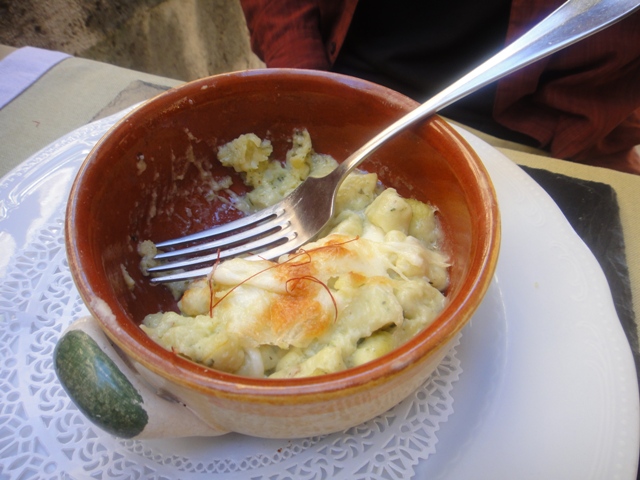 Next I had a farro spelt Monteccato with red wine and summer truffles. This was cooked similar to a risotto. Again, very good, and very filling. It was topped with a Parmesan crisp and shaved truffles.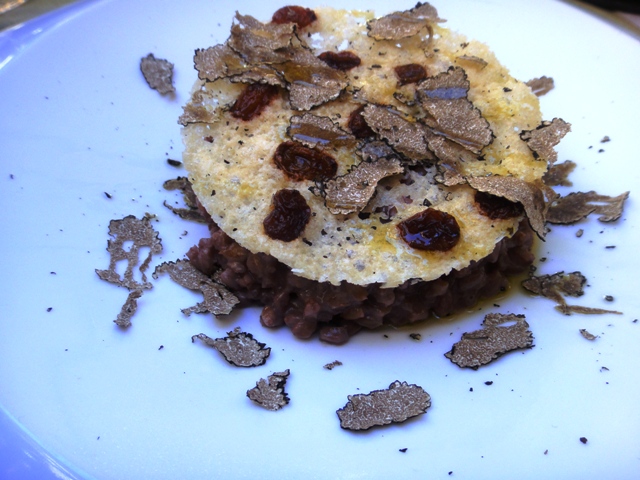 Scott had the Suckling Pig baked in Oven with Apple Calvadoes. Beautiful presentation. A roasted apple in a nest of fine something or another, and the pig with crispy skin. And roasted potatoes.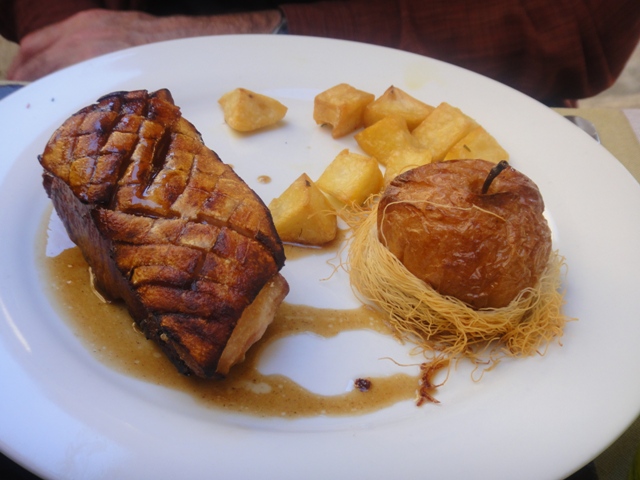 The restaurant also started us off with an amuse bouche and a complimentary glass of Prosecco. We decided to have a bottle of Nobile di Montepulciano (23 E). Our total with the bottle of wine, water, 1 antipasti, 2 primis, 1 secondi was 72.50 Euros. More than what we would typically spend, but a very nice lunch.
We visited the Duomo where I got some wonderful photos of the stained glass windows. I'll have to post them later because they were taken on a different camera.
We next went to taste wine at Cantucci Cantina.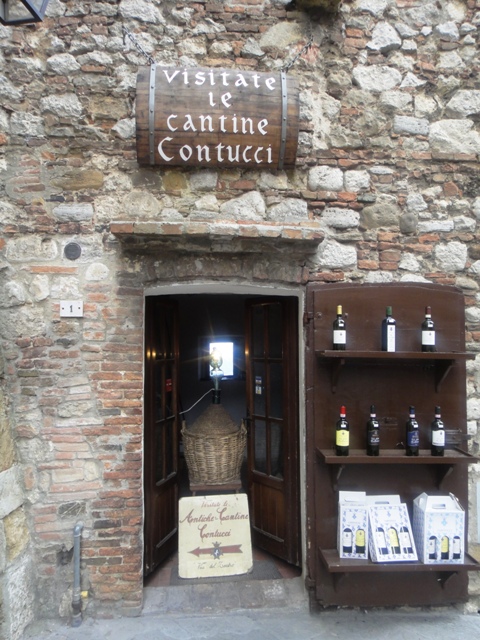 I had read about this in Rick Steves book, and he tells you to skip the formal tasting room and visit with Adamo. We did this, and it was a kick. Adamo decided he would give me several kisses, and unfortunately, the photos didn't turn out due to sun coming through a window. But he was more than willing to take another one, which turned out well. We bought 2 bottles of the reserve Nobilie di Montepulciano, and 2 bottles of Vin Santo.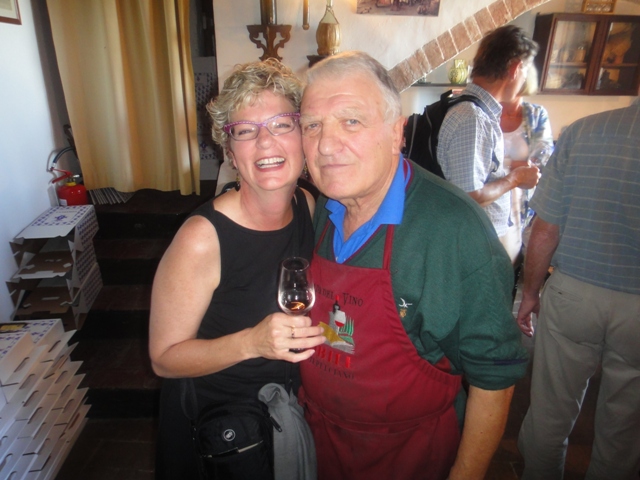 It was another picture-perfect drive home. For dinner, we stayed home and had a salad and a simple pasta.
It's Friday morning now as I write this. Time to go get ready, as this is our last day in the region. We're having dinner with Gloria and Marcel tonight, then tomorrow it's off to Rome.
Ciao!!!