10-4-10 Drive to the Coast and a Wonderful Dinner
Today we knew it was most likely going to rain, so we planned on an activity where we would be inside most of the time. That was driving from Civitella Marittima south along the coast to Porta Santo Stefano and Porto Ercole.
We drove this same drive in 2007, and on that day it was a beautiful sunny day. That type of a day makes the drive a lot prettier. Today the drive was nice, but when it's pouring rain part of the time, it's not the same.
Here are some photos of Porto Santo Stephano and the drive up high around the area. Last visit the port here was full of yahcts, but not so this time. I guess the season is over.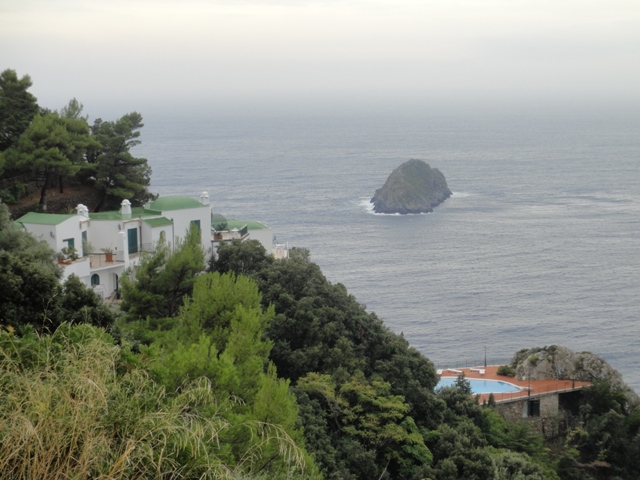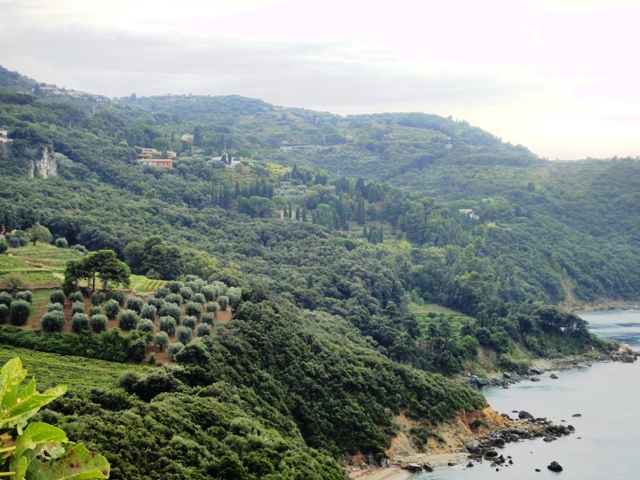 Here is a photo of Porto Ercole. This area isn't as ritzy as Porta Santo Stefano.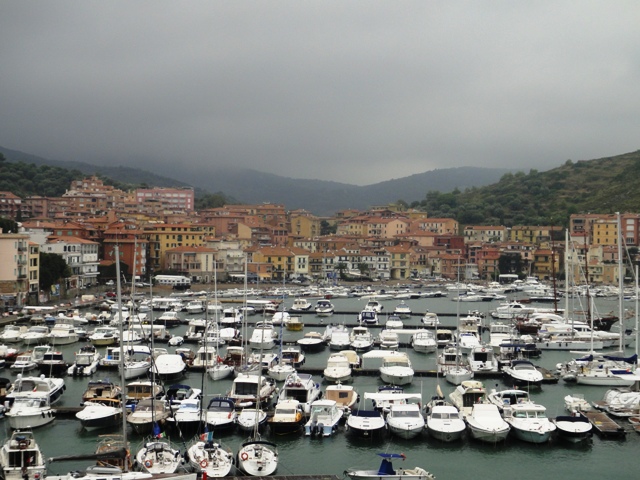 For dinner, we decided to eat at the wonderful restaurant in Civitella Marittima, Locanda Nel Cassero. We didn't have reservations and we wondered if we would be able to be seated. We went a little early, just in case, about 7:45pm and there was only one other table filled. We were there about 2 hours, and only 3 other couples came in.
This restaurant has such delicious food, we'll eat there again. They bring you a glass of complimentary Prosecco to begin. We were going to order the house wine, but they were out. So we ordered a bottle Muralia Babone 2007. This was from this region, and was a blend of syrah, merlot, and one other grape (I can't remember which one it was.). The wine was 14E and it was very good. I don't think we've had any really bad wine yet.
Scott started off with Potato and Pumpkin Gnocchi with Truffle Sauce. This was the best thing I've tasted on our trip so far, and I can't wait to have a plate of it for myself. The gnocchi were light, not the really heavy pillows we've had elsewhere. The truffle sauce had truffle oil in it, but also had a few pieces of fresh black truffle shaved on top.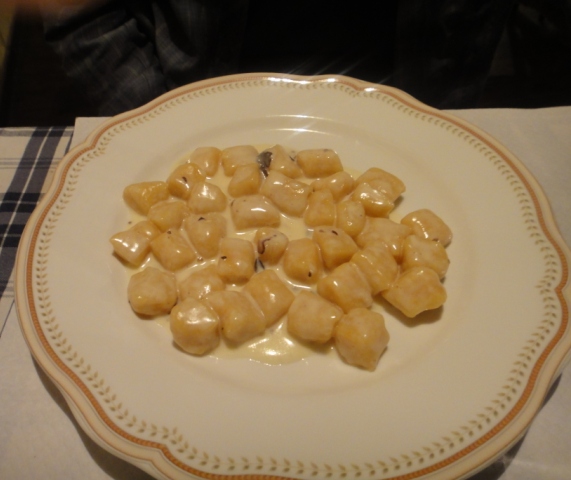 I started with what I thought was going to be Tortellini. I didn't write down what the name of the dish was, but I must have been off in the name. They were stuffed pasta, but large squares filled with a cheese and spinach mixture. It was topped with a very flavorful meat ragu.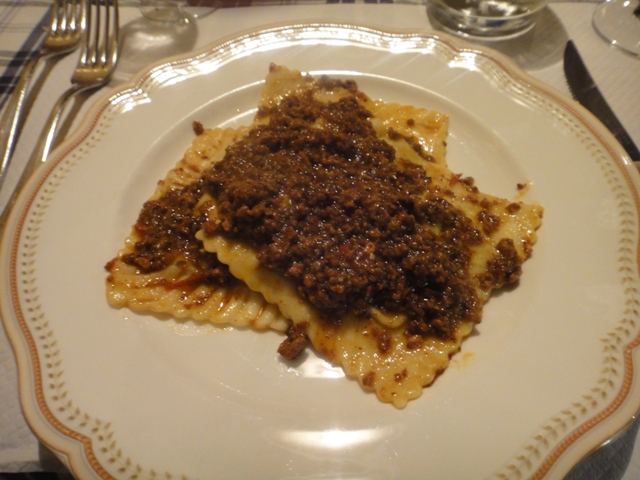 For Scott's secondi, he wanted to order the Chingale(wild boar) stew, but they said the Chingale that day was like a steak and roasted. We couldn't understand everything the waitress was telling us about it, but Scott decided to take a chance and order it. The preparation was very simple-grilled, sliced, and served with arugula. Scott enjoyed it. It's not a super tender meat, but the flavor was really good. It didn't taste like beef, but it wasn't gamey either. This dish was served with some grilled zucchini and roasted potatoes.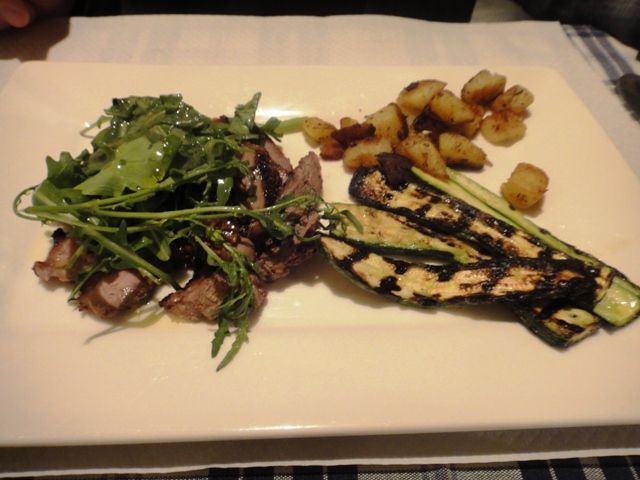 For my secondi, I had Coniglio(rabbit). I don't remember how it said it was prepared, but I think it was roasted or pan roasted with a simple sauce and some small flavorful olives. It was so tender and flavorful. Mine was served with the roasted potatoes and a spinach souffle.


We split a Pana Cotta with chocolate sauce for dessert, which was good. How can you go wrong with the sweet taste of cream?
With the 2 Primis, 2 Secondis, 1 bottle of water, 1 bottle of wine, 1 espresso and 1 dessert the total was 66.80 Euro. I can't wait to go back and eat there again.