10-2-10 The drive from Bevagna to Civitella Marittima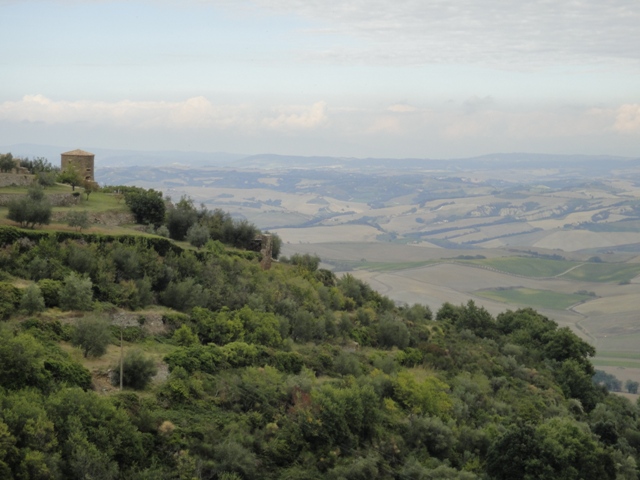 Today we checked out of our apartment in Bevagna, and began the drive to Civitella Marittima. We could have gone the easy way, but no, we decided we wanted the slower scenic view. We passed through some majestic places, but as usual when we're driving the backroads in Italy, it was stressful. At least for me. We got turned around multiple times again today, but between the GPS and the map, we made it in time for our check-in at Casina di Rosa.
You can see from the photos above that the fields have turned golden brown. I think these colors are so pretty. I wonder what the hills would look like in the green springtime, but I can't imagine they have the variety of shades that are there this time of year.
We checked into Casina di Rosa, and got to see first-hand the wonderful remodeling they have done. Last time we stayed here, we loved it, and I think it will be even better this time.
We were too tired to think about going to the grocery store or even finding a restaurant for dinner, so I unpacked some of the items I had bought to bring home. We had pasta with trufffle sauce, along with a nice bottle of wine that Gloria and Marcel had provided us with.
I'm not sure I'll be blogsging every day, but will keep in touch at least every few days. I think tomorrow we will visit Sienna. It's supposed to be a warm sunny day, much different than last time we were there when it was cold and rainy.