10-14-10 Paris – Marche de la Bastille Market, Pastry/Chocolate Tour, and Notre Dame
I'm back home in Alaska now, and trying to finish posting about our last days in Paris. I've learned that if you get behind, it's hard to remember the specifics, so hopefully I can remember enough to make this post interesting.
I wanted to go to an outdoor market while in Paris. I found a listing of some markets, and there was one being held on Thursday-Marche de la Bastille. It was a large, fun market to go to. There was a large variety of things being sold. You had your typical market stalls selling clothing, household goods, etc. There were also wonderful fruit & vegetable stands, meat stands, fish markets, cheese, etc.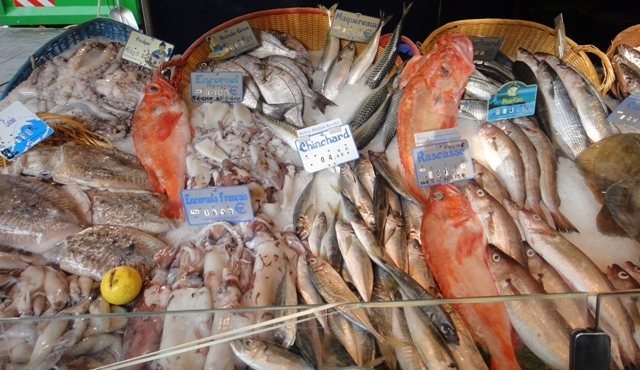 One thing that I was so amazed by was the care in the way the vendors set up their produce. The visual appeal of the display really makes you want to buy their goods.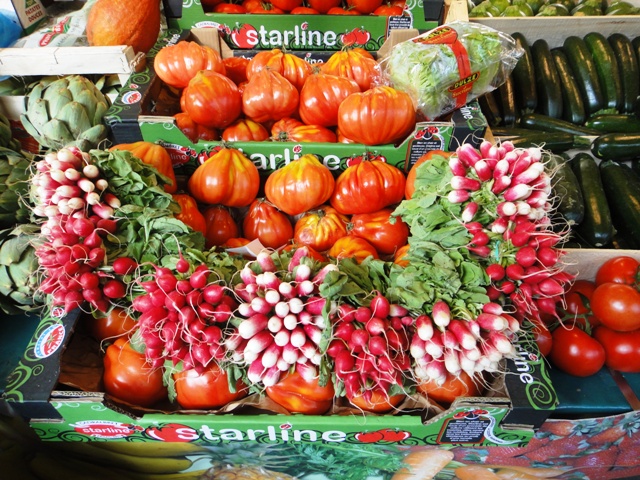 There was also a crepe stand set up at the market. Scott had a crepe filled with a caramel, and I had a savory filled with goat cheese, tomatoes, and a few other things I can't remember.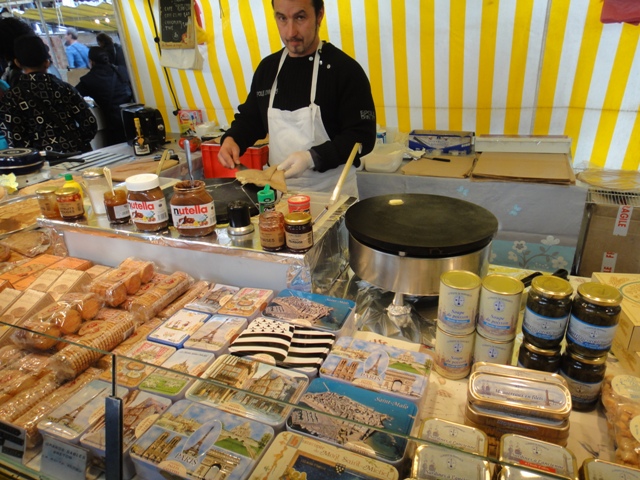 That afternoon, we had made reservations to do a Chocolate/Pastry Tour through Meet the Parisians. The tour was 3 hours long, and only ended up being me and Scott. We were led through a variety of stores, almost all high-end. Some of these I might have been a little intimidated at going into on my own, so this was a perfect introduction to them. The tour is in the St. Germain-des-Pres district. We started at La Maison de Chocolate, where we each got to choose 2 chocolates and split a chocolate eclair. Great way to start off the tour. We next went to Poilane Boulangerie.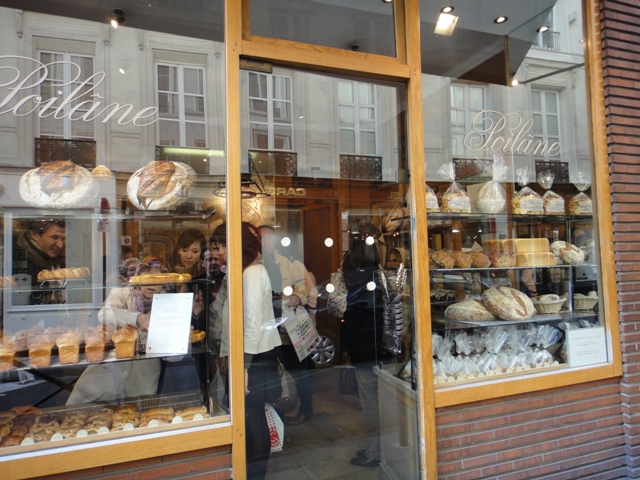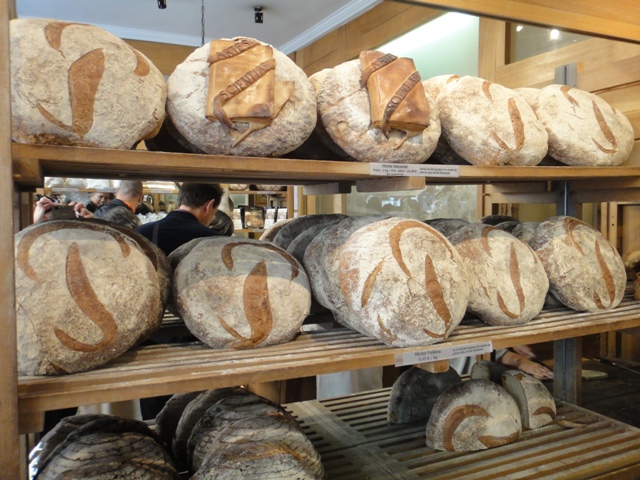 Beautiful breads, but a very small store. Actually, that was the case with many of these. I was also hoping to see some of the chocolates or breads being made, but I think all of the locations we went to were just store fronts, and the products were made elsewhere. After Poilane, we visited Patrick Roger Boutique. He is described as a sculptor of flavours, and had some wonderful chocolates. We purchased a box of these to bring home. Also some of his wonderful caramels, some of the flavors of which are chocolate, lime, cassis, and salted butter. This photo doesn't do the shop justice, but it was a very streamlined shop.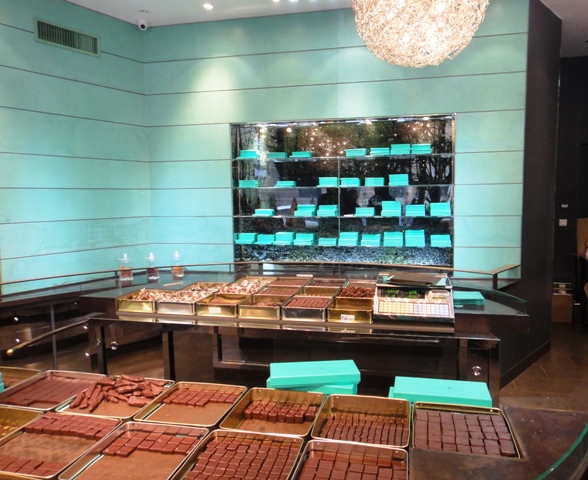 We next visited Gerard Mulot.This was a store that carried a huge selection of things. We were too full to taste anything, but I did bring home some delicious fruit gelees. Not only did they carry beautiful pastries, but also savories that looked like they were too good to eat.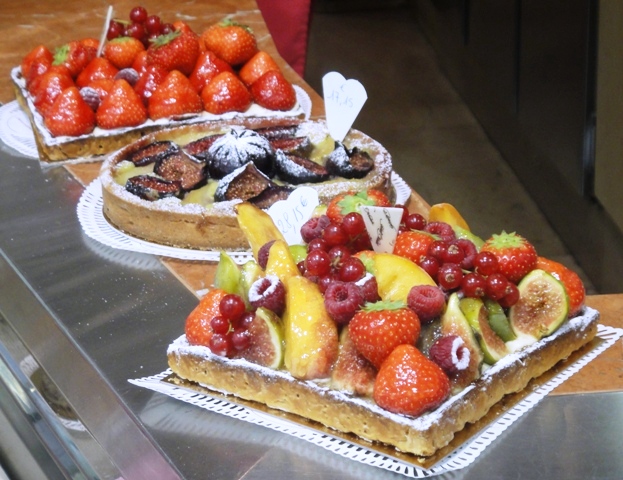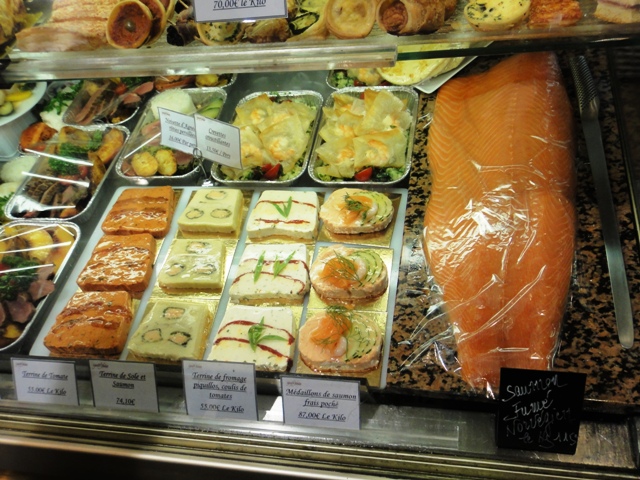 The list of stores we visited continues to grow. We next went to Pierre Marcolini. This is a Belgium chocolate maker. Again, wonderful chocolates, and we had to bring home a box of these also. We stopped in a store that had just opened in Paris next- Weiss. I thought their store was beautiful-done in a light lavender and I think a brown. Last, we went to Pierre Herme. Here we got to choose a macaroon to try. I had the cassis chocolate and Scott had the creme brulee, and we now know why many think his macaroons are the best in Paris.
In between our visits to the shops, our guide also told us about the neighborhood and also took us through a beautiful cathedral. It was a tour I would recommend to anyone.
After our tour, we decided to visit Notre Dame. I really didn't know what to expect, and was overwhelmed. I had no idea this church was so large. And the stained glass windows were exquisite.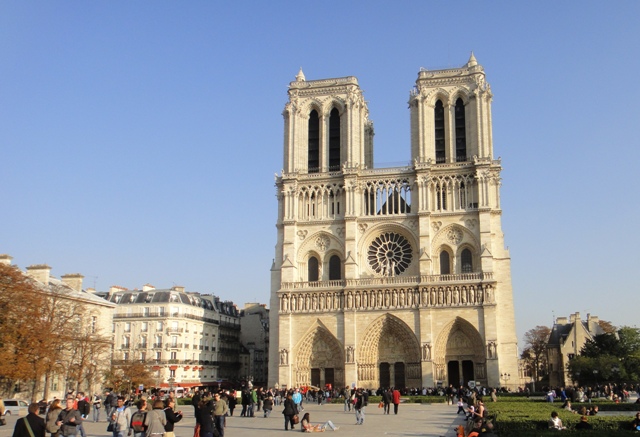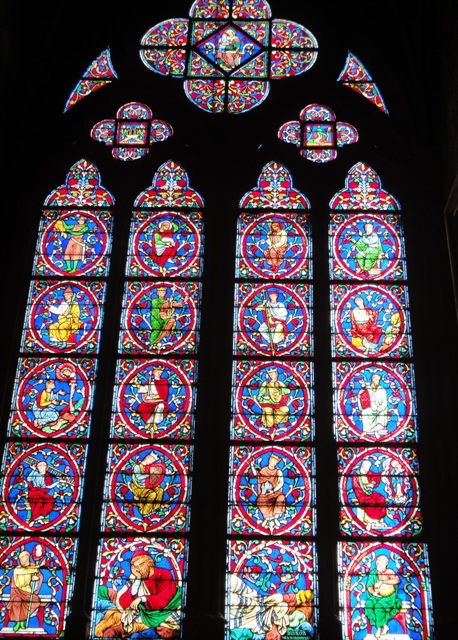 That evening, we ate at a neighborhood brassiere. I forgot the name, but the food was excellent. My photos didn't turn out well, so I'm going to bother to show them. I started out with escargot with a pesto sauce, and Scott started with fried calamari. My main was scallops served with some type of a cream sauce and rice. I wanted to lick the plate clean. Scott had duck breast, a nice sauce, and frites.
One other thing I forgot to mention we saw today-demonstrations. You've probably seen it on the news by now, but France is trying to raise the retirement age from 60 to 62, and people are demonstrating and striking. The day we passed one of the demonstrations, it was a much smaller group of students. I'm glad we left when we did though-the demonstrations are turning more violent and the stikes are beginning to affect flights more.