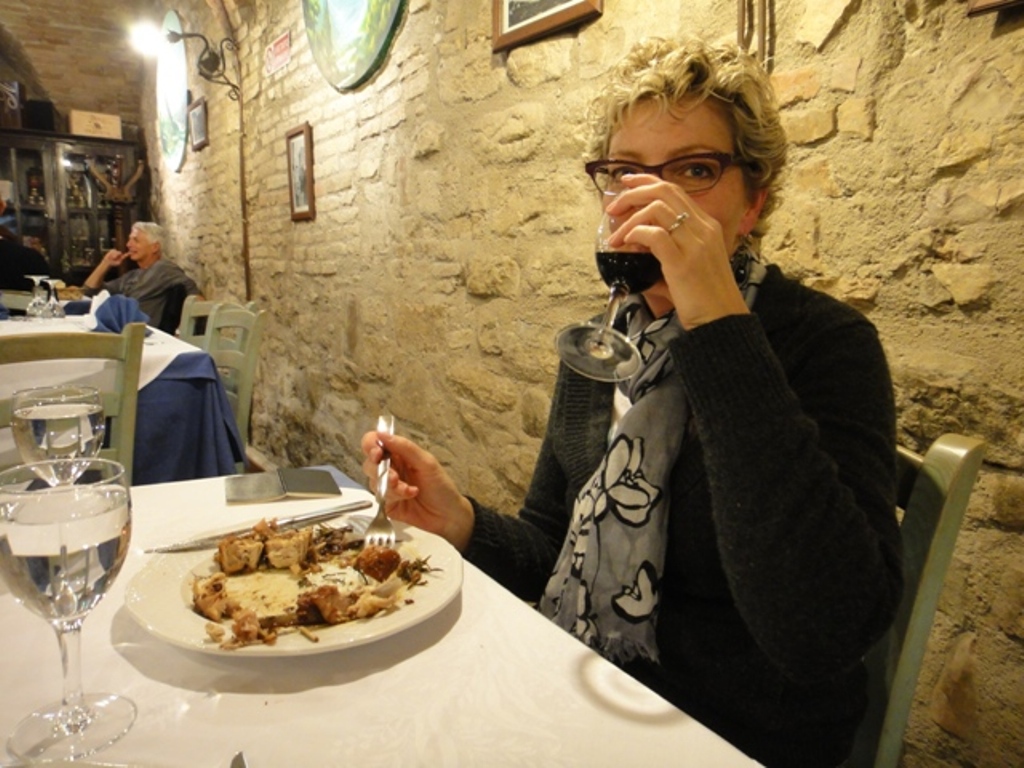 Okay, I didn't think I was going to blog while on vacation, but I have wireless internet connection at our apartment so I changed my mind. I think it will be a great way to put everything in writing.
We left Anchorarage at 6am on the 25th. We flew on Alaska Air to Seattle. We spent the night at a hotel close to the airport on the 24th, so it made that 6am flight a little easier. We had a couple of hours in Seattle before our Air France flight left for Paris. Luckily, we have a pass to the Ak Air board room, so we were able to hang out there. We then boarded the plane to Paris, and was pleasantly suprised with how nice the business class on Air France was. About 45 minutes after departure, they began the lunch/dinner service. We had champagne as we departed, then were given a menu from which to make our choices. Scott had a beef steak of some sort, and I had a chicken stew (chicken, baby carrots, baby turnips, leeks, and a potoato in a nice light sauce). That was after an amuse bouche of crab salad, and a starter of duck breast, herb mayonnaise, and a few other things I can't remember. I skipped dessert, but it was a trio of small chocolate tortes. The flight was about 9 1/2 hours long, and after the lights dimmed, the seats were put into a flat (or almost flat) position, I tried to sleep. It didn't work.

I just can't sleep on a plane, even when comfortable. I took 1/2 of a xanax, then the other half later on, and it still didn't work. No sleep came to me. At least I was comfortable though. We eventutally landed in Paris, and went throught the security lines again, which didn't take too long. The Charles de Gaulle airport is huge and very crowed. We were able to get on a little earlier flight, but we still had about a 5 1/2 hour layover. We visited the business class lounge, and were able to take a shower which helped us in feeling a little more awake. We then took our flight to Rome, which was about 2 hours. We were going to take the train to the train station (close to where we were staying), but ended up taking a shuttle that only cost 1 euro more than the train. By this time we were exhausted, but decided we needed to stay awake and then have dinner. We ate at a restaurant that was just below the hotel where we stayed. It wasn't great, but was good enough. We had bruschetta with tomato topping to begin, then Scott had a pasta with porcini mushroom sauce and I had a pasta with hare sauce. We like the other one's better, so ended up trading. We shared half a litre of wine, then were ready for bed. Went to sleep early, and then unfortunately I woke at 3am. After a benedryl, I was able to sleep more. This morning, we had a few hours to walk around Rome, then took a train to Foligno in Umbria. Nice train ride. We found the Avis rental car place after a little searching, then off to Bevagna where we were staying. The drive was very short (about 15 km), but when we got to Bevagna, the troubles began. The only directions our apartment had given us was that they would meet us on the bridge above the main parking area of the town. Well, when we drove into town, there were severeal parking areas. How were we to know which was the main one? We finally found a place to park, and began the search for the person we were to meet. I guess part of the fault was mine, because I told her our train schedule and I thought we would be an hour late of their normal time. But I can't tell you the frustration of not knowing if we were in the correct place, and not finding anyone who could speak English to ask. We finally figured it out, and I called, and then about the time we were really supposed to meet, our greeter showed up, aplogizing that we had to wait. She helped us with our luggage, but wanted us to follow her into town, where it would be easier to drop our luggage at our apartment. Scott did a fabulous job driving. Did you know you could put a car that is 4'wide though an alley that is 4 1/2′ wide with a very sharp corner leading to it? Well, I don't know if the dimensions were right, but I have to say, no way would I ever have turned onto that narrow little street unless I was following someone. We were kindof left on our own for parking and finding our way around. Let's hope we don't have a ticket or are towed tomorrow morning. Our apartment is great though. We searched for a place to eat dinner, as most places are closed on Mondays. We found a place open called Osteria del Podestal Ristorante. It ended up being very good. I had orchiette with arugula pesto and Scott had gnocchi with Sagrantino sugo as a starter, then for our secondi's I had coniglio wirth porchetta, which was a rabbit wrapped with pork, and Scott had veal with porcini mushroom sauce. With a litre of house wine, and a bottle of water, and a tirumisu for Scott and a espresso for me, the total was 52.50 euros, which I thought was very fair. We're now back to our apartment and it's time for bed.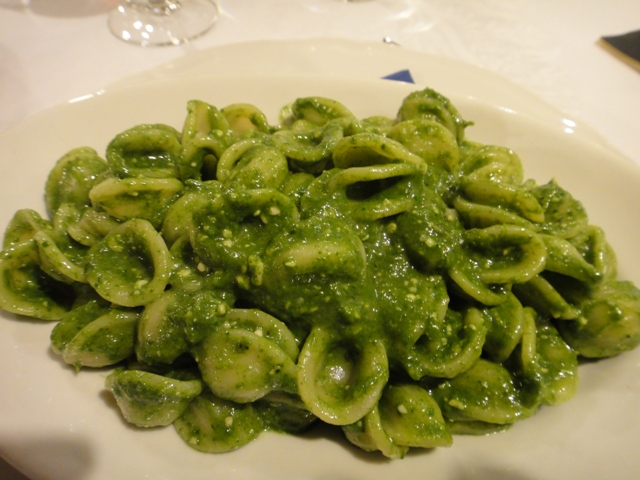 Orcietto with Rugula Pesto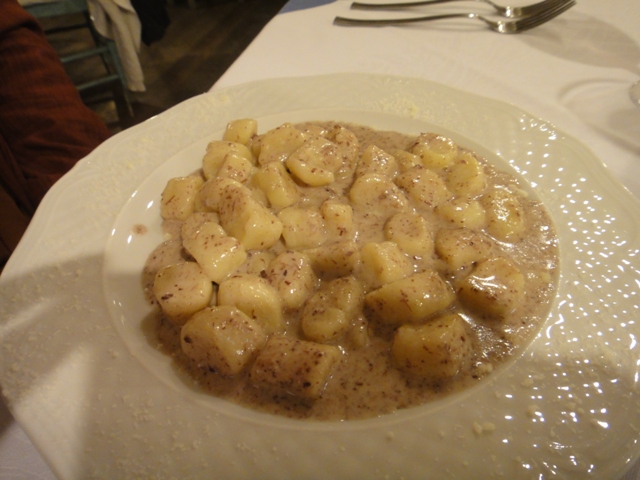 Gnocchi with Sagrantino Sauce
img alt="9-27-10%20Vittello%20with%20Porcini%20Mushrooms.JPG" src="http://cindysbakedalaska.com/images/9-27-10%20Vittello%20with%20Porcini%20Mushrooms.JPG" width="640″ height="480″ />
Vitello with Porcini Mushrooms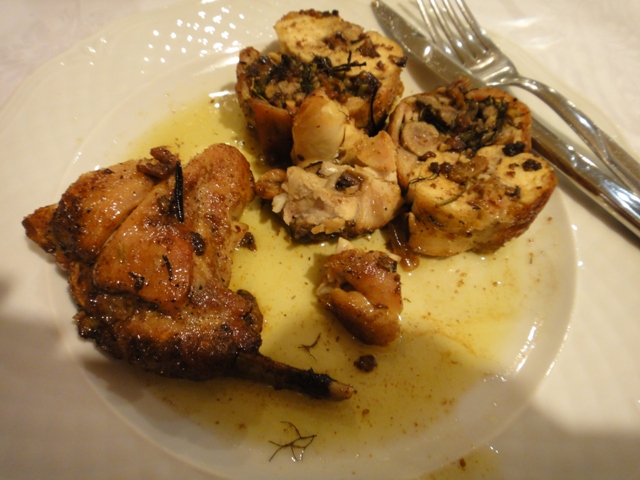 Colignio con Porchetta
I'll try to keep blogging, and I'll also try to not be so long-winded. It's hard to be not too wordy when you're in beautiful Italy. Buona Sera!