Sunday Slow Sides – Petits Pois a la Francaise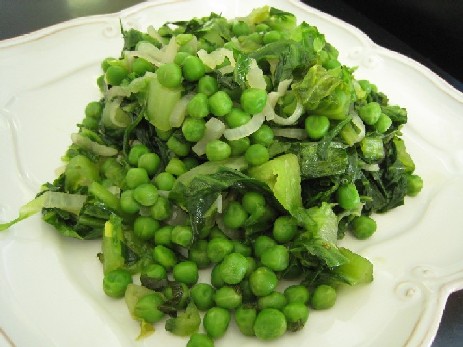 For those of you who follow my blog, you know I've participated in several Sunday Slow Travel cooking groups. We were Sunday Slow Bakers, Scoopers, Soupers, Salads, and I don't even remember what else. I sat out the last group, but I'm back again. This time we're Sunday Slow Sides. This group was started as a way to find new recipes to use the fruits/vegetables of summer.
I'm a day late on the first challenge, but life goes on. This first recipe was chosen by Amy.. Her ingredient was peas, and she chose a French recipe for us to try.
It was a lovely recipe, and one I'm sure I'll make again. Very easy also. Saute shallots in a little butter, add chopped lettuce or spinach (I used all Romaine lettuce), cook until wilted, then add peas and a little chicken broth and cook briefly. Top off with salt, pepper and a little chopped fresh mint. A light, fresh side dish.
Petits Pois a la Francaise
Measurements are estimates, use what you have–all lettuce, all spinach, or a combination. This made four servings.
If you're not watching your weight, feel free to add more butter!
2 shallots, sliced
1 Tbs. unsalted butter
1 head lettuce, (I used romaine one time, buttercrunch another)carefully washed and roughly chopped
6 cups spinach, carefully washed and roughly chopped
1/4 cup chicken broth
2 cups fresh shelled peas; or frozen peas, slightly defrosted
salt and pepper to taste
1 tsp. (more to taste) chopped mint
1. In a large skillet, melt the butter and saute the shallots until soft.
2. Add the lettuce and spinach. Saute until almost wilted.
You may need to do this in batches–just add it all together when the batches are cooked down.
4. Add the broth and peas, and slam on the cover. Cook until the peas are just tender–2 minutes or so. (just one minute if using frozen peas)
5. Add salt and pepper to taste, and the chopped mint. Stir well and serve.