July Daring Cooks – Nut Butters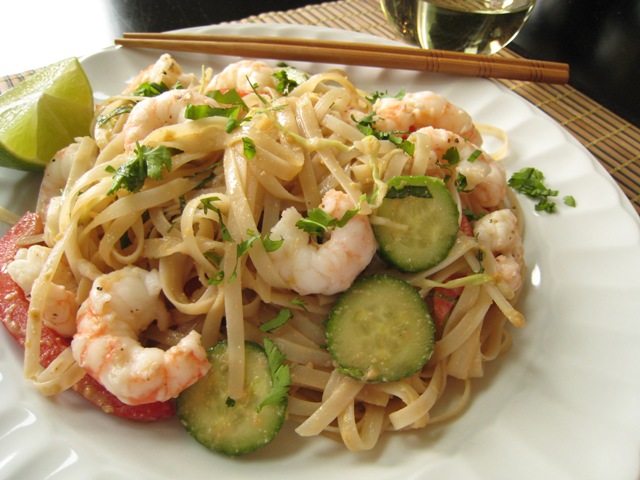 It seems like I've been late on many of my challenges lately, and this one is no exception. Time for another Daring Cooks Challenge. The July 2010 Daring Cooks' Challenge was hosted by Margie of More Please and Natashya of Living in the Kitchen with Puppies. They chose to challenge Daring Cooks to make their own nut butter from scratch, and use the nut butter in a recipe. Their sources include Better with Nut Butter by Cooking Light Magazine, Asian Noodles by Nina Simonds, and Food Network online.
I chose to make peanut butter and use it in the Asian Noodle Salad with Peanut Dressing. It was delicious. First of all, I guess I never really thought about how easy making nut butter is. Put the nuts in a food processor and whirl away. That's it. I followed this recipe as written and added a little thinly sliced cabbage to it. You can also make it using cashews instead of peanuts.
I was glad that I made this late for one reason-I made it on a day when my husband had been out shrimping, and I used shrimp that had just been pulled from the water a few hours earlier. They were sweet and delicious.

Asian Noodle Salad with Peanut Dressing
Yield: 4 servings
Recipe notes: Customize the salad by adding or substituting your favorite vegetables. Shredded cabbage, bean sprouts, and slivered carrots would make nice additions. You can omit the shrimp, or substitute chicken or tofu or the protein of your choice.
Ingredients:
Peanut Butter:
1 cup (240 ml) peanuts
Peanut Dressing:
½ inch (1 cm) slice of fresh ginger, chopped
8 cloves garlic, more or less to taste, chopped
½ cup (120 ml) peanut butter
¼ cup (60 ml) soy sauce
3 Tablespoons (45 ml) sugar
3 Tablespoons (45 ml) vinegar
3 Tablespoons (45 ml) toasted sesame oil
¼ cup plus 1 Tablespoon (75 ml) water
Hot sauce to taste (optional)
Noodle Salad:
1/2 pound (225 g) linguine or thin rice noodles
1 tablespoon (15 ml) olive oil
1/2 pound (225 g) small or medium shrimp, peeled and deveined
1 large red bell pepper, cored and seeded, cut into thin strips
1 cucumber, peeled, seeded, sliced
1/4 cup (60 ml) sliced green onions
1/4 cup (60 ml) chopped fresh basil
1 tablespoon (15 ml) chopped peanuts (optional garnish)
Lime wedges (optional)
Directions:
Make peanut butter: Grind peanuts in food processor for about 2 minutes until smooth. (*Or start with ½ cup (120 ml) prepared peanut butter.)
Prepare peanut dressing: Combine ginger, garlic, peanut butter, soy sauce, sugar, vinegar, sesame oil, and water in food processor or blender. Process/blend until smooth. Be sure to process long enough to puree the ginger and garlic. The dressing should be pourable, about the same thickness as cream. Adjust consistency – thinner or thicker — to your liking by adding more water or peanut butter. Taste and add your favorite hot sauce if desired. Makes about 1 ½ cups (360 ml) dressing. Store any leftover dressing in the refrigerator.
Prepare noodles according to package instructions in salted water. Rinse and drain noodles. Set aside.
Heat oil in large non-stick pan over medium heat. Add shrimp to the pan and sauté for about 3 to 4 minutes or until opaque throughout. Alternately, cook shrimp in boiling water for about 2 to 3 minutes or until done.
Slice basil into thin ribbons. Combine noodles, bell pepper, cucumber, onions, and basil in a large bowl. Add about ½ cup (120 ml) cashew dressing; toss gently to coat. Add more cashew dressing as desired, using as much or as little as you'd like. Scatter shrimp on top. Squeeze fresh lime juice over salad or serve with lime wedges. Sprinkle with chopped peanuts if desired.