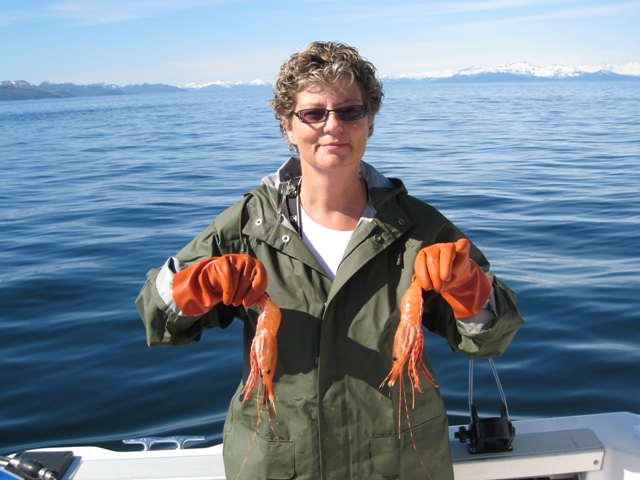 For those of you who have followed my blog for a while, you probably know that my husband and I have a small (24′) boat that we take mainly out of Whittier in Prince William Sound. I enjoy being on the boat in good weather, but rarely does the weather seem to be good when I'm out there. This weekend was an exception to that. We took off work on Friday, and took Bella to board at It's a Dog's Life (doggie daycare), and towed the boat down to Whittier (about 1 1/2 hours from our house). It was a beautiful sunny day, with no wind. If you've ever been to Whittier, you know how unusual the no wind part is. We spent Friday through Sunday afternoon out on the water. And the weather was perfect the entire time. Some sun, some clouds to give you a break from the hot sun, and no wind.

I was already feeling that lucky feeling of living in Alaska before we left. I had seen a Grizzly bear on Thursday morning on the road as I left the house, and Thursday night across the street from our house was a mama moose and her very young twins. Over this weekend I could add Humpback whales, Dahl porpoise, Sea Lions, Sea Otters, Eagles, and numerous sea birds to the list. Wow, what a thrill living here is.
Okay, back to the fishing and shrimping. In Prince William Sound, you are allowed to put 8 shrimp pots out at a time. We put out three lines-two with 3 pots and one with 2 pots. This weekend we put them out Friday afternoon, and pulled them Saturday morning. Put them back out, and pulled them Saturday afternoon. Put them back out and pulled a last time Sunday morning. So 3 pulls. We got a record amount of shrimp for us – about 40 gallons. After I ripped the heads off of almost all of them (my husband helped with a few), when home, I weighed the tails only and we ended up with a whopping 45 POUNDS OF TAILS! Guess where we're headed today – to Costco to buy a second freezer. Here is a photo of a tub of shrimp after I had removed the heads.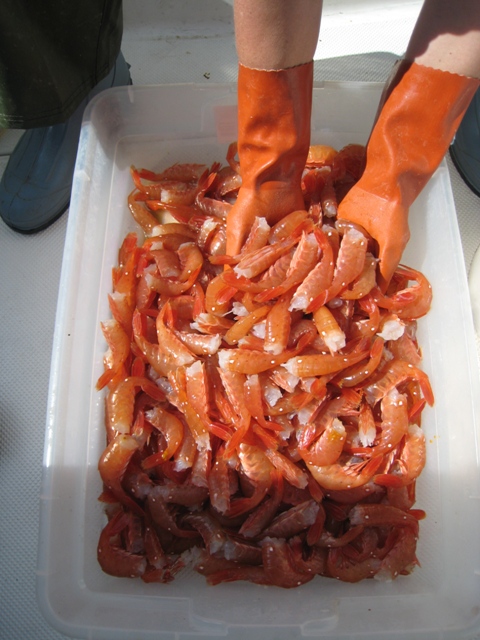 Can you tell from the first two photos here how large the shrimp are?
We also did some fishing while out. It's too early for the salmon to be running, and the halibut were still pretty scarce where we were. But we did catch a couple of nice Yelloweye (rockfish) and a pacific cod. Here's the photo of the largest yelloweye. I'm holding it, but my husband caught it.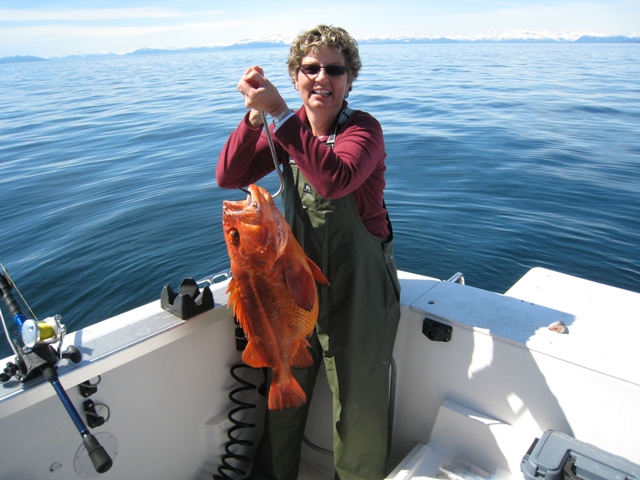 Did you ever wonder what it looks like inside the mouth of one of these large Yelloweyes? Well, now you know. And those things that look like teeth aren't teeth, they're gills.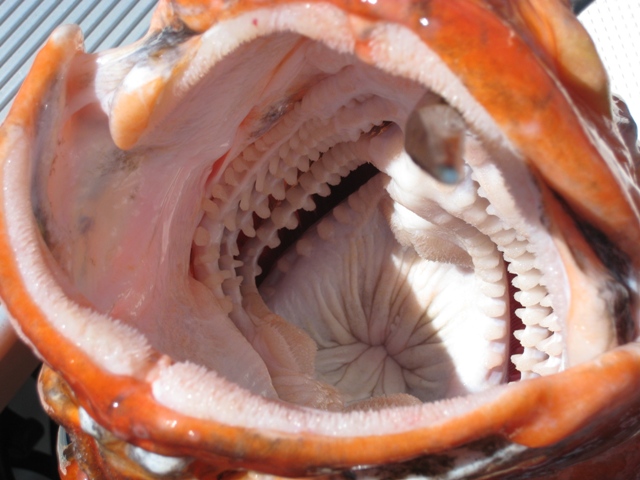 You're not allowed to crab out of Whittier this time of year, but someones a crab catches a ride on the shrimp pots as you pull them up. This one enjoyed a nice ride to the surface. Unfortunately, we had to put him back in the water instead of enjoying him for dinner.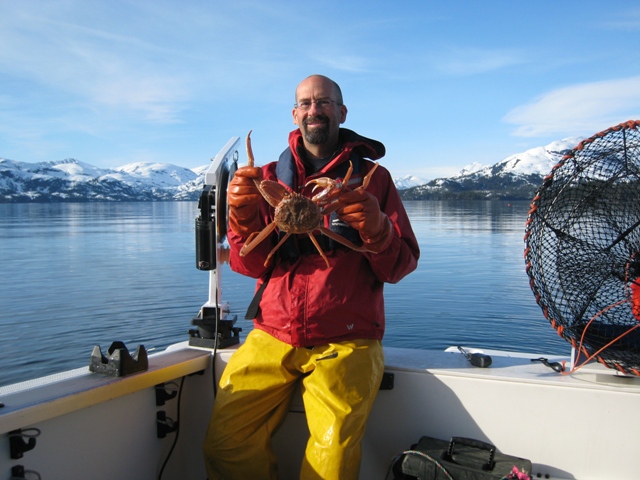 I mentioned that we saw whales. We saw them both Friday and Saturday. They were Humpback Whales. I saw something I've only seen in Hawaii, but never in Alaska. One breached out of the water right next to the boat. Unfortunately, my camera wasn't ready. It's hard to get good photos of the whales, but here's one that can give you an idea.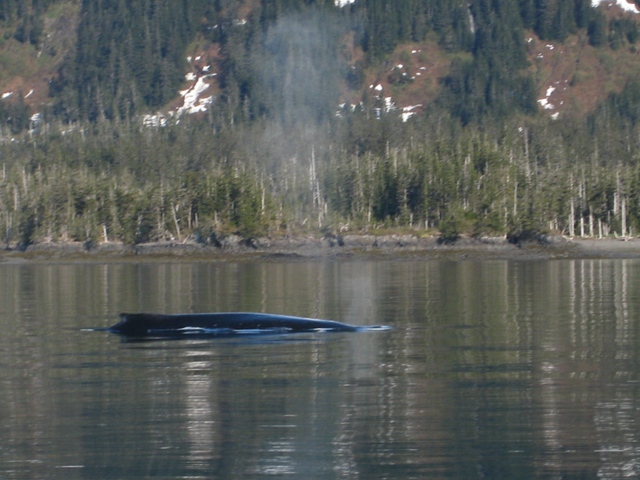 Here is a picture of the cove where we stayed each night (Surprise Cove) and a picture as we're coming out of the cove in the morning.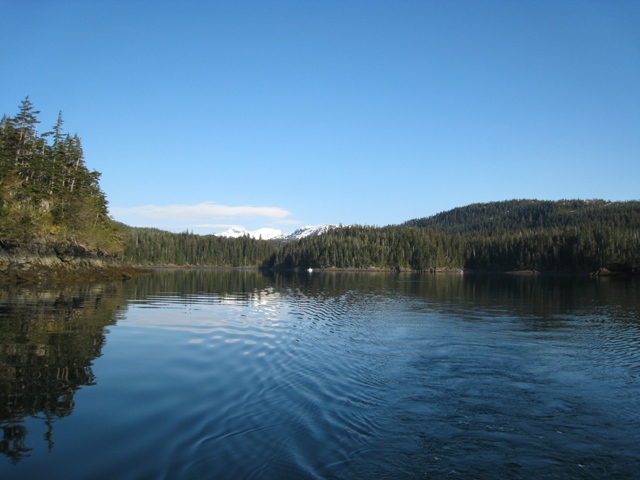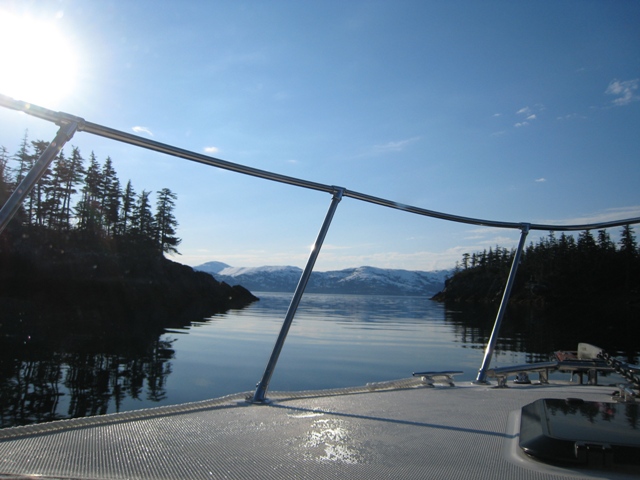 Here's Scott enjoying a sunny break on the back of the boat.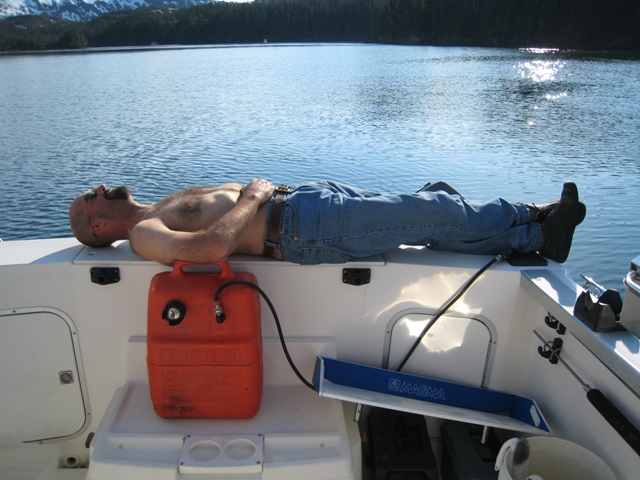 And since this blog is usually about food, I thought I would show you the quick meal I made for dinner last night – olive oil, garlic, hot pepper flakes, white wine, shrimp, and a few tomatoes.