Essentials of Classic Italian Cooking – Summer Vegetable Soup with Rice & Basil, Milan Style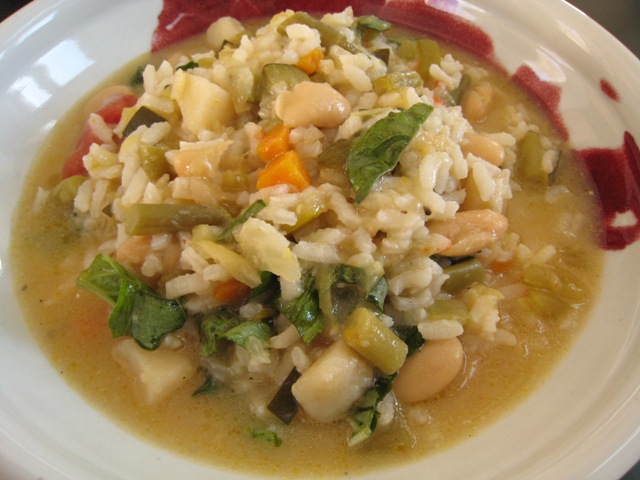 I imagine that if you're reading this blog, you know that I'm part of a group of 9 who are cooking our way through Marcella Hazan's Essentials of Classic Italian Cooking. If you want to follow our progress, click on the link on my sidebar, or click here Pomodori e Vino. This is such a fun challenge we're doing. Note also that we're not posting the recipes, just descriptions. You can buy the book on Amazon.com, or at your favorite bookstore. I can tell you, you will be very happy if you purchase this book.
We've already worked our way through cold and hot Appetizers, and now we're on to soups. And what a very nice soup I have to start with -Summer Vegetable Soup with Rice and Basil, Milan Style. I love Marcella's description of this soup. She says that during the hot Milan summers, the trattorie make this soup first thing in the morning, and pour it into individual soup plates. They display it on a table at the entrance. By the time people arrive for lunch at 12:30 or 1:00, the soup will be at the perfect temperature and consistency.
This soup is based on the Minestrone alla Romagnola, that if you're following our blog, Michele made yesterday. So I made the Minestrone one day before making this soup, and let it set in the refrigerate all night becoming more flavorful. Then to make this Summer soup, you heat up some of the Minestrone, add rice (preferably Arborio), and water. You cook just until the rice is almost done, knowing that it will continue to soften as it sits. You then added grated parmigiano-reggiano cheese and torn basil leaves. I let my soup set for a few hours to become room temperature, but maybe because it's still cold here in Alaska, it was a little too cold for my taste. I preferred it warmed a little.
A variation that Marcella lists to this soup is instead of tearing the basil and adding it, you make a pesto and stir it into the soup. We loved this version the most. That pesto adds the lively spring flavor of basil throughout the soup. I wish I would have taken a photograph of this version, because it's also a beautiful green color. This soup is to be eaten the day it is made, otherwise the rice becomes too soft. But the Minestrone base can stay in the refrigerator for a while. We loved the version with Pesto so much that I think I made it 3 or 4 nights in a row.