MARISCOS GERMAN TACO TRUCK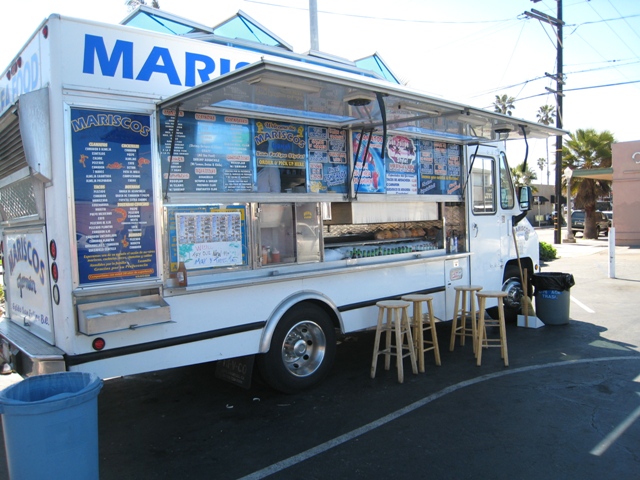 Last week, my husband and I spent about 4 days in San Diego. I'll write more about it later, as it was a wonderful trip. We met with a group of about 70 people who all participate on a travel website called Slow Travel. Every couple of years, they have a big get-together. This year it was held in San Diego. Many of the participants are food lovers like me, and while there were many group activities planned, we also had some time to ourselves. One day my husband and I spent the day at Ocean Beach, a funky little community that feels like a throw-back to the 60's. I had read on several foodie sites that there was a new taco truck in town-Mariscos German. They serve very authentic tacos. We ate an early lunch there and wow, were we in for a treat.
We each ordered a Smoked Marlyn(Marlin) taco and a Mexican-style Clam taco. The Marlyn taco is what they're really known for. They cost a little more than the others, but I think they were only around $3.50. And they were huge! One of those would have been plenty. The smoked fish is very meaty, and sauteed with bell peppers, onions, celery, then placed on the corn tortilla which had been sprinkled with Monterey Jack cheese. It was a very tasty combination. They Mexican-style clam tacos were also good, but the texture of the clams was pretty chewy. While you're waiting for your order, they also give you a complimentary cup of Seafood Soup.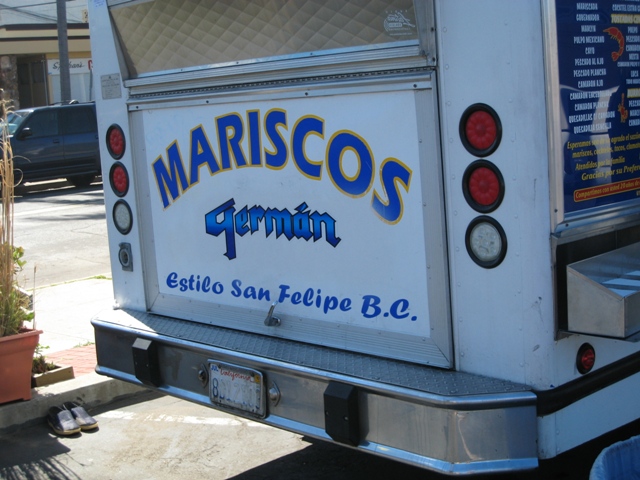 Here's a picture of the tacos. It's a blurry picture-sorry about that. There's only one small table to sit at by the truck, so we took ours over to a grassy spot by the beach to enjoy. Maybe I was just a little too relaxed to focus on photo-taking…