MARCH DARING COOKS – SHRIMP RISOTTO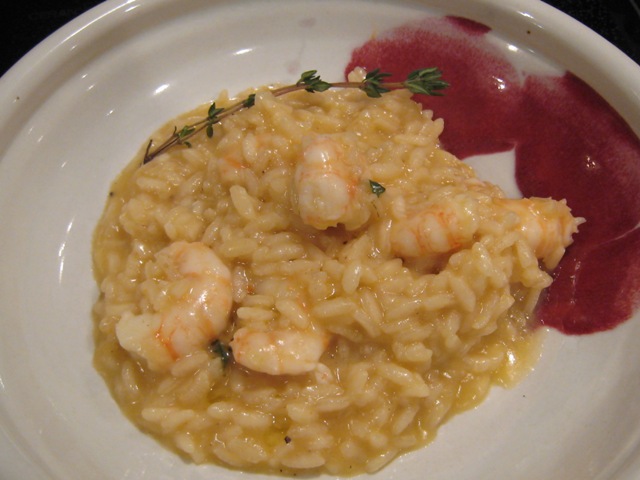 It's time for the March Daring Cooks Challenge. The 2010 March Daring Cooks challenge was hosted by Eleanor of MelbournefoodGeek and Jess of Jessthebaker. They chose to challenge Daring Cooks to make risotto. The various components of their challenge recipe are based on input from the Australian Masterchef cookbook and the cookbook Moorish by Greg Malouf.
I've made risotto several times before, and as I really enjoy it I thought it was a great challenge. For this challenge, the requirements were to make our own stock and the risotto base. Then we could flavor the risotto in any way we chose.
I decided to make Shrimp Risotto, as I have a lot of shrimp in the freezer. I made my shrimp stock with the shells, and it was very flavorful. I followed the recipe as noted, except that instead of removing the onions I kept them in. And I added a little thyme. A couple of minutes before adding the butter and the last of the stock, I added uncooked shrimp. They only take a few minutes to cook, so it all finished at the same time. When I went to serve the risotto, I topped each serving with a drizzle of Truffle Oil and a shaving of lemon zest. It was a very flavorful, creamy risotto that I'll be making again.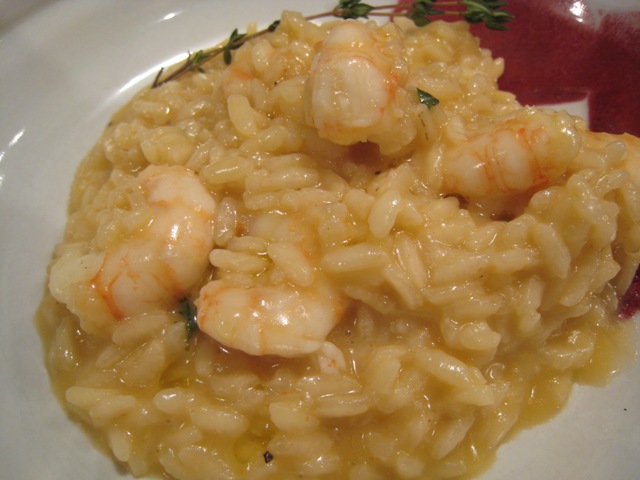 Risotto Base
Ingredients:
olive oil 2 fluid oz 60 ml
1 small onion, quatered
rice 14 oz 400g
Any type of risotto rice will do. I use Arborio but the recipe itself says Vialone Nano. Another to look for is Carnaroli.
white wine 2 fl oz 60 ml
chicken or vegetable stock , simmering 2 pints 1 L
Directions:
1. Heat oil in a pan and add onion. Fry for a few minutes to flavour the oil then discard. (We diced ours and left it in as we like onion).
2. Add the rice and stir for a few minutes to coat each grain of rice with oil and toast slightly.
3. Add the wine and let it bubble away until evaporated.
4. Add enough stock to cover the rice by a finger's width (about an inch or two). Cook on medium heat, stirring with a wooden spoon from time to time, until most of the stock has been absorbed.
5. Repeat Step 5 making sure to leave aside approximately 100 ml. of stock for the final step. .
6. Repeat, save 100ml for the final stage.
Once you are at this point, the base is made. You now get to add your own variation.
7. Add the final 100ml of stock and butter and stir until both are completely absorbed.
Shrimp Stock
3 tablespoons olive oil
1 tablespoon butter
3 cups raw shrimp shells
Any "scraps" you have saved and frozen from onions (green or regular), carrots, celery, fennel, bell peppers, or any other you like, and stems and other scraps from herbs you have used the leafs for recipes or garnish. Any combination and amount is okay here.
5 cups water
2-3 cloves garlic, sliced thinly
2-3 T tomato paste
Heat olive oil over medium-low heat in pan. Add butter, then vegetables and herbs.
Add butter or substitute, then add vegetable and herb scraps. Cook 10 minutes (or less if you are in a hurry).
Add frozen or fresh raw shrimp shells and tomato paste. Simmer until shells turn pink. Add water and simmer until reduced by about 1/3.
Strain out vegetable scraps and shrimp shells.