WHAT'S FOR DINNER? HALIBUT!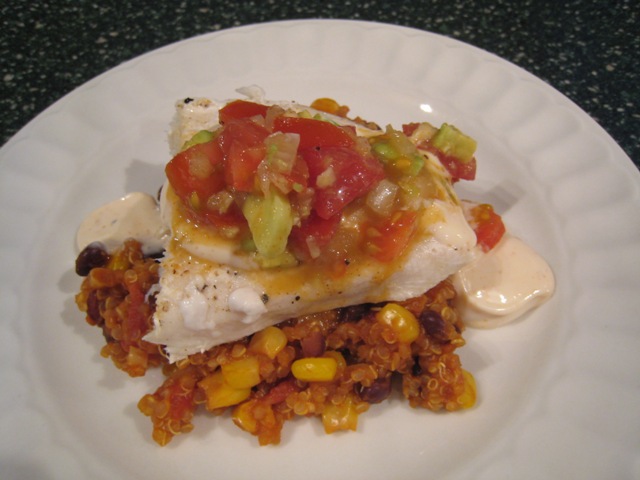 How do you like the title of this post? I made up a creation for dinner tonight, and couldn't figure out what to call it. So I didn't call it anything.
I got a box from my CSA on Thursday, and it contained avocados. I had tomatoes from Costco on hand also, so thought I'd make some type of a salsa or guacamole to top the halibut. SInce I didn't follow any recipe, I'll loosely tell you what I did.
The creation is seared halibut, served on a bed of quinoa, black bean, corn and tomato stew, and topped with a chunky guacamole and a lime chili sour cream.

For the Quinoa Stew-I sauteed 1/2 of an onion in a little olive oil until soft. I added a can of diced tomatoes, a can of drained black beans, some frozen corn, a small can of Zesty V-8, some water (maybe 1/2 cup), 1/2 cup quinoa, and some cumin and chipotle chile powder. I brought it to a boil, then reduced to low and simmered until the quinoa was soft. Add more water if needed as it cooks.
For the guacamole: I diced 1 avocado, 6 small tomatoes, and some finely chopped onion. Stir that together, then add salt and pepper to taste. Then add as much hot sauce or chili sauce as you would like, and squeeze a 1/2 of a lime over all. Stir to combine. (Cilantro would be really good here, but I didn't have any on hand and besides, my husband HATES cilantro.)
Lime Chili Sour Cream: To light sour cream, I added lime juice and hot or chili sauce, and salt and pepper to taste.
The halibut I just salted and peppered and cooked in a pan with a little olive oil.