LAMB AND FETA PATTIES WITH RED PEPPER RELISH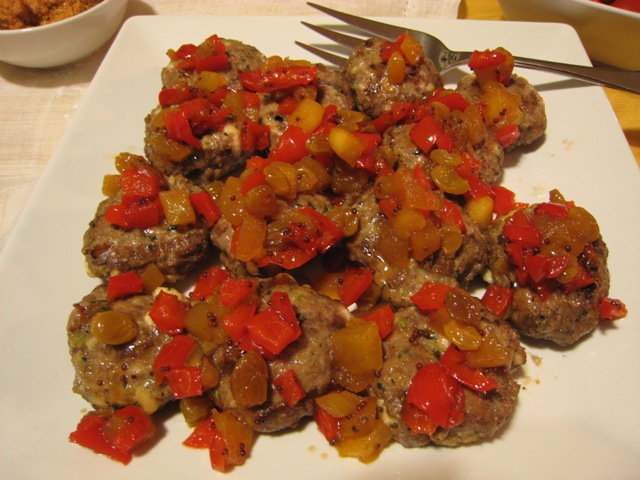 If you read my blog a couple of days ago, you know that for Daring Cooks we made Mezza, Middle Eastern appetizers. As long as we made pita and hummus we followed the directions. It was okay with our Mezza if we went more Mediterranian. I was across the board with mine. One thing I made that I really enjoyed were Lamb and Feta Patties with Red Pepper Relish. The combination of the lamb and feta is a little strong, but I love those flavors. There's also mint in the mixture. And be sure and make the relish-it really added a lot to the flavor. And you can do a lot with the relish. Last night for dinner I added the leftover relish to sauteed mushrooms and baby spinach, and served that wtih sauteed Alaskan Ling Cod.

I found this recipe on Epicurious.com. Note: I didn't broil my patties, but instead cooked them on an outdoor grill.
Lamb and Feta Patties with Red Pepper Relish
Gourmet | February 2002
Yield: Makes 4 servings
Active Time: 30 min
Total Time: 45 min
For relish
3/4 cup cider vinegar
1/4 cup sugar
2/3 cup water
2 orange or red bell peppers, cut into 1/2-inch pieces
1/3 cup golden raisins
1 Golden Delicious apple, peeled, cored, and cut into 1/2-inch cubes
1 teaspoon mustard seeds
1/8 teaspoon cayenne
1/2 teaspoon salt
For patties
1 slice firm white sandwich bread, torn into pieces
1 scallion, coarsely chopped
1 garlic clove
1/3 cup coarsely chopped fresh mint
1 1/4 lb ground lamb
1 large egg, lightly beaten
1/4 lb feta, crumbled (3/4 cup)
3/4 teaspoon salt
1/4 teaspoon black pepper
Make relish:
Bring vinegar and sugar to a boil in a 2-quart nonreactive heavy saucepan, stirring until sugar is dissolved, then boil, uncovered, 1 minute. Add remaining relish ingredients and simmer briskly, uncovered, stirring occasionally, until peppers and apple are tender, about 25 minutes.
Make patties while relish is simmering:
Preheat broiler.
Pulse bread, scallion, garlic, and mint in a food processor until finely chopped and add to lamb in a bowl along with egg, feta, salt, and pepper. Blend with your hands until just combined (do not overwork mixture, or patties will be tough). Form into 4 1/2-inch patties (about 1/2 inch thick).
Broil patties on oiled rack of a broiler pan 5 inches from heat until browned but still slightly pink in center, about 4 minutes on each side. Serve patties with relish.