BAKED MEATBALLS FROM SYROS WITH WALNUTS, ALMONDS, AND PRUNES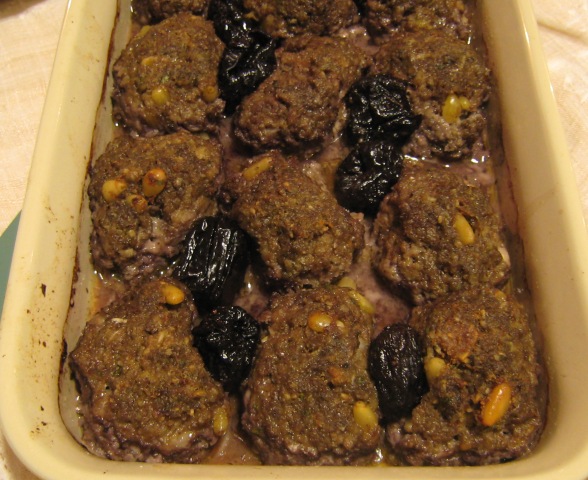 (Sorry about the poor, unappetizing photo. No time to make "pretty" when I had to get it ready for guests.)
As I mentioned in my last post, recipes I used for my Mezza table were from multiple regions. This recipe came from a cookbook called "The Foods of the Greek Islands". I've only made a couple of things from this cookbook, but am now thinking I need to try more, because these meatballs were really good.
The recipe calls for beef, but one of my guests for that night doesn't eat beef, so I used Bison instead. It worked perfectly. These meatballs have a very soft texture, not like a regular meatball. Different in that they have ground almonds and walnuts, and pine nuts in them. They are cooked along with prunes in a sauce of chicken stock, red wine, and red wine vinegar. I would definately make these again.

KOUBEBA SYRIANI
BAKED MEATBALLS FROM SYROS WITH WALNUTS, ALMONDS, AND PRUNES
Makes about 12 rolls, serves 4 (Or you can do as I did and make them smaller to serve as appetizers.)
1 medium onion, quartered
1/2 cup coarsely chopped fresh flat-leaf parsley
3 tablespoons freshly squeezed lemon juice
1 pound lean ground veal or beef
1/2 cup ground almonds
1/2 cup ground walnuts, plus 20 walnut halves (I used pecans instead, as that is what I had onhand.)
1/3 cup pine nuts
1/3 cup toasted bread crumbs
1/4 cup olive oil, plus more for brushing (I didn't use near this much)
1 large egg, lightly beaten
1 teaspoon Aleppo pepper or pinch of crushed red pepper flakes
1/2 teaspoon salt
20 pitted prunes
1 cup chicken stock or beef stock
1/2 to 2/3 cup dry red wine
2-3 tablespoons red wine vinegar
In a food processor or blender, combine the onion, chopped parsley and lemon juice and pulse to chop.
In a large bowl, combine the onion mixture, meat, almonds, walnuts, pine nuts, bread crumbs, oil, egg, pepper and salt and knead into a homogenous mixture. Cover and refrigerate for at least 30 mintues and up to 4 hours.
Preheat the oven to 450 degrees F.
Shape 1/4 cup portions of the meat mixture into oval rolls and arrange in a 13×9 inch baking dish. Brush the rolls with oil and bake for 15 minutes.
Meanwhile, insert 1 walnut half into each prune.
Reduce the oven temperature to 400 degrees F. Arrange the stuffed prunes between the meat rolls, add the stock, wine and 1 to 2 tablespoons of the vinegar and bake for 15 to 20 minutes more. Baste with the pan juices, turn off the oven and leave the dish in the oven for 5 minutes.
Taste the sauce and adjust the seasonings with vinegar, salt and/or pepper.