ZUCHINNI, BACON & GRUYERE CHEESE QUICHE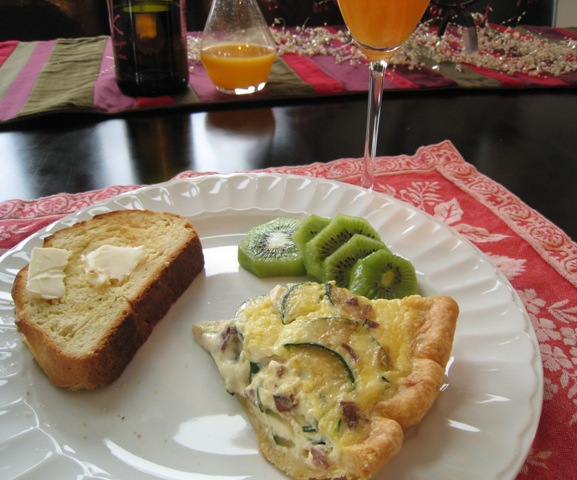 On Christmas Day, I wanted to make a nice brunch. I decided to make a Zucchini, Bacon and Gruyere Quiche recipe that I found on Epicurious.com. It was a wonderful quiche. The great flavor of bacon combined with the gruyere. It was easy to make also. I don't use frozen pie crusts, so I've also listed the recipe that I used for my crust.
If you're looking for a nice quiche recipe, give this one a try-I think you'll really like it.

Zucchini, Bacon, and Gruyère Quiche Gourmet | December 2005
Yield: Makes 6 to 8 main-course servings
Active Time: 20 min
Total Time: 50 min (not including cooling)
1 (9-inch) refrigerated pie dough round (from a 15-oz package)
1/4 lb sliced bacon, coarsely chopped
2 medium zucchini (3/4 lb total), halved lengthwise, then cut crosswise into 1/8-inch-thick slices
1/2 teaspoon salt
3/4 cup heavy cream
3/4 cup whole milk
1/4 teaspoon black pepper
3 large eggs
2 oz Gruyère, coarsely grated (1 cup)
Special equipment: a 9 1/2-inch deep-dish pie plate
Put oven rack in middle position and preheat oven to 450°F.
Fit pie dough into pie plate and lightly prick all over. Bake according to package instructions, then transfer crust in pie plate to a rack.
Reduce oven temperature to 350°F.
While crust bakes, cook bacon in a 12-inch heavy skillet over moderately high heat, stirring occasionally, until just crisp, about 6 minutes. Transfer bacon with a slotted spoon to a paper-towel-lined plate, reserving fat in skillet.
Add zucchini and 1/4 teaspoon salt to fat in skillet and sauté over moderately high heat, stirring frequently, until zucchini is tender and starting to brown, about 5 minutes, then transfer with slotted spoon to a plate.
Heat cream, milk, pepper, and remaining 1/4 teaspoon salt in a 1- to 2-quart saucepan until mixture reaches a bare simmer, then remove from heat.
Whisk together eggs in a large heatproof bowl, then gradually whisk in hot cream mixture until combined. Stir in bacon, zucchini, and cheese and pour into piecrust. Bake until filling is just set, 25 to 30 minutes. Transfer quiche in pan to rack to cool slightly, about 20 minutes.
Epicurious.com © Condé Nast Digital, Inc. All rights reserved.
Pate Brisee
1 1/3 cups all-purpose flour
1/2 teaspoon fine sea salt
8 tablespoons(1 stick) chilled unsalted butter, diced
1 large egg, lightly beaten
Ice cold water
In a food processor, combine the flour, salt,and the butter. Run it for about ten seconds, until texture is of a course meal. Add in the egg and mix again for a few seconds,until it forms a ball. If the dough is still a little dry, add in a little water, a tiny splash at a time, until the dough comes together. (If you've added too much water, fret not, compensate with more flour.) Turn out on a lightly floured work surface, and without kneading, gather into a ball.
Shape the dough into a slightly flattened ball. Wrap tightly in plastic and refrigerate for 30 minutes, or up to a day. If too cold, let stand at room temperature before using, just enough so that the dough can be rolled without cracking.
Sprinkle flour lightly on a clean work surface and on your rolling pin, and place the dough on the work surface. Roll out into a circle to fit your pan.