ROASTED VEGETABLE SOUP WITH POLENTA CROUTONS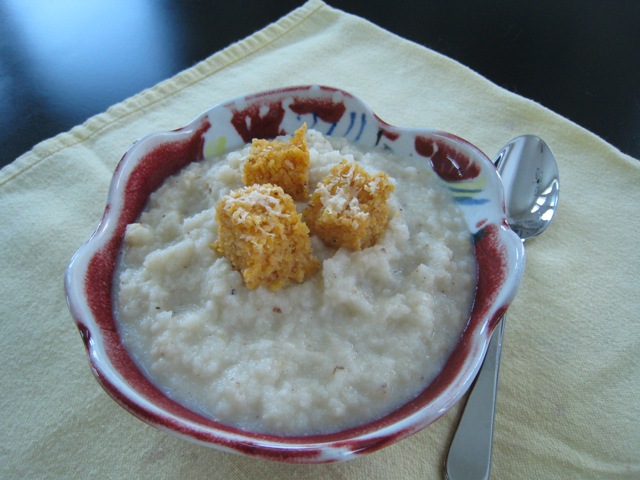 A couple of days ago I wrote about the challenge I am having with what to put on my blog. I was sick last week, and off work, and have had a little time to browse a few blogs. I came across a few healthy recipes that got me to thinking about cooking again. I began with this soup – a Roasted Vegetable Soup with Polenta Croutons. I saw this on Tartelette's blog and I just had to try it.
It is a very flavorful soup. The turnips make it a bit on the sweet side. You can adapt this recipe to whatever you have on hand. I only had one very small potato, but it turned out just fine anyway. I also forgot to add any olive oil, and it was still great. I topped it with the Polenta Croutons that came from the blog Lisa's Kitchen. They added a nice hearty flavor to the soup. I followed the recipe except I added a little parmesan to the polenta before cooling.
Hopefully, this will be the beginning of my wanting to cook again, for now making healthy recipes.

Roasted Vegetable Soup
Serves 4 to 6
1 head cauliflower, broken off into small chunks
4 small-medium turnips, quartered (don't need to peel them)
4 cloves of garlic, smashed
1 small onion, sliced
2 small potatoes
2-3 tablespoons olive oil
salt and pepper
1/2 cups – 1 cup water, chicken or vegetable stock
Preheat the oven to 375F. Place all the vegetables on a baking sheet or in a pan in one single layer and drizzle with olive oil. Season with salt and pepper. Roast until golden brown, about 30-40 minutes. Let cool to room temperature.
Add about 1/2 cup water or stock and puree in a blender or with an immersion blender. Check if the consistency and seasoning are to your liking and adjust accordingly.
Serve with croutons and garnishes of your choice.
Polenta Croutons
3 cups of water
1 1/2 cups of cornmeal
1 teaspoon of cayenne
1 teaspoon of salt
2 teaspoons of olive oil
cracked black pepper to taste
1/4 cup of Parmesan cheese, finely grated
In a medium pot, bring the water to a boil. Reduce the heat to medium low, and pour in the cornmeal, stirring constantly. Simmer for about 10 minutes, stirring often, until the mixture is thickened. Remove from the heat, and stir in the cayenne, salt, olive oil and black pepper.
Transfer the polenta to a greased 8X8 baking pan. Spread the polenta evenly with a spatula or knife. Sprinkle with grated Parmesan cheese. Leave to cool.
Cut the polenta into small cubes. Line a baking sheet with parchment paper. Gently transfer the cubes to the baking sheet. Bake in a 450 degree oven for about 30 minutes, or until the croutons are crisp and golden. You may want to flip the cubes onto their sides part way through the baking time to ensure they brown evenly.
Makes about 3 dozen croutons.