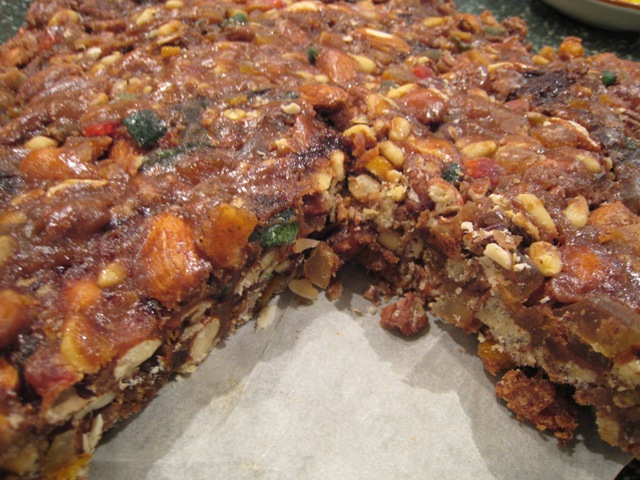 This year, after Christmas, I made another Italian specialty that I had eaten before, but never made. That was Panforte, a version of an Italian fruitcake, from the town of Sienna. I hate to call it a fruitcake, because it is nothing like fruitcake we have here in the states. It is more of a confection-chewy, and rich in dried fruit and nuts.
I had a lot of candied fruit left over this season. I planned on making stollen, but never got around to it. So for my Panforte, I used a mixture of what I had- candied orange, candied citron, a mixture of fruits used in fruitcake(orange, citron, cherry, etc.) and prunes. (Yes, the mixture had those awful-colored green cherries, but I didn't want to waste the mixture.) For nuts, I used a mixture of almonds, pine nuts, and pecans.
I was concerned that this confection would be nothing like what I had tasted in Sienna. But it was very similar! And a nice surprise was that it was very easy to make, except for it is difficult to get all of the sticky ingredients mixed thoroughly. I so enjoyed making this that I think it will be my Christmas gifts for next year. All wrapped up in fancy paper. I'd love to bring paper back from Italy next fall to use, so I'll have to keep that in mind.

The recipe that I used is from Judy Witts Francini. It was on a website of hers, and is also in her cookbook. Thanks, Judy, for a great recipe.
Panforte
1 pound unskinned mixed toasted nuts
(almonds, hazelnuts, and walnuts)
2 tablespoons pumpkin pie spice mix
(the Sienese recipe for the spice mixture has a mixture of cinnamon, nutmeg, ginger, and coriander)
1 teaspoon finely ground pepper
1 tablespoon bittersweet cocoa powder
1 cup sugar
One-half cup honey
1 pound mixed dried fruits, figs, apricots, candied orange peel, or prunes
1-1/2 cups flour
1/2 cup powdered sugar
Mix the fruit and nuts together and toss with the flour, spice mixture, and cocoa powder. Heat the sugar and honey together until boiling. Let boil for 1 minute. Take off the heat and stir in the dried fruit mixture.
Prepare a 9-12 inch round baking pan. Line with parchment paper. Pour mixture into pan. Bake for 15 minutes at 350 degrees. Let cool. Dust with powdered sugar.
Serve in tiny slices with a glass of sweet dessert wine or a good cup of coffee.
You can also make a more flavorful topping by combining the same spice mixture and cocoa powder with the powdered sugar for the dusting.
Serves 12.