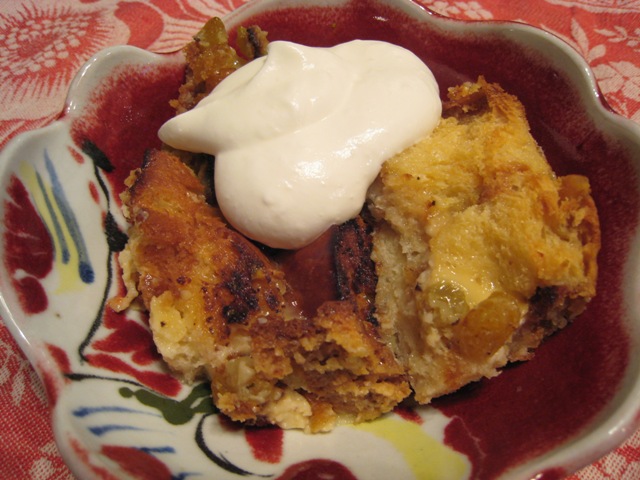 If you saw my blog a week or so ago, you know that I made Panettone this year. It was very good, but made quite a lot. I was able to have toasted Panettone for breakfast for a week. And I still had plenty left over to make this bread pudding. And I was SO glad! This bread pudding is just wonderful. It is very rich, but oh so flavorful. And I switched out a few things from the original recipe and used orange liquor, which really accented the orange rind in the panettone. This made a big pan, and my husband and I were quite happy as we were able to eat this great dessert for several days in a row. I was going to make an orange sauce for the top, but decided it was already very sweet and rich, so I just served it with some lightly sweetened whipped cream that I flavored with Grand Marnier.
Gosh, if I just had one more serving left….

Panettone Bread Pudding
Adapted from a recipe at Epicurious.com
Yield: Makes 8 servings
1/2 cup golden raisins
1/4 cup orange liquor, heated
1/2 stick unsalted butter, softened
1 pound panettone, sliced 1 inch thick
3/4 cup sugar
3 large eggs, lightly beaten
2 1/2 cups half-and-half
2 tablespoons pure vanilla extract
Soak raisins in hot liquor 15 minutes, then drain.
Meanwhile, butter panettone on both sides and cook in batches in a large heavy skillet over medium heat until golden brown on both sides.
Whisk together remaining ingredients.
Tear panettone into bite-size pieces and spread evenly in a buttered 13-by 9-inch baking dish. Scatter raisins over top, then pour in egg mixture. Let stand 30 minutes.
Preheat oven to 350°F with rack in middle.
Bake until pudding is golden and just set, 35 to 40 minutes. Serve warm or at room temperature.