GRILLED LEG OF LAMB WITH SPICED MUSTARD AND ROSEMARY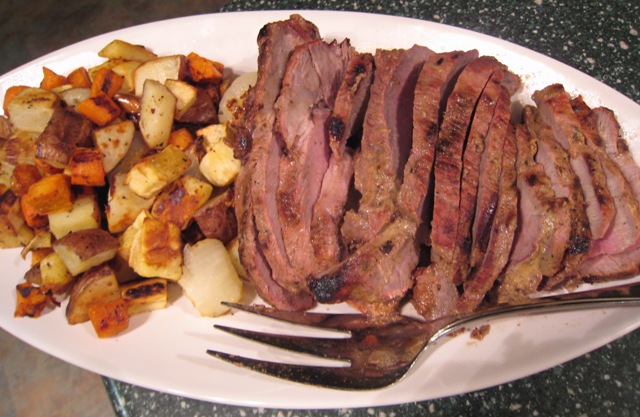 For Christmas this year, I decided to fix a leg of lamb. I was at Costco shopping for a beef tenderloin (what I had intended to cook) and they were sampling the Leg of Lamb. Gave it a try, and it was great. I bought one (a great price also) and went searching for a recipe. I came across one on Epicurious.com for Grilled Leg of Lamb with Spiced Mustard and Rosemary. The recipe sounded very simple to make, and I thought it would be nice to free my oven up for something else. I will be making this again in the future for sure. The meat was very tender, and the mustard coating added a lot of nice flavor. So far we've had it for 3 or 4 meals, and there's still more left. I think the one I bought was around 4-5 lbs, and it would feed 10 people. At $18, that's quite a bargain also. I served it with roasted root vegetables and a really nice bottle of Benzinger Tribute cabernet. Then for dessert, it was Panettone Bread Pudding, which I'll share with you next.

Grilled Leg of Lamb with Spiced Mustard and Rosemary Bon Appétit | August 2004
Start marinating the lamb one day before you plan to serve it.
Yield: Makes 8 servings
1 tablespoon dry mustard
1 teaspoon ground cardamom
1/4 teaspoon ground cloves
1 tablespoon apple cider vinegar
1/2 cup frozen apple juice concentrate, thawed
1/2 cup spicy brown mustard (such as Gulden's)
1 tablespoon chopped fresh rosemary
2 teaspoons olive oil
Coarse kosher salt
1 5-pound boneless leg of lamb, butterflied, trimmed of all fat
Nonstick vegetable oil spray
Combine first 3 ingredients in small bowl. Gradually whisk in vinegar. Let stand 15 minutes. Whisk in apple juice concentrate, brown mustard, rosemary, and oil. Season marinade to taste with coarse salt and pepper.
Place lamb, boned side up, in 15x10x2-inch glass baking dish. Sprinkle with salt and pepper. Spread 1/3 cup marinade over top to coat. Turn over. Sprinkle with salt and pepper. Spread remaining marinade over lamb. Cover dish with plastic wrap; chill overnight.
Spray grill rack with nonstick spray. Prepare barbecue (medium heat). Place lamb on grill with marinade still clinging (reserve dish with marinade). Grill 15 minutes. Turn lamb over. Grill 15 minutes, brushing with marinade from reserved dish. Turn lamb over again and grill until thermometer inserted into thickest part registers 130°F for medium-rare, brushing often with any remaining marinade, about 5 minutes longer per side. Transfer lamb to platter. Cover loosely with foil; let rest 15 minutes. Slice lamb thinly; arrange on platter and serve.
Epicurious.com © Condé Nast Digital, Inc. All rights reserved.