DECEMBER DARING COOKS – SALMON EN CROUTE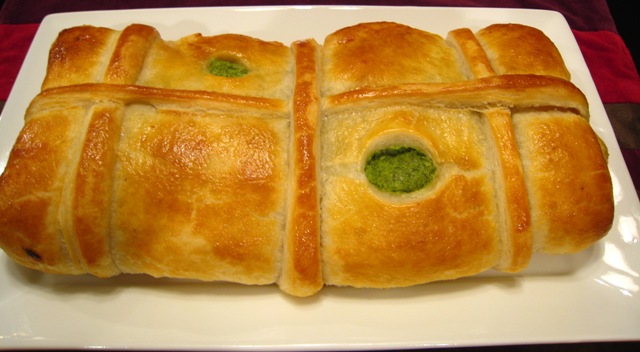 It's time for another Daring Cooks Challenge. The 2009 Daring Cooks challenge was hosted by Simone of Junglefrog Cooking. Simone chose Salmon en Croute from Good Food Online.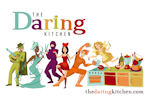 The challenge of this recipe was to make Salmon En Croute. There was a recipe given for Shortcrust Pastry. This was not mandatory to make. Since I've made it before, and was short on time, I used homemade frozen puff pastry.
Since I live in Alaska, have a boat, and catch a lot of salmon that we vacuum pack, it was nice to find a new recipe I haven't tried. This entree was very quick to put together, and was very good. It's also impressive to look at, so it would make a good dish for company. I used arugula in my sauce, and if it had been available, I would have liked watercress even better. I seasoned my fish with a spice blend that's similar to a lemon pepper.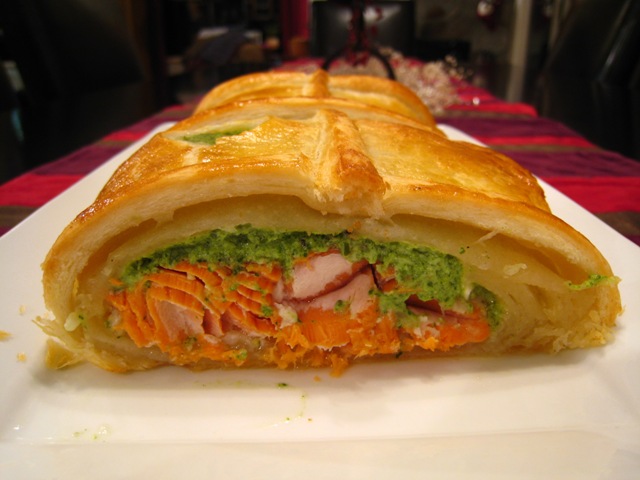 Salmon En Croute
Adapted from Good Food Online
Ingredients
Mascarpone or creamcheese 5.2 ounces/150 gr
Watercress, rocket (arugula) and spinach – 0.6 cup/4.2 ounces/120 gr
Puff Pastry
Salmon fillet (skinless)- 17.6 ounce/500 gr
egg – 1 medium sized
Directions:
1.Heat the oven to 200°C/390 F. Put the mascarpone or cream cheese in a food processor with the watercress, spinach and rocket and whizz the lot until you have a creamy green puree. Season well.
2. Roll the pastry out so you can wrap the salmon in it completely (approx. 2-3 mm thick) and lay it on a buttered or oiled baking sheet (it will hang over the edges). Put the salmon in the middle. If it has a thinner tail end, tuck it under. Spoon half of the watercress mixture onto the salmon. Now fold the pastry over into a neat parcel (the join will be at the top, so trim the edge neatly), making sure you don't have any thick lumps of pastry as these won't cook through properly. Trim off any excess as you need to. Make 3 neat cuts in the pastry to allow steam to escape and make some decorations with the off-cuts to disguise the join if you like. Brush with the egg glaze.
3. Bake for 30 minutes or until the pastry is crisp and browned. To test wether the salmon is cooked, push a sharp knife through one of the cuts into the flesh, wait for 3 seconds then test it against the inside of your wrist; if it is hot, the salmon is cooked. Serve with the rest of the watercress puree as a sauce.
I served my salmon with roasted broccoli rabe and roasted squash and apples that were drizzled with maple syrup.