SUNDAY SMALL PLATES – WEEK 10 – MUSHROOMS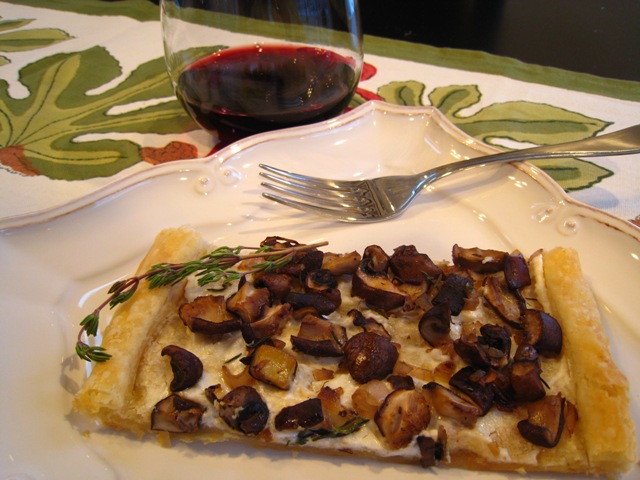 I've been a little busy around here, and haven't been cooking a lot. When I'm busy, I tend to make a big pot of soup that we eat all week. That's what's been happening this week. But I sure wanted to participate in our Sunday Small Plates. This week's ingredient was chosen by Candi. She chose mushrooms as our ingredient. I looked through a lot of old recipes I had cut out. This one came from an old Bon Apetite magazine. I decided on it because I still have some of that puff pastry I made in the freezer. Probably only one more recipe to use it up after this. But back to the recipe. I chose Mushroom and Goat Cheese Tart. It was so good. As anyone who has read my blog knows, I love goat cheese. And I love it paired with mushrooms. Throw puff-pastry into the mix, and you can't go wrong. This is quick to make also.


MUSHROOM AND GOAT CHEESE TART3 tablespoons unsalted butter
8 ounces button mushrooms, cut into 1/2-inch pieces
1 large shallot, minced
1/8 teaspoon ground nutmeg
1 sheet frozen puff pastry (half of 17.3-ounce package), thawed
1 large egg, beaten to blend
3 ounces soft fresh goat cheese (such as Montrachet), room temperature
1 teaspoon minced fresh thyme
2 tablespoons whipping cream
Melt 2 tablespoons butter in heavy large skillet over medium-high heat. Add mushrooms and sauté until soft and dry, about 5 minutes. Add remaining 1 tablespoon butter to skillet, then shallot. Sauté until shallot is soft, about 4 minutes longer. Add nutmeg. Season mushroom filling with salt and pepper. Cool.
Line baking sheet with parchment paper. Roll out puff pastry onto lightly floured surface to 12×15-inch rectangle. Cut one 12×5-inch rectangle, two 11×1/2-inch strips and two 5×1/2-inch strips from pastry. Place rectangle on prepared baking sheet. Pierce all over with fork. Using pastry brush, brush all strips with egg. Place short strips, egg side down, atop ends of pastry to form raised crust edge; place long strips, egg side down, atop long sides of pastry. (Mushroom filling and tart shell can be prepared 1 day ahead. Cover separately and refrigerate.)
Preheat oven to 400°F. Bake tart shell until golden, about 15 minutes. Maintain oven temperature. Spread cheese evenly over bottom of hot tart shell. Top with mushrooms. Sprinkle with thyme, salt, and pepper. Drizzle with cream. Bake until heated through, about 10 minutes. Serve hot.