SUNDAY SMALL BITES WEEK #13 – POTATOES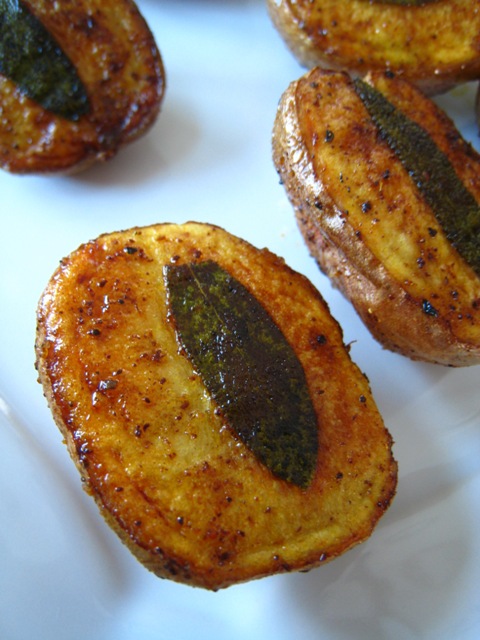 I've not been too active on my blog lately. Not sure what's wrong, but I have no motivation for working on the blog. Maybe it's because I'm trying to lose some weight and am trying to watch what I eat. Maybe it's because I don't follow recipes for most of my meals, so the results are hard to put on a blog. Or maybe it's because I've gone back to work full-time and I don't have time to play around with cooking or at the computer like I used to. I don't know. But I do know that I have to decide if I want to keep the blog going, or stop for a while or for good. Those of you who blog probably know my dilema. You work hard to get your readership up, and don't want to lose that.
Okay, enough about my problems. How about a recipe? Last week I did miss Sunday Small Bites. Sorry about that. But I'm back for this week. This week our ingredient was chosen by Maria I. She chose potatoes. I'm tired of heavy, fattening stuff after the holidays, and found a recipe for a lighter roasted potatoe meant to be served as an appetizer. These are flavored with Garam Masala, red chili powder, tumeric, and sage, so they have a really nice flavor. Next time I think I'd make a yogurt-based sauce to dip them in. Also, the recipe calls for fingerling potatoes. The store was out of them so I used baby red potatoes.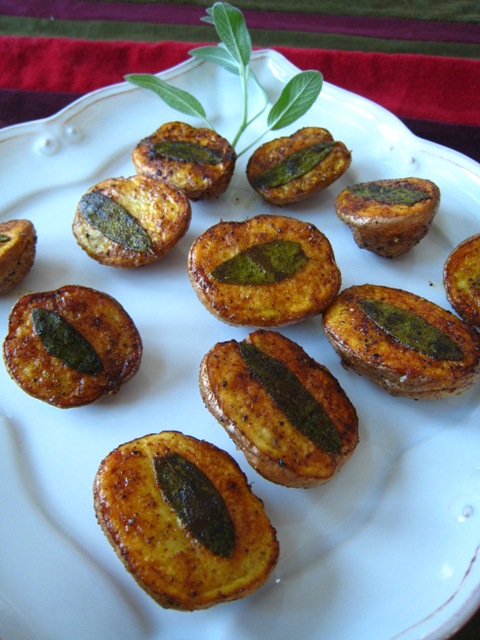 Roasted Fingerling Potatos
About 15 fingerling potatoes
1 tablespoon olive oil
1/4-1/2 teasoon Garam Masala
1/2-1 teaspoon red chili powder, as per taste
pinch of turmeric powder
about 30 fresh sage leaves
salt to taste
Preheat overn to 425 degrees F. Line a baking sheet with foil or parchment paper. Grease the foil lightly with PAM or oil. Cut the potatoes in half lengthwise. Place them in a bowl and add the oil and seasoning. Mix well.
Press a sage leaf against the cut side of the potatoes. The oil will help it to stick to the surface.
Arrange the potatoes on the baking sheet, cut side down.
Bake them for 20-25 minutes, until tender and browned.
Serve warm or at room temperature.
Recipe found on the blog www.chefinyou.com.