SUNDAY SMALL BITES WEEK #11 – GINGER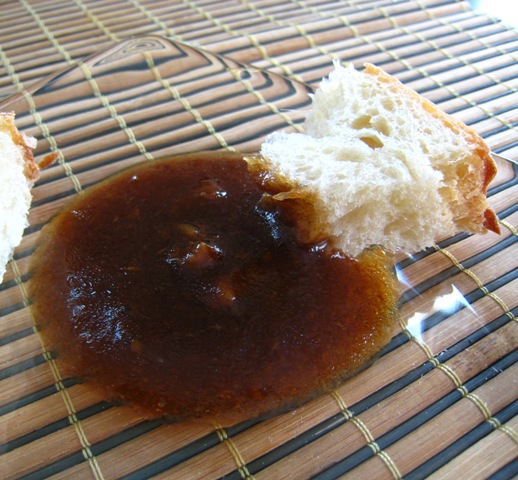 I can't believe that we are already on Week 11 of Sunday Small Bites. Life just flies by a little too fast. This week, our ingredient was chosen by Palma. She chose ginger. I love ginger, but had trouble deciding what to make this week. While a lot of recipes contain ginger, I was looking for one that really featured ginger, not just had it as an ingredient.


I chose an interesting recipe called "Roasted Garlic Dipping Sauce with Fresh Ginger and Tamari. I'm sorry I can't name the source it came from. I did lots of google searches to find it, now can't seem to located it again. The sauce is meant to be served as a dipping sauce for bread, like you might serve olive oil and balsamic vinegar.

Here's my thoughts on the sauce. While the flavor was very good, I didn't like bread dipped in it. I'm not sure why, other than I don't think about dipping bread in things that are Asian-flavored. I have lots of it leftover in the refrigerator, and I will use it because it tastes really good. I think I'll use it to brush fish with before baking. I also think it would be great as a glaze or dipping sauce for meatballs. Or even as a dressing on a noodle salad. Or a green salad made with some napa cabbage, carrots, etc. where you would like an Asian-flavored dressing. So while this recipe was very good, I personally just wouldn't use it as a bread-dipping sauce, although others may enjoy it that way.
ROASTED GARLIC DIPPING SAUCE WITH FRESH GINGER AND TAMARI
1 large head roasted garlic
3/4 cup extra-virgin olive oil
1/2 cup good-quality aged balsamic vinegar
1 tablespoon tamari sauce or soy sauce
2 teaspoons shredded/grated fresh ginger
1/2 teaspoon dark sesame oil
Squeeze cooled garlic into bowl. Smash into small bits. Stir in all other ingredients. Refrigerate up to several weeks. Bring to room temperature to serve.