SUNDAY SMALL BITES – OLIVES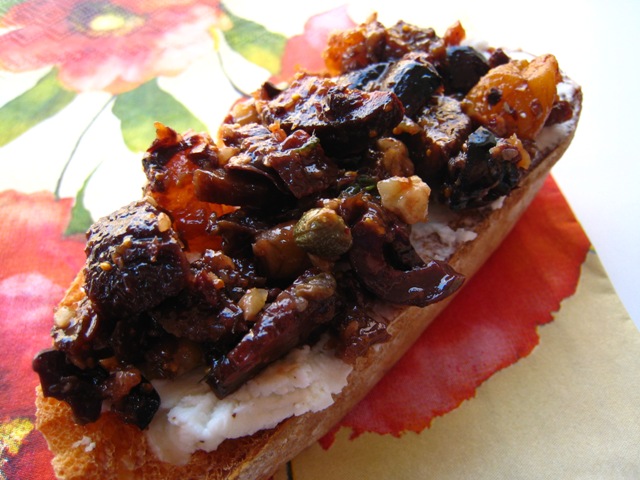 FIG, APRICOT, AND WALNUT TAPENADE


This week's ingredient for our Sunday Small Plates was chosen by Jerry. I love olives, but my husband doesn't like them. This was a good week to have olives as the ingredient, because he was out of town all week and I had a party to go to Friday night where I needed to bring an appetizer. I chose to make an olive tapenade. This recipe was unusual in that it also contained figs, apricots, prunes, and walnuts. To balance out all of that sweet, there was also capers and balsamic vinegar. The tapenade is not the most beautiful to look at, as you'll see from my photos. It's kind of a mess to look at. But it tastes delicious. I served it on crostini (bread drizzled with olive oil and sprinkled with salt and pepper, then grilled until toasted). A layer of goat cheese is spread on the crostini, then it is topped with the tapenade. I followed the recipe as listed, except that I didn't want it as chunky, so I put about 3/4 of it in the food processor to grind it a bit, then stirred the last 1/4 of it into the other 3/4 to keep some of the chunk. (That was a really bad sentence, wasn't it?)
The recipe came from the website InnCuisine.com. I had never seen that site before. It came up during a google search for Olive Fig tapenade.

Fig, Apricot and Walnut Tapenade (Served with Fresh Goat Cheese)
(recipe featured on InnCuisine.com, adapted from The Bon Appétit Cookbook)
1 heaping cup dried Mission figs, chopped & stemmed (slice down the middle lengthwise, then crosswise into thirds or fourths depending on size)
1/4 cup chopped dried prunes (slice in the same manner as the figs)
1/4 cup dried apricots (also slice in the same manner as the figs)
2/3 cup water
1/2 cup Kalamata olives
2 tablespoons extra-virgin olive oil
1 & 1/2 tablespoons balsamic vinegar
1 heaping tablespoon capers, rinsed and drained
1 & 1/2 teaspoons chopped fresh thyme
salt and pepper to taste, if desired
1/2 cup chopped walnuts, lightly toasted
1-2 logs (5 or 6 ounces each) fresh goat cheese, cut into rounds or crumbled
fresh thyme sprigs – optional, to garnish
assorted, sturdy crackers and/or breads on the side
In a heavy-bottom saucepan over medium-high heat, combine figs, prunes and apricots with water and cook until dried fruits are soft and water is evaporated, about 7 minutes; stir often. Allow to cool slightly then transfer to a medium-size bowl. Stir in olives, oil, vinegar, capers, thyme, salt and pepper if desired, and walnuts. Arrange goat cheese in rounds, or crumble as in directions above. Spoon tapenade onto goat cheese in a shape slightly smaller than the goat cheese base. Garnish with sprigs of fresh thyme or additional walnuts if desired. Serve with sturdy crackers as well as an assortment of breads.
Yield: as part of an appetizer or happy-hour spread, this recipe serves up to 15.