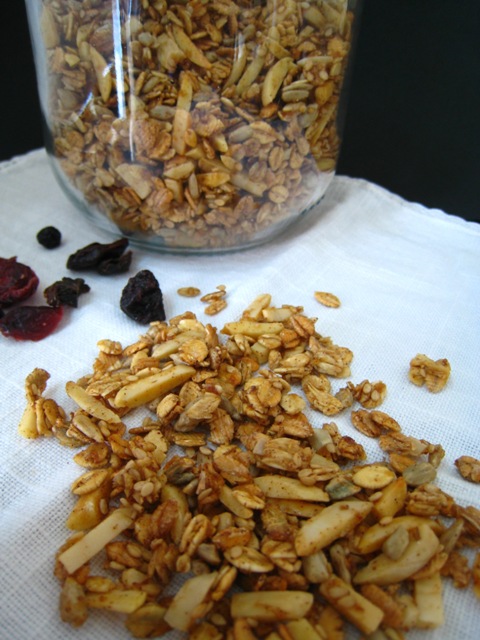 I love Granola. I don't make it often though, because I quite simply eat too much of it when it is around. I eat it for breakfast. Usually sprinkled over yogurt. Sometimes a bowl of it with milk on top. Then, where I really go wrong is I tend to reach into that jar multiple times a day for a little snack. While it's a healthy item filled with fiber, vitamins, and minerals, because of all of the nuts it is quite high in calories.
But fall makes me think of Granola, and when I came across a recipe on David Lebovitz's blog a couple of weeks ago, I had to make it. His version was adapted from Feast, by Ngella Lawson, and I have adapted it a little more. I have my favorite granola recipe that contains oats, maple syrup, lots of different kinds of nuts and dried fruit. But I was intrigued by this recipe because it contained no dried fruit and one of the "wet" ingredients was applesauce. I thought the applesauce would not allow the granola to crisp up, but in fact, it does the opposite. This is a very crisp, crunchy granola full of good things like multi-grain flakes, almonds, sesame seeds and sunflower seeds. I gave my husband the warning about eating it in small doses, because of the high fat content of the nuts, but somehow, I haven't been heeding that warning. Well, I do eat it in small doses, one, after another, after another…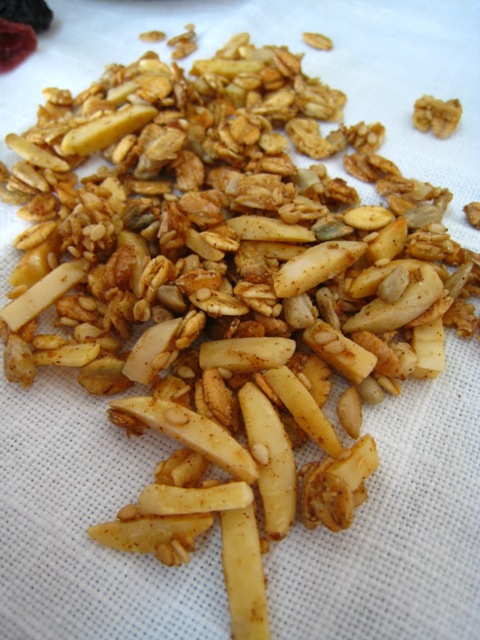 Granola
Makes about 2 pounds
Adapted from Feast, by Nigella Lawson
5 cups multi-grain flakes ( or you could just use old-fashioned rolled oats)
3 cups almonds, coarsely chopped ( I just used slivered almonds and didn't chop them)
1 cup sunflower seeds
3/4 cup untoasted sesame seeds
1/2 cup packed light brown sugar
2 teaspoons ground cinnamon
1 teaspoon dried ground ginger
1 teaspoon sea salt
3/4 cup unsweetened applesauce (or another unsweetened fruit puree)
1/3 cup maple syrup
1/4 cup honey
2 tablespoons vegetable oil
Preheat the oven to 300F (150C).
1. In a very large bowl, mix together the flaked grains or oats, almonds, sunflower and sesame seeds, brown sugar, cinnamon, ginger, and salt.
2. In a small saucepan, warm the fruit puree with the rice syrup, honey, and oil.
3. Mix the fruit mixture into the dry ingredients until thoroughly dispersed, then divide and spread the mixture evenly on two baking sheets. (If you have ones with sides, often called jelly-roll pans, use them.)
4. Bake the granola for about 45 minutes, stirring every ten minutes, until the granola is deep golden brown.
5. Remove from oven, then cool completely.
Store the granola in a large, airtight container. It will keep for up to one month.