SUNDAY SMALL BITES – WEEK #7 – PECANS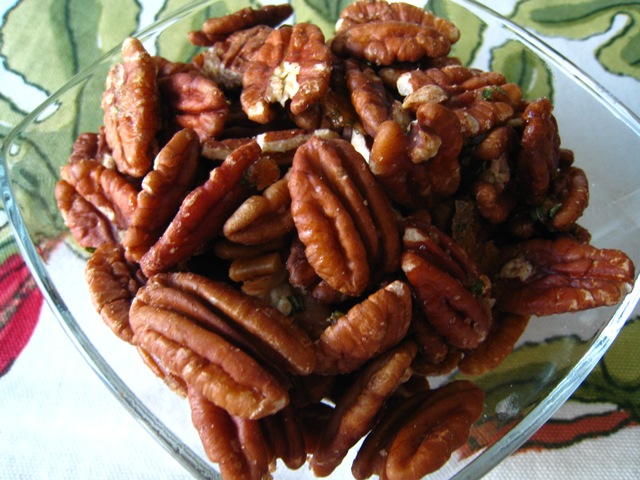 I was out of town last week and didn't complete the Sunday Small Bites, so I'm catching up now. This week our ingredient was Pecans, which was chosen by Sheri. I had plans to make all kinds of elaborate things, but when it actually came time to make something, I went very simple-Rosemary Pecans. I got this recipe from a friend a couple of years ago, and I don't know where the recipe came from. The original recipe calls for cashews or mixed nuts, or you can use all pecans like I did. It's a nice combination of sweet, salty, and spicy, although not too extreme on any of those qualities.
ROSEMARY NUTS
1 1/4 lb. cashews (or mixed nuts)
2 Tbsp chopped fresh rosemary
1 Tbsp brown sugar
2 tsp Kosher salt
1/2 tsp cayenne pepper
1 Tbsp melted butter.
Mix all ingredients together in a large bowl. Place on a baking pan and bake at 375 degrees F for 10 minutes.