SUNDAY SMALL BITES WEEK #6 – SMOKED SALMON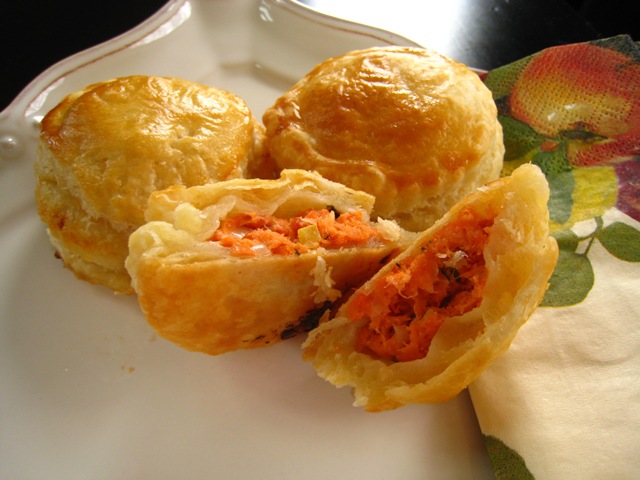 It's time for another Sunday Small Bites. The theme this week was chosen by Marcia. Marcia chose Smoked Salmon as our ingredient. She was on an Alaskan Cruise this summer, and had purchased some smoked salmon. She wanted some ideas on how she could use it.
Well, since I live in Alaska, catch a lot of salmon, and smoke it myself, this was a good choice for me. I will be anxious to see what dishes others created. The smoked salmon we make is probably different than most people buy. It's not lox, which I don't care for. Our salmon is thicker fillets, which are soaked in a sweet-salty brine, then smoked until they are lightly cooked through. So the flavor is more smoky, and the taste isn't as "fishy" tasting.
We usually just eat ours plain with some crackers. I also on occasion make a dip, a really good one that has cream cheese, sour cream, and toasted pecans. Or sometimes I crumble it into scrambled eggs or a salmon chowder. This week I decided to use up more of that home-made puff pastry and creating Smoked Salmon Puffs. Since I made up this recipe, I can't give you exact quantities, but you'll get enough of an idea that you could try it if you'd like.

I thawed about 1 piece of puff pastry, rolled it to about 1/8″ thick, and used a fluted round cookie cutter to cut out rounds. If this was to be served as a starter, you could use a 3″ cookie cutter, or if you wanted this as hor' dourves then use a smaller cutter, like a 1 or 1 1/2″ inch.
Crumble about 1 cup smoked salmon into a bowl. Add 1/2 cup plain yogurt, minced onion or shallot (I used about 1/4 of a leek), about 1/2 teaspoon prepared horseradish, chopped fresh basil, fresh ground pepper, and some type of grated cheese. I used parmesan. You could also use a feta, or a goat cheese would be good. Stir this all together. Place a rounded "blob" in the center of you round. Brush the edges with an egg wash (1 egg mixed with a dribble of water). Top with another round, and use the tines of fork to press the two together firmly. Place on a parchment covered baking sheet, and bake in a preheated 425 F degree oven until evenly browned. The time will depend on how large you made yours, but it will probably be between 10 and 20 minutes. I think these are best served warm, but if need be, they can also be served at room temperature.