SUNDAY SMALL BITES WEEK #5 – GOAT CHEESE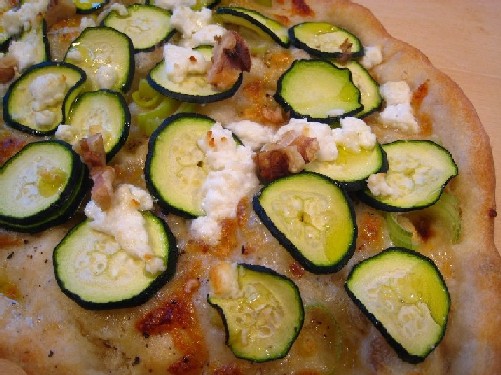 The ingredient for this week's Sunday Small Bites is goat cheese. This ingredient was chosen by h. In case you're new to my blog, Sunday Small Bites is a group I participate in. Weekly, one of us choses an ingredient, then all of the participants make a small plate or appetizer that contains this ingredient. One rule is that you can't have made the recipe before, therefore you try new things. Each Sunday, we all post the recipe we made that week.
This week I decided to make pizza. While pizza can certainly be a main dish, it can also be an appropriate starter. Maybe make the pizza more oblong and cut it into small squares. I chose to make a Goat Cheese, Zucchini, Leek and Walnut Pizza. I made a second pizza where I also added sliced cooked peanut potatoes. I liked the one without the potatoes best, and it was a fabulous pizza. I have pizza dough left over. Guess what we're having for dinner tomorrow night?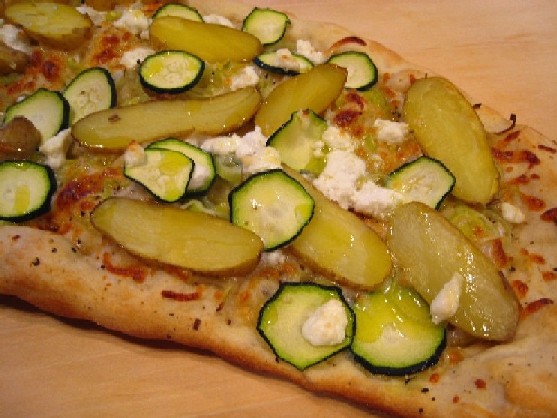 I didn't follow a recipe except for my dough, so I can't give you the exact quantities. You can really just make this pizza to your taste and add as many or as few toppings as you want, although I think it's best not to overdo it.
Goat Cheese, Zucchini, Leek and Walnut Pizza
Ingredients:
Pizza Dough(see below)
Goat cheese (a 4oz pkg will be enough for all of the dough)
2 small zucchini, sliced extremely thin
1 leek, cut in half and very thinly sliced
Olive oil
Course sea salt and freshly ground pepper
Hot pepper flakes
Grated mozzarella (I used already shredded, maybe 1/2 a bag)
Toasted chopped walnuts
Pizza Dough (Makes enough for 4 small-medium pizzas, or 2 14″ pizzas)
Ingredients:
4 1/2 cups flour
1 teaspoon salt
1 teaspoon sugar (or honey)
1 package dry yeast
2 tablespoons olive oil
12-16 ounces warm water
Preparation:
In a large bowl combine the dry ingredients, including the yeast. Pour in the olive oil and most of the water. Stir to combine and make a soft but not too sticky dough. Add more water as needed. Turn out onto a floured surface and knead by hand for about 10 minutes or until smooth and elastic. Place in an oiled bowl, cover, and allow to rise until double. (I think that was about an hour for me. Maybe two.)
Preheat a pizza stone to 450 degrees.
Punch down the dough and divide into 4 pieces. Roll or stretch the dough into the desired thickness and shape.
Drizzle olive oil over shaped crust and rub to coat crust. Sprinkle with salt, and pepper. Then evenly sprinkle with leeks, then mozzarella. Arrange zucchini slices on top, slightly overlapping. Dot with the crumbled goat cheese.
Slide onto the hot stone and cook until crust is browned, about 10 minutes. Remove from oven. Drizzle with olive oil and sprinkly lightly with chopped walnuts. Cut into wedges and serve.