OCTOBER DARING COOKS – VIETNAMESE PHO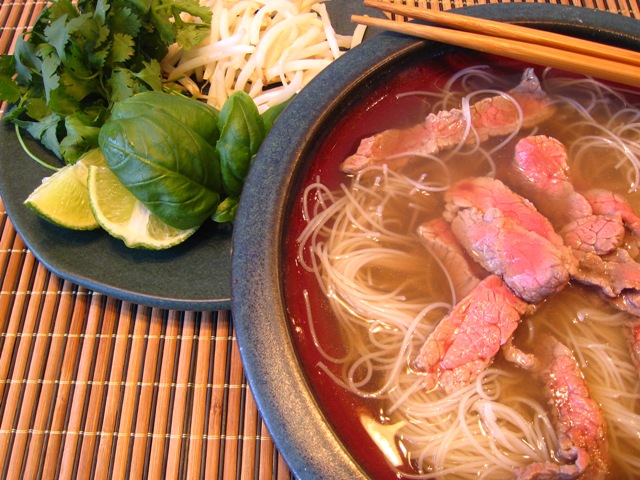 It's October 14th, and time for another Daring Cooks Challenge. The October 2009 Daring Cooks' challenge was brought to us by Jaden of the blog Steamy Kitchen. The recipes are from her new cookbook, The Steamy Kitchen Cookbook.
I was really excited about this month's challenge, as I love Pho. If you don't know what Pho is, it's a Vietnamese noodle soup. The broth is simmered for hours with either beef knuckle/leg bone or with a whole chicken. The broth is unique in that it is simmered with warm spices like coriander, star anise, cloves, cinnamon, and ginger. Accompaniments include cilantro or basil, a wedge of lime, fresh bean sprouts and sometimes fresh sliced chilies.
I have only tried the beef version of Pho. Jaden gave us two options for this challenge-use the quick version she developed, which uses store-bought chicken broth, or use the recipe on her blog for a slow-cooked version. I opted for the slow-cooked version of her Beef Pho. You can view the recipe on her blog here.
I made a double-batch of broth, which I would not do in the future. It was a HUGE pot of broth, almost unmanageable. But I now have a freezer full of spicy broth, just waiting to make me a steaming bowl of Pho in the future. And I will make this in the future. The warming spices, mixed with the tender beef, and the punch of the basil and cilantro, makes a great bowl of soup. Don't forget the bean sprouts either, as the crunch they provide is really good.
Take a look at Jaden's book for the quick recipe, or go to her blog and try the long version, or if you're not up to making a big pot of soup, then get yourself to your nearest Vietnamese restaurant and try a bowl of Pho for yoursel.