A NICE VISIT TO PORTLAND OREGON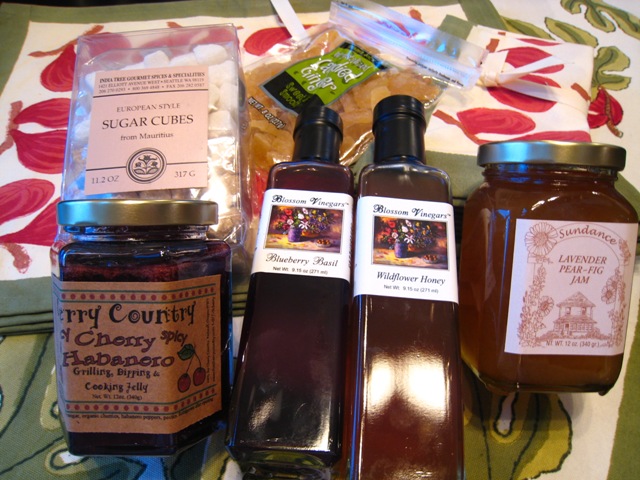 This last weekend I went to visit a friend in Portland, OR. I was lucky in that we had nice weather most of the time. Okay, I wasn't lucky Saturday morning. I had wanted to visit a Farmer's Market while there, and we headed out mid-morning after packing up my friend, her 16 month old baby, her husband, the stroller, and myself into the car. It was nice when we left, but sometime during the 15 minute drive to get there, the clouds rolled in and it began to pour. We did our best looking around, but as the poor 16 month old began to get soaked, I knew it was time to go. But I did have time to find some lovely jams and vinegars. I purchased 2 vinegars-a Wildflower Honey and a Blueberry Basil. They both tasted wonderful. I bought 3 jars of jam-Lavender Pear-Fig, Lavender Marionberry,and Habanero Cherry. The lavender jams are so delicious. I've already had the Lavender Marionberry spread on toast, and the lavender flavor is such a nice addition.
Friday night my friend and I had dinner at a restaurant not too far from her house. It was called Paley's Place. We started off by sharing an order of Roasted Beets with Horseradish Cream and an order of Hand-cut Fries with Mustard Aioli. Both were really good, albeit not too healthy. For my entree I had Rabbit Ravioli wtih House Bacon, Mushrooms, and Summer Squash and my friend had the Grilled Pork Shoulder with Bacon & Fresh Corn Polenta, String Beans and a Spicy Apple Chutney. Again, both good, but mine was really good. I would most definately order it again. And I had a very nice glass of a French wine to accompany mine. We shared a Chocolate Mocha Cake for dessert, which was just okay (although we managed to eat most of it!). And I ordered a glass of Pear Brandy, which I had never tried and had always wanted to, and hope I remember that I never want to again. It was way too strong for me and I only had a couple of sips of it. Our bill came to $84, which is so reasonable compared to Alaska restaurants.

Saturday evening, we had planned to eat at Pok Pok, a very popular Portland restaurant. We went early since we knew it would be busy. They open at 5pm, we arrived at 5:30, and there was already over an hour wait. Can't do that when you have a 16 month old child with you. We chose to eat at another restaurant not too far away called Nuestra Cocina, and I'm glad we did. It was really good. We shared a couple of appetizers-a Rock Fish Ceviche and Crisp Masa Cakes filled with chorizo, black beans and chiles. Both were really good. The Ceviche was light and refreshing, and the Masa Cakes were spicy with the chorizo. For my entree, I had Tacos De Puerco, which were handmade tortillas with spiced pork, diced onion and Arbol chile. Again, delicious. The serving, which was listed as an appetizer, had 3 small tacos on the plate. My friend's husband had the tacos also, and my friend had the Gorditas Rellenas, which were stuffed tortillas, black beans, avocado, roasted Poblano chiles & cheese. Four margaritas were consumed (yes, I had two. I was on vacation, wasn't I?), and I believe the total was less than $60. Amazing!
Sunday, we just hung out around the house, and I fixed dinner that night.Later I made Ginger Snaps and Ginger Scones. (I made my first visit to Trader Joe's to get the ginger. 8 oz. of candied ginger for $1.49? No way, that would have cost me $8-$10 in Anchorage. I want a Trader Joes!!!)
Monday my friend had to work, so I walked about 20 minutes to this great shopping district called Northwest District, on 23rd Ave, which is dubbed "Trendy-Third". I shopped, found the table runner, placemats, and napkins that you see in my photo above, bought a cute pair of Naot shoes, and had a fabulous lunch. The restaurant I chose for lunch was called "23 Hoyt". My lunch was so enjoyable. I wanted to sit outside, but as soon as I ordered it began to sprinkle and they suggested I move inside. I started with their Simple Garden Greens Salad, which has greens, radishes, and a preserved lemon vinegrette. It was so good, and the fresh dill in it added a special touch. I wanted to have a glass of wine, and chose to order a Rose, which I don't know if I've ever had. I didn't love it, but when offered something different I decided to keep it since there wasn't anything wrong with it, it just wasn't my favorite. For my main dish I ordered the Steamed Clams cooked in butter, white wine, and garlic. Again, delicious. And for an appetizer size, it was a huge amount of clams. The waitress had asked me if I wanted bread with my salad, and I had said yes, but she forgot to bring it. I didn't ask for it, because I decided I didn't need it anyway-I knew I would be having bread with the clams. When she discovered she had forgotten it, she brought me a nice glass of white wine on the house, that she said went really well with the clams. She was right. Now I've had 2 glasses of wine, was enjoying myself immensely, so when she asked me about dessert, how could I refuse? I chose the molten chocolate cake served with a scoop of vanilla ice cream on top. And coffee (which again, she didn't charge me for because of her earlier mistake). It was such a relaxing, enjoyable lunch. And the bill was less than $30.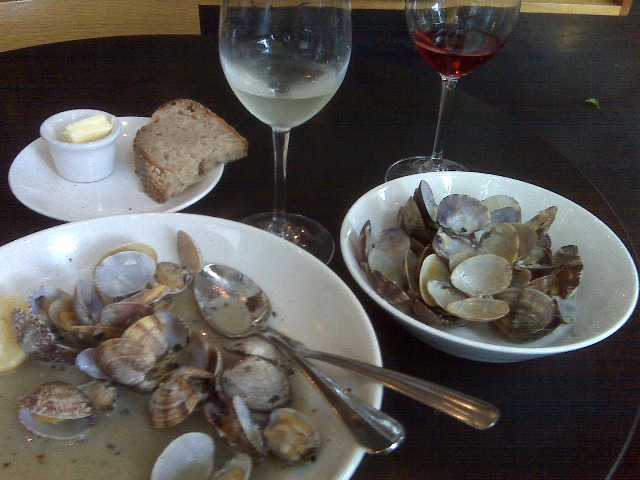 I had to walk back up the long hill to get back to my friend's house, so that helped wear off a few of the calories, along with those I burned walking all day. I was then driven to the airport, and caught my flight back to Alaska. I look forward to visiting Portland again in the future-it's a great city!