SUNDAY SMALL BITES WEEK #4 – AVOCADO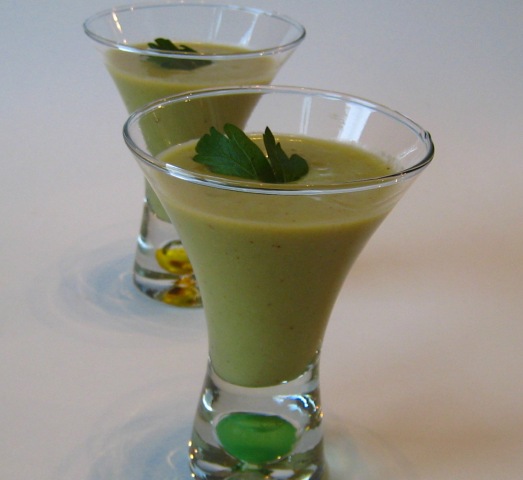 CHILLED CREAM OF AVOCADO SOUP
I know, I'm a day early. I'm out of town and have something else posting tomorrow, so I'm breaking the rules and posting a day early.
This week's ingredient was chosen by Annie. She chose avocado. I didn't want to make a typical dip, and I found a lovely recipe for Chilled Cream of Avocado Soup from the cookbook The Culinary Institute of America's Gourmet Meals in Minutes. This is a healthy, very refreshing starter to a meal. The avocado flavor really comes through.

CHILLED CREAM OF AVOCADO SOUP
Makes 2 quarts (I cut the recipe in half)
4 avocados
4-5 cups vegetable broth
1 teaspoon chili powder
1/2 teaspoon ground coriander
2 1/2 tablespoons lime juice
2 cups plain yogurt
Salt, to taste
Ground white pepper, to taste
1 red bell pepper, diced (I skipped this as I didn't have one on hand)
Cut each avocado in half. Remove the pit and scoop out the avocado.
Puree the avocado in a food processor or blender with 4 cups of the broth, the chili powder, coriander, lime juice, and yogurt until very smooth. If the soup is too thick, add more broth to correct the consistency. Transfer to a bowl, cover, and chill in the freezer for 30 minutes.
Adjust the seasoning to taste with salt and pepper. Garnish with the red pepper if desired.