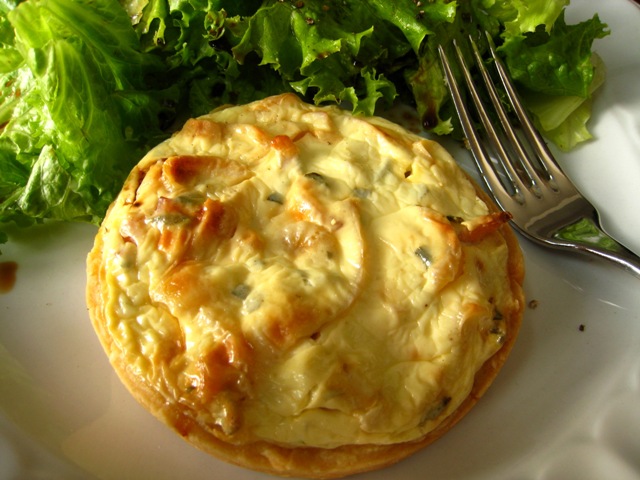 A week or so ago I was looking at David Lebovitz's blog and saw a photo of a Herbed Ricotta Tart that looked mouthwatering. I decided to make it and instead of using fresh ricotta cheese, I would use the Lactic Cheese that I made and posted about yesterday.
I decided to use just ingredients I had on hand, so I decided to skip the chorizo sausage and use just a slice or two of bacon. I had a package of frozen bacon, and stupidly tried to pry off one slice and this is what I ended up with: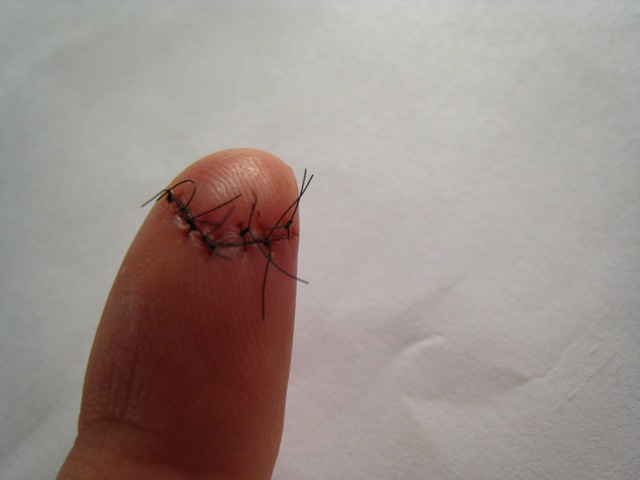 Seven internal stitches and seven external stitches. Ouch!!!
After a trip to get the stitches in, I came back to finish the tarts. I already had my pastry crust done (well, it was in the oven when the unfortunate accident happened). It's funny, but I now can't even remember whether I put bacon in the tarts or not!
I used the recipe for Pate Brisee from Clotilde Dusoulier's "Chocolate and Zucchini" cookbook. I followed David's recipe as mentioned above. These tarts were so good. Wonderful for a dinner with a green salad, or for breakfast the next morning. You could adapt them to your tastes in so many ways.

Herbed Ricotta Tart
Adapted from Local Flavors: Cooking & Eating from America's Farmers' Markets (Broadway) by Deborah Madison
"I mentioned a few variations above, but in the future, I'm going to try this with feta cheese in place of the ricotta or goat cheese, black olives, and some cooked, (very) well-drained, chopped spinach for a Greek-style version."-from David's blog
half-pound (250g) spring onions(or any onion)
1 tablespoon butter
1 1/2 teaspoons chopped fresh thyme, plus more for sprinkling over the finished tart
8 ounces (285g) fresh goat cheese or fresh ricotta
1 large egg
1/2 cup (125ml) crème fraîche or heavy cream
1/2 cup (125ml) whole milk
2 ounces (55g) spicy Spanish-style chorizo sausage, finely diced
salt and freshly-ground pepper
one pre-baked 9-inch (22cm) tart shell
1. Slice the spring onions into 1/2-inch (2cm) pieces. Melt the butter in a skillet and cook over medium heat, seasoning with a bit of salt and pepper, until tender and cooked through. When you remove it from the heat, stir in the fresh thyme and let cool to room temperature.
2. Preheat the oven to 400F (200C)
3. In a large bowl, crumble the goat cheese or ricotta, then mix in the egg, crème fraîche or cream, milk, chorizo, and a bit more salt and pepper along with the onions.
(If you wish to use any other chopped, fresh herbs, add them now as well.)
4. Scrape the filling into the pre-baked tart shell and baking until just set and slightly-browned on top, 20-30 minutes. ( If using a different-sized tart pan, the baking time may vary. In which case, bake until it just feels set in the center.)
5. Let the tart cool briefly, then serve either warm or at room temperature. Sprinkle fresh thyme leaves over the top of the tart before serving.
Pate Brisee
1 1/3 cups all-purpose flour
1/2 teaspoon fine sea salt
8 tablespoons(1 stick) chilled unsalted butter, diced
1 large egg, lightly beaten
Ice cold water
In a food processor, combine the flour, salt,and the butter. Run it for about ten seconds, until texture is of a course meal. Add in the egg and mix again for a few seconds,until it forms a ball. If the dough is still a little dry, add in a little water, a tiny splash at a time, until the dough comes together. (If you've added too much water, fret not, compensate with more flour.) Turn out on a lightly floured work surface, and without kneading, gather into a ball.
Shape the dough into a slightly flattened ball. Wrap tightly in plastic and refrigerate for 30 minutes, or up to a day. If too cold, let stand at room temperature before using, just enough so that the dough can be rolled without cracking.
Sprinkle flour lightly on a clean work surface and on your rolling pin, and place the dough on the work surface. Roll out into a circle to fit your pan.
Most savory tart recipes call for par-baking the dough : Preheat your oven to360°F, take the dough out of the fridge/freezer and bake for ten minutes (15 if the dough is frozen) or until golden. (I think I had my oven set to 375).
I also used a fork to poke holes in the dough as it cooked so it wouldn't puff up.