GERMAN CHOCOLATE CUPCAKES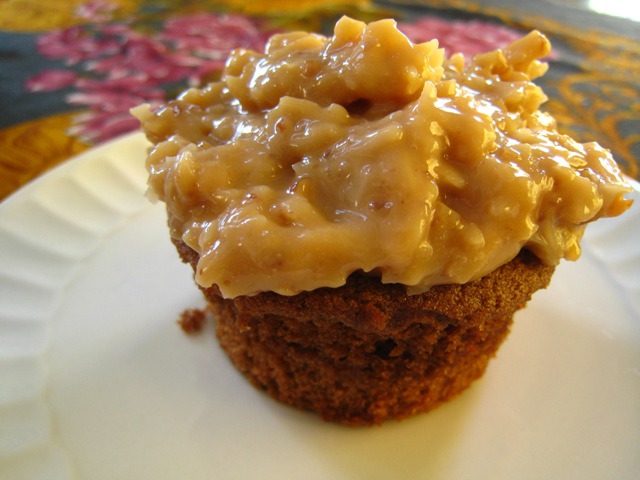 My husband asked me if I'd make a German Chocolate Cake for him to bring to a friend at work. He really didn't need an entire cake, so I decided to make cupcakes so that he could more easily share.
I searched the internet and came up with this recipe from Martha Stewart's web site. The cupcakes were delicious. Extremely moist, mild chocolate flavor that blended really well with that wonderful icing.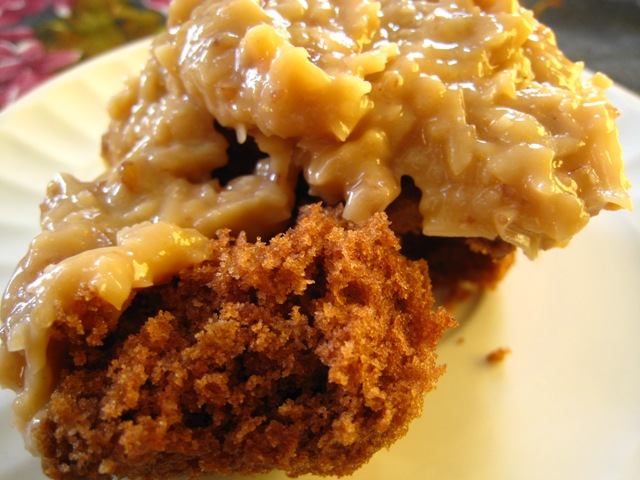 German Chocolate Cupcakes
From Martha Stewart
Makes 24
Ingredients:
3/4 cup (1 1/2 sticks) unsalted butter, room temperature, plus more for tins
2 cups cake flour (not self-rising), sifted, plus more for tins
1 teaspoon baking soda
3/4 teaspoon salt
1 1/3 cups sugar
3 large eggs, room temperature
1 1/2 teaspoons pure vanilla extract
1 cup buttermilk
5 ounces semisweet chocolate, melted and cooled
Directions:
Preheat oven to 350 degrees. Brush standard muffin tins with butter; dust with cake flour, tapping out excess. Whisk together cake flour, baking soda, and salt.
With an electric mixer on medium-high speed, cream butter and sugar until pale and fluffy. Add eggs, one at a time, beating until each is incorporated, scraping down sides of bowl as needed. Beat in vanilla. Reduce speed to low. Add flour mixture in three batches, alternating with two additions of buttermilk, and beating until combined after each. Beat in chocolate until combined.
Divide batter evenly among prepared cups, filling each three-quarters full. Bake, rotating tins halfway through, until a cake tester inserted in centers comes out clean, 20 minutes. Transfer tins to wire racks to cool 10 minutes. Run a small offset spatula or knife around the edges to loosen; turn out cupcakes onto racks and let cool completely. Cupcakes can be stored up to 3 days at room temperature in airtight containers.
To finish, use a serrated knife (and a gentle sawing motion) to split cupcakes in half horizontally. Spread a heaping tablespoon of frosting on top of each bottom half; replace top halves. Spread more frosting on top of each cupcake. Serve immediately.
Coconut Pecan Icing
Ingredients:
Makes enough for one 9-inch 3-layer cake
3 large egg yolks
1 can (12 ounces) evaporated milk
1 1/4 cups packed light-brown sugar
1 1/2 sticks (12 tablespoons) unsalted butter, cut into small pieces and brought to room temperature
1 teaspoon pure vanilla extract
1/4 teaspoon salt
2 2/3 cups (7 ounces) sweetened flaked coconut
1 1/2 cups (6 ounces) pecans, toasted and coarsely chopped
Directions
Combine egg yolks, evaporated milk, and brown sugar in a saucepan. Add butter, and cook over medium heat, stirring constantly, until thick, about 10 minutes. Pour through a fine sieve into a bowl.
Stir in vanilla, salt, coconut, and pecans. Let cool completely. Frosting can be refrigerated in an airtight container for up to 1 day; bring to room temperature before using.