SUNDAY SALAD SAMPLERS WEEK #18 – TORTELLINI SALAD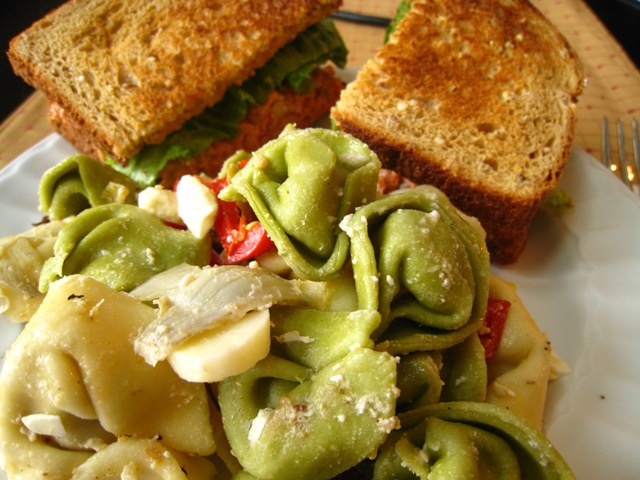 I guess all good things must eventually come to an end. This is the last week for our Sunday Salad Samplers. We've made 18 salads, and I've loved every one of them.
This weeks salad was chosen by Ida. She said she's been making this salad for years, and it makes a large batch, so it's good for parties or buffets. It's a recipe that you can adapt to your likes/dislikes, or to fit what ingredients you have on hand.
I used 2 different fresh tortellinis in mine. One was spinach with cheese, the other was filled with chicken and proscuitto. I used feta cheese instead of mozzarella, and instead of the sundried tomatoes, garlic, black olives, marinated artichokes, and marinated red peppers, I used a couple of mixed things from the olive bar at Safeway. The mixtures contained marinated artichokes, black olives, hot peppers and pickled garlic. This salad was really good. Flavorful and colorful. You can add shrimp or chicken to it for a complete meal, or serve it as a side dish. I served mine as a side to salmon salad sandwiches.
We're taking a week off, then we begin our next cooking adventure-Sunday Small Bites. This will be a little diffferent than we've done in the past. Each week, someone will chose an ingredient. We all make an appetizer with that ingredient (and it has to be one we've never made before) then post on our blog. All of us will have different appetizers, which will give us a lot of new recipes to try for ourselves in the future.

Tortellini Salad
1 lb or a little bit more Fresh or frozen tortellini or a Barilla bag of dry tortellini
Boil as per package instructions and set aside.Don't overboil them! COOL them down a bit. (I used fresh tricolored).
In a very very large bowl mix together:
1 container of pearl or small sized fresh mozzarella balls
16 oz jar of Julienne cut Calif sundried tomatoes in oil ( I use 3/4 of the jar)plus the oil! Just pour the oil into the bowl.
4 cloves garlic chopped superfine
1 large bunch Italian parsley chopped fine
1 jar black dried olives in oil pitted and sliced ( this takes a while)
16 oz jar (or larger from costco) Marinated Artichokes cut into pieces ( i think mine was 24oz)
1 jar marinated red peppers cut in strips if you want ( I stopped adding them)
S/P and some extra virgin olive oil
Now that you've mixed the above ingredients well Add cooked tortellini a few scoops at a time mixing well. Cover bowl with glad wrap and refrigerate overnite as it taste even better the following day after the flavors blend together. Serve at room temp! I served mine with grilled shrimp.