SUNDAY SALAD SAMPLERS WEEK #16 – COUSCOUS SALAD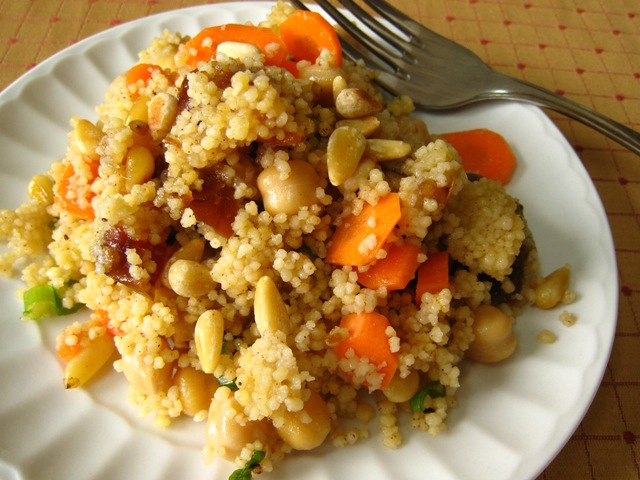 We're almost at the end. Only 2 more salads to go after today. And I think I've really liked every single salad we've made. And I haven't tired of making salads. But I guess eventually all things have to come to an end…but not yet! This week, Annie chose our salad, and picked a recipe for a Couscous salad. Here's what she says about the recipe: "I found this recipe on the McCormick spice website after a friend brought me a big bag of cinnamon from Vietnam and I started looking for savory recipes to use it in. The recipe was created by Suzanne Goins from the Los Angeles restaurant Luques. I use whole wheat couscous and sometimes substitute dried apricots for the dates. You can also use vegetable broth instead of chicken broth. Vietnamese cinnamon is pretty strong so if you're using regular cinnamon, you might want to use a little bit more. This is a great party/potluck recipe (it keeps and travels well)."
This salad was very good, and can make a meal by itself. I ate it warm and cold, and enjoyed it both ways. The sweet from the dates, contrasting with the savory from the onions, is really good.

Couscous Salad with Chickpeas, Dates & Cinnamon
3 green onions
1 tablespoon olive oil
1 (14.5 ounce) can chicken broth
1 teaspoon ground cinnamon (preferably Vietnamese)
1/2 teaspoon black pepper, divided
1/4 teaspoon cayenne
1 (10 ounce) package couscous
3 tablespoons white wine vinegar
3/4 teaspoon salt, divided
6 tablespoons olive oil
1 (19 ounce) can chickpeas, rinsed and
drained
2 cups shredded carrots
1 cup dates, pitted and roughly chopped
1/4 cup pinenuts, toasted
2 tablespoons chopped fresh cilantro
(optional)
Directions
Finely dice white end of green onions. Slice green parts of green onions and reserve for salad. Gently cook white onion pieces in olive oil 5-7 minutes in a medium saucepan. Stir in chicken broth, cinnamon, 1/4 teaspoon black pepper and red pepper. Bring to a boil; add couscous. Cover and remove pan from heat. Let stand 5 minutes.
Whisk together vinegar, 1/2 teaspoon salt and olive oil in a small bowl.
Fluff couscous with a fork; put in a large bowl. Toss in sliced green onions, chickpeas, carrots, dates, pinenuts, remaining 1/4 teaspoon salt and remaining 1/4 teaspoon black pepper; add vinaigrette and toss again. Serve right away or chill. Garnish with cilantro, if desired.