DARING COOKS AUGUST CHALLENGE –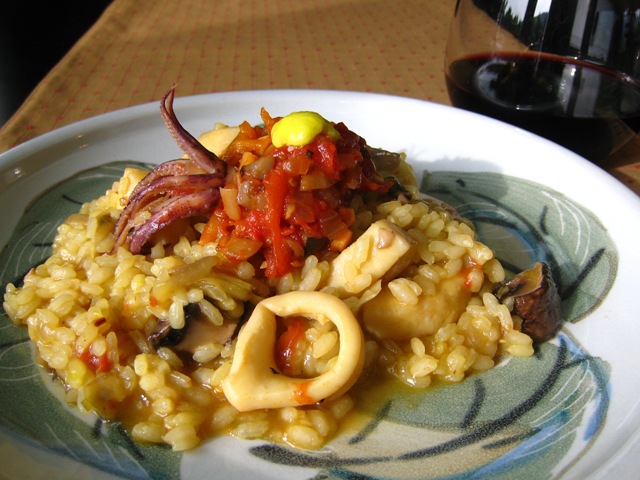 It's August,so time for a Daring Cooks Challenge. This month's challenge was chosen by Olga from Las Cosas de Olga and Olga's Recipes. She chose a delicious Spanish recipe, Rice with mushrooms, cuttlefish and artichokes by José Andrés, one of the most important Spanish Chefs at the moment. He trained under well-known Ferran Adria at his three Michelin star restaurant El Bulli. José Andrés lives now in Washington DC and he owns several restaurants in Washington DC area (El Jaleo, Zaytinya, Oyamel…). This recipe is from his US TV show Made in Spain.
While I enjoyed this dish, I thought it lacked a little in flavor. I would suggest using all of the Sofregit, not just a tablespoon or two. Also, be sure and make the aioli-it also adds a lot of flavor. And you also might try adding a spicy sausage, such as Chorizo. I used frozen artichokes in mine, and used squid as I couldn't find cuttlefish. Most of my squid was previously frozen squid steaks, then I bought a couple of fresh squid to have the experience of cleaning them and to have the tentacles to make the dish look nicer.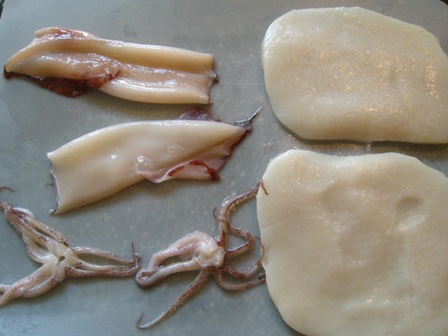 Rice with Mushrooms, Cuttlefish and Artichokes
Cooking time: 45 minutes Servings:4-6
Ingredients
4 Artichokes (you can use jarred or frozen if fresh are not available)
12 Mushrooms (button or Portobello)
1 or 2 Bay leaves (optional but highly recommended)
1 glass of white wine
2 Cuttlefish (you can use freezed cuttlefish or squid if you don't find it fresh)
Sofregit(see recipe below)
300 gr (2 cups) Short grain rice (Spanish types Calasparra or Montsant are preferred, but you can choose any other short grain. This kind of rice absorbs flavor very well)
Water or Fish Stock (use 1 ½ cup of liquid per ½ cup of rice)
Saffron threads (if you can't find it or afford to buy it, you can substitute it for turmeric or yellow coloring powder)
Allioli (olive oil and garlic sauce, similar to mayonnaise sauce) – optional
Directions:
1.Cut the cuttlefish in little strips.
2.Add 1 or 2 tablespoon of olive oil in a frying pan and put the cuttlefish in the pan.
3.If you use fresh artichokes, clean them . Cut artichokes in eights.
4.Clean the mushrooms and cut them in fourths.
5.Add a bay leaf to the cuttlefish and add also the artichokes and the mushrooms.
6.Sauté until we get a golden color in the artichokes.
7.Put a touch of white wine so all the solids in the bottom of the get mixed, getting a more flavorful dish.
8.Add a couple or three tablespoons of sofregit and mix to make sure everything gets impregnated with the sofregit.
9.Add all the liquid and bring it to boil.
10.Add all the rice. Let boil for about 5 minutes in heavy heat.
11.Add some saffron thread to enrich the dish with its flavor and color. Stir a little bit so the rice and the other ingredients get the entire flavor. If you're using turmeric or yellow coloring, use only 1/4 teaspoon.
12.Turn to low heat and boil for another 8 minutes (or until rice is a little softer than "al dente")
13.Put the pan away from heat and let the rice stand a couple of minutes.
Sofregit (a well cooked and fragrant sauce made of olive oil, tomatoes, garlic and onions, and may at times
different vegetables such as peppers or mushrooms)-
Cooking time: aprox. 1 hour
Ingredients:
2 tablespoons of olive oil
5 big red ripe tomatoes, chopped
2 small onions, chopped
1 green pepper, chopped (optional)
4 or 5 garlic cloves, chopped
1 cup of button or Portobello mushrooms, chopped (optional)
1 Bay leaf
Salt
Touch of ground cumin
Touch of dried oregano
Directions:
1.Put all the ingredients together in a frying pan and sauté slowly until all vegetables are soft.
2.Taste and salt if necessary.
Allioli is the optional part of the recipe. Allioli is served together with the rice and it gives a very nice taste
Allioli (Traditional recipe)
Cooking time: 20 min aprox.
Ingredients:
4 garlic cloves, peeled
Pinch of salt
Fresh lemon juice (some drops)
Extra-virgin olive oil (Spanish preferred but not essential)
Directions:
1.Place the garlic in a mortar along with the salt.
2.Using a pestle, smash the garlic cloves to a smooth paste. (The salt stops the garlic from slipping at the bottom of the mortar as you pound it down.)
3.Add the lemon juice to the garlic.
4.Drop by drop; pour the olive oil into the mortar slowly as you continue to crush the paste with your pestle.
5.Keep turning your pestle in a slow, continuous circular motion in the mortar. The drip needs to be slow and steady. Make sure the paste soaks up the olive oil as you go.
6.Keep adding the oil, drop by drop, until you have the consistency of a very thick mayonnaise. If your allioli gets too dense, add water to thin it out. This takes time—around 20 minutes of slow motion around the mortar—to create a dense, rich sauce.
José's tips for traditional recipe: It's hard to think that, when you start crushing the garlic, it will ever turn into something as dense and smooth as allioli. But don't give up. It's worth the extra time and effort to see the oil and garlic come together before your eyes. Just make sure you're adding the olive oil slowly, drop by drop. Keep moving the pestle around the mortar in a circular motion and keep dreaming of the thick, creamy sauce at the end of it all.
Allioli a la moderna (Modern recipe)
Cooking time: 3-4 minutes
Ingredients:
1 small egg
1 cup extra-virgin olive oil (as above, Spanish oil is highly recommended)
1 garlic clove, peeled
1 Tbs. Spanish Sherry vinegar or lemon juice (if Sherry vinegar is not available, use can use cider or white vinegar)
Salt to taste
Directions:
1.Break the egg into a mixing bowl.
2.Add 2 tablespoons of the olive oil and the garlic cloves, along with the vinegar or lemon juice.
3.Using a hand blender, start mixing at high speed until the garlic is fully pureed into a loose paste.
4.Little by little, add what's left of the olive oil as you continue blending.
5.If the mixture appears too thick as you begin pouring the oil, add 1 teaspoon of water to loosen the sauce.
6.Continue adding the oil and blending until you have a rich, creamy allioli.
7.The sauce will be a lovely yellow color.
8.Add salt to taste.
José's tips for modern recipe:
(1) If you do not have access to a hand blender, you can use a hand mixer (the kind with the two beaters) or a food processor. If you use a food processor, you must double the recipe or the amount will be too little for the blades to catch and emulsify.
(2) What happens if the oil and egg separate? Don't throw it out. You can do two things. One is to whisk it and use it as a side sauce for a fish or vegetable. But if you want to rescue the allioli, take 1 tablespoon of lukewarm water in another beaker and start adding to the mix little by little. Blend it again until you create the creamy sauce you wanted.
Olga's Tips:
(1) In Spain, rice is not stired as often as it is when cooking Italian risotto. You must stir it once or twice maximum. This tip is valid for all Spanish rice dishes like paella, arròs negre, arròs a banda…
(2) Sofregit can be done in advance. You can keep it in the fridge or even freeze it.
(3) Allioli must be consumed during the preparation day and preserved in the fridge before using it.