SUNDAY SALAD SAMPLERS #12 – CEVICHE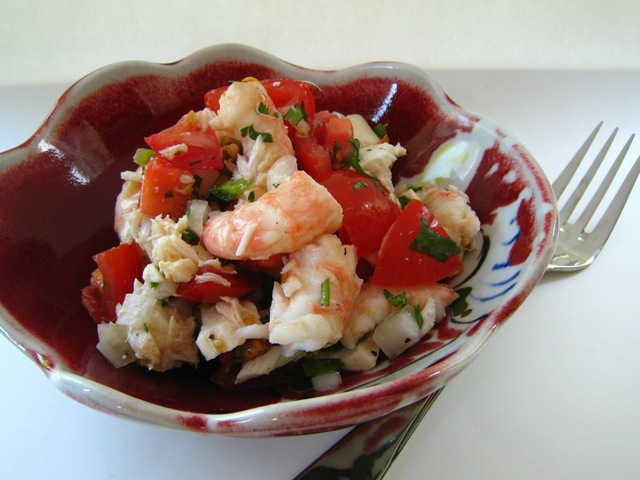 It's hard to believe we're into our third month of salads. Today's salad was chosen by Candi and it was perfect for the warm weather we've been having. She chose Ceviche. Normally, Ceviche uses fish/shellfish that is "cooked" in lime juice. But this recipe was a little different in that the fish and shrimp were poached in a liquid first. This is a nice choice for someone who is hesitant about eating "raw" fish.
The recipe was adapted from a recipe from Ageless Face, Ageless Mind by Nicholas Perricone. It's a very easy recipe to make, and can handle lots of adaptations. Try this for a light entree for a tasty appetizer.

Ceviche:
Prep time:15 minutes plus time to chill. Cooking time:10 minutes. Serves 6.
To cook the fish:
3 cups of water or chicken broth
1/2 cups white wine
juice of two limes
1 jalapeno or Serrano chili sliced in half
3 gloves of garlic,crushed
I Tbsp Old Bay seasoning
1/2 lb firm white fish fillet(halibut or the like)
1/2 lb large shrimp,peeled and deveined
Coat the fish and shrimp with old bay. Bring the broth,wine, lime juice, chili and garlic to simmer. Add fish and shrimp and simmer(do not boil) until fish is opaque(about 5 minutes) and shrimp is pink(about 2 minutes). Remove from poaching liquid and cool in the refrigerator.
To make the salad:
2 large tomatoes,diced
1/2 white onion, diced
1 jalapeno,seeded and diced(or more if you wish)
juice of two limes
1/4 cup cilantro, diced
hot sauce to taste
sea salt and cracked black peppers to taste
Mix tomatoes, onion, jalapeno,lime juice and cilantro together. Season to taste with hot sauce,salt and pepper.
When the fish is cool, cut shrimp in half and fish into bite-sized pieces. Mix into tomato mixture. Chill for at least one hour and up to four hours.*
*I think it lasts longer than that in the fridge. I've had leftovers the day after and still thought it was good,just hotter after sitting in the hot sauce for so long.