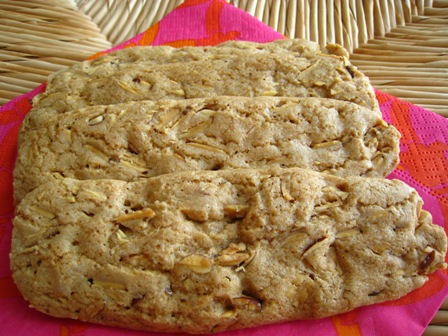 A few months ago I saw a recipe on David Lebovitz's blog that I just had to try. It was for a cookie called pain d'amande. The recipe comes from Flo Braker, who David had do a guest post about these cookies.
Flo says that these are a traditional Belgian cookie, known as almond bread (pain d'amande). It was a favorite from her catering baking business in the early 1970s. They contain raw sugar, which is similar to turbinado-style sugar, and gives the cookies an unique taste, texture, and appearance. They are baked slowly and turned over during the baking process, developing a crispy texture and toasty flavor.
I had to hunt to find some appropriate sugar, and brought some back from a trip to the lower 48. I made the cookies this week, and they were well worth the wait. If you like a crispy cookie that packs lots of flavor, give these a try. I've been enjoying them with a cup of tea or coffee in the afternoon (although I have to admit they were my breakfast one morning).

Pain d'amande
80-90 cookies
Adapted from Sweet Miniatures by Flo Braker
Note:Be sure to bake them on parchment paper since if you use a silicone mat, they won't get as crispy. And the other tip is not to let the sugar melt in the butter; the big crystals add a wonderful crunch to these delightfully-delicious cookies. -David
8 tablespoons (115g) butter, salted or unsalted, cubed
1 1/3 cups (300g) coarse crystal golden sugar (see Note)
1/2 teaspoon ground cinnamon
1/3 cup (80ml) water
2 1/3 cups (325g) flour
1/4 teaspoon baking soda
1 cup (85g) sliced almonds, blanched or unblanched
1. Melt the butter in a small saucepan over low heat with the sugar, cinnamon, and water. Stir until the butter just melts but don't allow to boil: most of the sugar should not be dissolved.
2. Remove from heat and stir in the flour, baking soda, and almonds until well mixed.
3. Line a 9-inch (23cm) loaf pan with plastic wrap and press the dough into the pan so the top is smooth. Chill until firm.
4. To bake the cookies, preheat the oven to 325º (160ºC.)
5. Using a very sharp chef's knife, slice the dough crosswise, as thin as possible, into rectangles. If you can get them as thin as a coin, all the better. The thinner they are, the more delicate and crisp they'll be.
6. Space the cookies on parchment lined baking sheets and bake for 10-15 minutes, or until the cookies feel slightly firm and the undersides are golden brown. Flip the cookies over and bake an additional 10-15 minutes, until the cookies are crisp and deep golden-brown on top. The baking times depend on how thin you cut the cookies.
Cool completely, then store in an airtight bin until ready to serve.
Storage: Once baked, the cookies will keep in an airtight container for up to three days. The dough can be stored in the refrigerator for up to four days, or frozen for up to two months, if well-wrapped.
Note: Large-crystal golden sugar, as shown, is available in specialty food stores, natural food stores, or online. Depending on where you live, Hawaiian Washed Sugar from C & H, is available in grocery stores.