SUNDAY SALAD SAMPLERS WEEK #7 – ROASTED CORN AND WILD RICE SALAD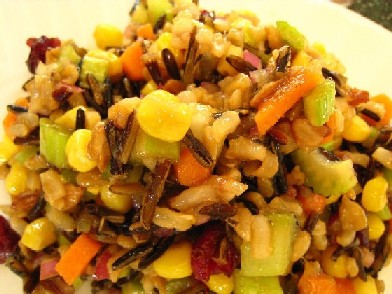 Time for another great salad. This week's salad was chosen by Deborah of Old Shoes, New Trip.. She chose a salad that she found on the internet years ago. It's a wonderful Roasted Corn and Wild Rice Salad. My husband and I both loved this salad. It's very healthy-it is full of fiber with the wild rice and vegetables, and only has 1 tablespoon of oil in the entire bowl. It's also very flavorful, and it makes a very large bowl so it would be great to take to a get-together or if it's just for two of you, you'll have leftovers for the week.
The original recipe calls for wild rice blend, but Deborah suggests using 1 package of wild rice. I forgot to purchase this at the store, but knew I had some at home. I wasn't sure the quantity of rice 1 package makes, so I just guessed. I used 3/4 cup wild rice and 1/4 cup wild rice blend. A couple of other subsitutes I made-I used plain frozen corn, as I've never been able to find frozen roasted corn here in Alaska. I chopped my carrots instead of grating them (I was lazy), and lastly, I used strawberry vinegar instead of raspberry vinegar, as that's what I had on hand.

I served this salad with a very quick entree I whipped up. In a little olive oil, I stir fried some sliced spring onion, chopped asparagus, oyster mushrooms, and shrimp. I added some powdered Old Bay Seasoning, and that was it. It was delicious.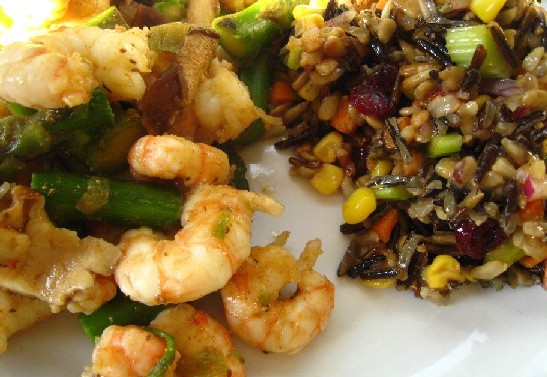 ROASTED CORN AND WILD RICE SALAD
"The recipe is very easy. It keeps well and freezes well. You can serve it both chilled or at room temperature. Great for picnics where you don't want to worry about spoilage.
1 package uncooked wild rice
2 cups frozen roasted corn nibblets (sold at Trader Joes)
1 cup finely chopped celery
3/4 cup shredded carrot
3/4 cup Craisins
2/3 cup toasted sunflower seeds
1/2 cup finely chopped red onion
1/3 cup raspberry vinegar
1 tablespoon olive oil
1 tablespoon low-sodium soy sauce
1 teaspoon orange zest
1/2 teaspoon freshly ground pepper
Cook rice according to package directions: omit salt and fat. Cool.
Combine rice, corn, and all other ingredients in a bowl; stir well; chill overnight to blend flavors.
Serve cold from fridge or bring to room temperature if you prefer.