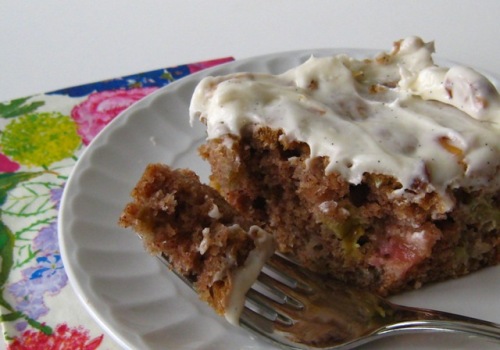 It's that time of year when the rhubarb in my garden is turning into a monsterous clump, and I need to find ways to use it. Unfortunately, I often waste a lot of it. In the years where I'm ambitious, I chop it and freeze it, but I stiff often have bags of it left in the freezer the following summer. And I do like almost all of the rhubarb recipes I have ever tried.
Here's one for you to try: Spiced Rhubarb Cake. I'm not sure where to give credit for this recipe to. I think it was probably pulled from the web. I'll post it as I have it, but here's the changes I made. I didn't put the pecans in the cake, but instead put them all in the icing. (I used walnuts also as that's what I had on hand.). I also used 1/2 cup butter in the icing, and didn't measure the powdered sugar, just added it until the consistency was right. I was also in a hurry, so I didn't sift the powdered sugar. And lastly, I scraped vanilla seeds from 1 pod into the icing.
This cake is flavorful and very moist. I took it on a camping trip with us and it was devoured by our friends.

SPICED RHUBARB CAKE
1/3 cup boiling water
2 cups fresh or frozen unsweetened finely chopped rhubarb
2 cups all-purpose flour
1 1/2 cups sugar
1 1/4 teaspoon baking soda
1 teaspoon salt
1 teaspoon ground cinnamon
1/2 teaspoon ground nutmeg
1/4 teaspoon ground cloves or ground ginger (I use both)
3 eggs
1/2 cup cooking oil
1 teaspoon vanilla
1 cup finely chopped pecans, toasted
Cream Cheese Frosting (see below)
In a large mixing bowl, pour boiling water over rhubarb. Meanwhile, grease and lightly flour a 13x9x2-inch baking pan; set aside.
For cake: In a medium bowl, combine flour, sugar, baking soda, salt, cinnamon, nutmeg, and cloves. Add flour mixture to rhubarb mixture. Beat with an electric mixer on low speed for 1 minute. In a small bowl, combine eggs, oil, and vanilla. Add egg mixture to the flour mixture. Beat on medium speed for 2 minutes. Stir in 3/4 cup of the pecans. Pour batter into prepared pan.
Bake in a 350 degree F oven for 40 to 50 minutes, or until a wooden toothpick inserted near center comes out clean. Place on a wire rack; cool thoroughly. Frost with Cream Cheese Frosting. Srpinkle with reserved 1/4 cup pecans. Store cake in the refrigerator for up to 3 days. Makes 12 servings.
Cream Cheese Frosting: In a large mixing bowl, beat 4 ounces of cream cheese, softened, 1/4 cup butter, softened, and 1 teaspoon vanilla with an electric mixer until light and fluffy. Gradually add 2 cups sifted powdered sugar, beating well. Gradually beat in 1 1/2 cups additional powdered sugar to reach spreading consistency. Makes about 2 cups.