SUNDAY SALAD SAMPLERS WEEK #6 – FAJITA SALAD WITH CREAMY CILANTRO LIME DRESSING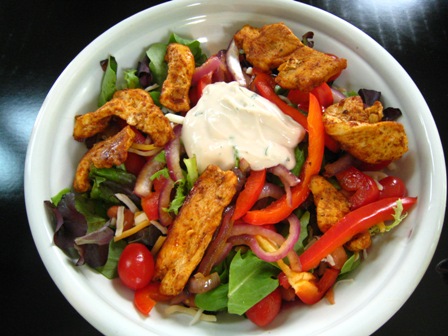 This week it was Kim's turn to choose the salad. She had a little trouble deciding on which to choose-would it be a Cashew Chicken Salad with Mandarin Oranges, or a Chicken Ceasar Salad? In the end, she chose a Fajita Salad with Creamy Cilantro Lime Dressing.
This salad tasted really good, and was low-fat also. A great combination. I followed the recipe, except I sauteed the onions and red peppers in the skillet before I cooked the chicken, and since my husband doesn't like cilantro I made two versions of the dressing-one with cilantro, and one with chives.
If you're looking for a quick healthy salad with lots of bold flavors, give this one a try.

Fajita Salad with Creamy Cilantro-Lime Sauce
1 tablespoon olive oil
1 teaspoon ground cumin
1 teaspoon paprika
1 teaspoon chili powder
1/2 teaspoon salt
1/4 teaspoon black pepper
1 pound skinned, boned chicken breast, cut into thin strips
Cooking spray
6 cups shredded romaine lettuce
1 1/3 cups thinly sliced green bell pepper rings
1 cup sliced red onion, separated into rings
1/2 cup (2 ounces) shredded reduced-fat Monterey Jack cheese
2 tablespoons sliced ripe olives
1 (15-ounce) can pinto beans, rinsed and drained
1 medium tomato, cut into 8 wedges
Creamy Cilantro-Lime Sauce
Combine first 6 ingredients in a medium bowl. Add chicken; toss to coat. Place a large nonstick skillet coated with cooking spray over medium heat until hot. Add chicken mixture; sauté 8 minutes or until chicken is done. Set aside.
Divide lettuce and next 6 ingredients (lettuce through tomato) among 4 bowls; top with chicken mixture. Serve with Creamy Cilantro-Lime Sauce.
Yield: 4 servings (serving size: 1 serving salad, 3 ounces chicken, and 1/3 cup sauce)
CALORIES 520 (38% from fat); FAT 21.9g (sat 6g,mono 6.8g,poly 6g); IRON 5.4mg; CHOLESTEROL 101mg; CALCIUM 360mg; CARBOHYDRATE 34.7g; SODIUM 1061mg; PROTEIN 3.6g; FIBER 6.6g
Creamy Cilantro-Lime Sauce
This recipe goes with Fajita Salad with Creamy Cilantro-Lime Sauce
1/2 cup fat-free sour cream
1/2 cup light mayonnaise
1/3 cup skim milk
3 tablespoons lime juice
2 tablespoons chopped fresh cilantro
1 tablespoon balsamic vinegar
2 large garlic cloves, minced
Combine all ingredients, and stir well with a whisk. Cover sauce, and chill.
Yield: 1 1/3 cups (serving size: 1/3 cup)
CALORIES 113 (65% from fat); FAT 8.1g (sat 1.2g,mono 2.4g,poly 4.2g); IRON 0.2mg; CHOLESTEROL 10mg; CALCIUM 32mg; CARBOHYDRATE 6.6g; SODIUM 254mg; PROTEIN 3.2g; FIBER 0.1g